Student Profile
Ying Liu grew up in one of the oldest cities in China, where 13 dynasties have placed their capitols. While earning a Bachelor of Science in Biochemistry from Nanjing University, China, she participated in a study to characterize the mechanism of programmed cell death.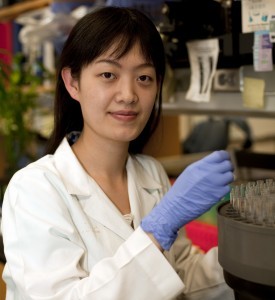 At UT Southwestern Medical Center, Ying is working to understand the detailed biochemical mechanism of RNA interference (RNAi), a post-transcriptional gene silencing guided by small RNAs to degrade the cognate mRNA.
"We hope our mechanistic studies will facilitate the application of RNAi as novel therapeutics for human diseases, such as cancer," Ying said.
Ying has been impressed by the courses and synergy among students and faculty at UT Southwestern.
"The Biological Chemistry Graduate Program at UT Southwestern provides amazing advanced courses to establish a solid foundation for understanding classic biochemistry," she said. "Students attend work-in-progresses weekly to present their own research results and have informal discussions with other students and faculty. The collaborations between groups are encouraged, and all of the faculty members are easily accessible."
Ying Liu
Biological Chemistry Graduate Program
Mentor: Qinghua Liu, Ph.D.