UTSW Training Tomorrow's Scientists Today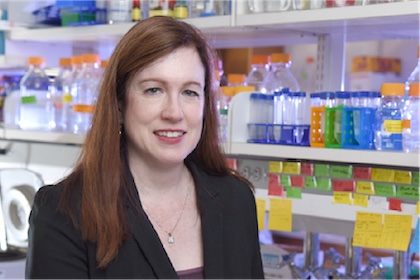 On a late September afternoon in 2022, Lora Hooper, Ph.D., Chair of Immunology at UT Southwestern, was working in her office, and like any other day, a flood of emails filled her inbox. One caught her eye. The subject line was "National Academy of Medicine Invitation." It was the announcement that she had been elected to the NAM, one of the highest honors attainable in the fields of health and medicine.
That email was only a few months ago, but the seeds of the program that helped propel her to this achievement, along with her election to the National Academy of Sciences in 2015, were planted years ago. It was in 2003 when Dr. Hooper joined the Endowed Scholars Program in Medical Science at UT Southwestern after Ph.D. and postdoctoral training at Washington University in St. Louis. The UTSW program, started more than 25 years ago to recruit promising early-career scientists, provides financial support over five years to newly appointed tenure-track assistant professors.
"It helped me build my research program by funding lab equipment and allowing me to recruit a team of researchers who have been the backbone of what I've been able to accomplish," she said.
Today, Dr. Hooper is Professor and Chair of Immunology; a Professor of Microbiology and in the Center for the Genetics of Host Defense; the Nancy Cain and Jeffrey A. Marcus Scholar in Medical Research, in Honor of Dr. Bill S. Vowell; and a member of the Harold C. Simmons Comprehensive Cancer Center at UTSW.
Originally started through private funding, the Endowed Scholars in Medical Science program has grown over the years through a blend of state funding, philanthropic donations, federal grants, and other sources, helping to launch the careers of 130 Investigators like Dr. Hooper. In 2003, the program was further buoyed with special funding from the state. Up to four scholars are appointed each year in both basic and clinical science departments.
"The success of the program really demonstrates what we can achieve with the commitment of our institution, state funding, and private donors," said David Mangelsdorf, Ph.D., Chair of Pharmacology at UT Southwestern and an Investigator with the Howard Hughes Medical Institute. He also leads the Endowed Scholars Committee, which selects recipients of the funding. "Dr. Hooper is an example of how we can recruit and retain the top scientists in the world, which has made us one of the top research institutions in the world."
Approximately 90% of Endowed Scholars continue their careers at UT Southwestern after their four-year cycles are complete and bring in millions of dollars in outside competitive funding, including NIH grants. The few who have left give UT Southwestern connections to the academic institutions where they go. "That has been a key to successfully recruiting young scientists from top academic programs in the U.S. and abroad," Dr. Mangelsdorf added.
The program focuses on recent postdoctoral fellows who are research stars in the making. "This is an incredibly powerful recruitment tool," Dr. Mangelsdorf said. "And once they get established, these researchers are able to successfully get grants for long-term funding of their research, which brings substantial resources to UTSW, the region, and the state."
When Dr. Hooper joined UTSW as an Endowed Scholar in Medical Science, the microbiome was her main research interest. It was one of the newer fields in medical science at the time. Since then, her discoveries have helped explain how a host peacefully coexists with the trillions of beneficial bacteria present in the intestinal tract and how these bacteria can shape immunological and metabolic functions. The NAM citation acknowledged her "pioneering analyses" of how gut microbiota impact the innate immune system.
"When I first came to UT Southwestern, my research didn't fit into a box. It was hard to define the work I was doing," she said. "But that's what the Endowed Scholars program is about – recruiting people who are on the cutting edge, which means they often don't fit into a traditional mold. That's what makes this program so successful."
Dr. Hooper holds the Jonathan W. Uhr, M.D. Distinguished Chair in Immunology.
Dr. Mangelsdorf holds the Alfred G. Gilman Distinguished Chair in Pharmacology, and the Raymond and Ellen Willie Distinguished Chair in Molecular Neuropharmacology in Honor of Harold B. Crasilneck, Ph.D.