Prepping for Summer: Staying Safe in the Great Outdoors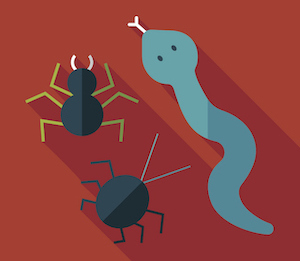 Summertime means being outdoors doing fun activities with your family and friends. However, staying safe outdoors means recognizing some risks that come with this time of year: heat illness, sunburns, water hazards, and outdoor critters. Follow these tips to stay safe outdoors and continue the amazing work you do at UT Southwestern.
Heat Acclimatization
Heat acclimatization is the process of improving your heat tolerance by gradually increasing the intensity or duration of time spent outdoors. As the summer months approach, it's best to slowly ramp up how long you spend outdoors over a period of one to two weeks. Generally, you can become acclimatized with about two hours of outdoor exposure daily. You can achieve this by:
Taking your time to get your body used to being outdoors; this will reduce the chance of heat illness later.
Working indoors or taking air-conditioned breaks; this won't generally hinder acclimatization.
Staying hydrated; dehydration reduces the benefits of this process.
Proper Summer Attire and Sunscreen Use
Congratulations, you are now acclimated to the heat and ready to take on that long hike, trail run, or your favorite summer activity. But before you proceed, take a moment to think through your attire and protecting yourself from the sun. For skin that can't be covered, sunscreen is a proven layer of defense.
Cover your skin with breathable light clothing and wear a hat.
Apply sunscreen about 30 minutes before being in the sun and reapply often.
Not all sunscreen is made equal; some are better suited to certain activities (such as swimming) than others. Make sure to read the label.
Water Safety
Swimming pools and beaches are quintessential summer activities, providing an opportunity to cool down, relax, and have a good time. Though important for everyone, water safety takes on extra meaning when kids are involved. Things you can do to keep safe during water activities:
Make sure everyone can swim and supervise children swimming.
Wear a life jacket during water sports activities.
Know the meaning of different beach flag colors.
Limit alcohol consumption.
Snakes, spiders, insects, oh my!
Whether you're playing in the backyard or out on a jog or hike, know that insects, snakes, and spiders are also out and about. It's important to be mindful and have situational awareness when outdoors to avoid contact with these potential hazards. Tips include:
Wear pants and closed-toe shoes when hiking or performing yard work.
Keep your lawn maintained and remove any stagnant water and debris piles.
Use mosquito sprays and check yourself for ticks.
Be aware of where you walk, especially if on a trail surrounded by brush or long grass.
Don't play with dead snakes; their bite reflex can last up to 90 minutes after death.
Nancy Onisko, D.O., Assistant Professor of Emergency Medicine, offers some great information on local venomous snakes and spiders.
The Office of Safety and Business Continuity not only encourages everyone to take advantage of the summer months but also to be mindful of summertime hazards. Proper preparation reduces the chance of accidents so you can enjoy the summer and continue to provide world-class teaching, research, and patient care at UT Southwestern.