Employee Advisory Council call for nominations
Do you want to help make UTSW an even better place to work? Consider nominating yourself or a like-minded colleague to serve on the Employee Advisory Council (EAC).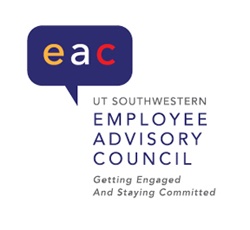 What is the EAC?
The EAC is a peer-nominated group of employees designed to enhance communication, promote employee commitment, and build community. Council members represent five different districts across the UTSW community to ensure the diverse voices of all employees are heard. The council:
Meets monthly to discuss employee issues and brainstorm positive ways to sustain and enhance a positive, productive work environment for all employees
Coordinates virtual and in-person events to enhance engagement
Partners with UTSW President Daniel K. Podolsky, M.D. to provide perspective on topics important to employees
Is dedicated to responding to issues brought forth in the Values in Practice employee engagement survey
What does the EAC do?
Check out some of the EAC's most recent accomplishments:
Employee Recognition Week activities, including first-time visits to satellite locations
Decorate your workspace competition
Carter BloodCare collaboration on sponsored blood drives
Epilepsy Awareness campaign
Elected new UT System-level EAC member
Began hosting monthly executive leadership speakers for EAC meetings to increase awareness and build community
How do I get involved?
Visit the EAC Nominations page by Friday, July 8, and submit up to three nominations for your district. Only one login per person number is allowed.
Ensure your nominations are complete; once you enter "Submit," you won't be able to revise your entry or nominate anyone else.
Nomination and voting criteria
Full-time Classified and Administrative and Professional (A&P) nonfaculty staff with two or more years of service can be elected to the EAC.
Only Classified and A&P staff members can nominate and vote for EAC representatives.
The three employees with the most nominations from each EAC district will go on the voting ballot. Candidate voting will begin July 26.
In case of a tie, years of service and performance rating will determine the finalist.
Final candidates for voting cannot be in the same department