Helpful safety tips from University Police
The UT Southwestern Police Department takes every possible measure to ensure the safety and security of the campus population and both University and personal property.
The Department urges all students, staff, and faculty to take an active interest in their environment, whether at home or on campus, and to notify the University Police immediately about any suspicious activity.
---
Oct. 15, 2020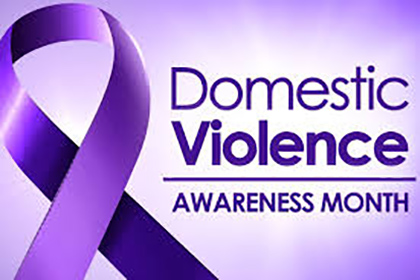 October is Domestic Violence Awareness Month
The COVID-19 pandemic has caused an estimated 20 percent spike in domestic violence cases, due to lockdown restrictions and work-from-home opportunities. We must continue to bring attention to domestic violence and help those who need resources during this time.
What is domestic violence?
Physical assault: Includes shoving, pushing, restraining, hitting or kicking.
Sexual assault: Any time one partner forces sexual acts that are unwanted or declined by the other partner.
Psychological assault: Includes isolation from family and friends, forced financial dependence, verbal and emotional abuse, threats, intimidation, and control over the partner's activities.
Attacks against property and pets: Destruction of property, treasured objects belonging to the victim, or abusing or killing beloved pets.
Keep yourself and others safe
Enlist support from a trusted friend or family member you can call
If necessary, use a code word or phrase to indicate you need help.
Memorize the phone numbers of people and agencies you might need to call in an emergency
Make sure you can easily access:

Cash
Identification (Social Security card and driver's license)
Birth and marriage certificates
Credit cards, safe deposit box keys, and bank information.
Health insurance information
Any documentation relating to previous episodes of abuse (photos, medical or police reports)
Upcoming events for Domestic Violence Awarenes Month
Resources
If you have any questions, contact the UT Southwestern Police Department at 214-648-8311.
---
Oct. 2, 2020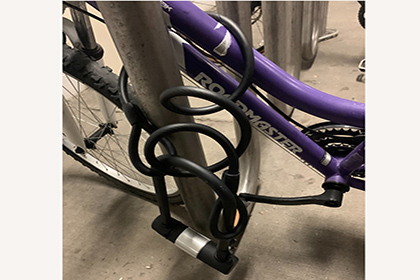 Properly secure your bike
University Police Department suggests the following ways to secure your bike:
Lock your frame. Lock the frame to an immovable object.
Keep the lock off the ground. The lock should be high up around the down tube or the seat tube.
Make the lock difficult to access. If the lock is difficult to access, it will be difficult to tamper with.
Fill the inside of a U-Lock. Leave no room inside the U-Lock for a bottle jack or pry bar.
Lock your bike using two locks. Two locks offer more security. Know how to properly secure both locks.
Register your bike with the UTSW Bicycle Registration Program. The best chance to recover a stolen bicycle is having a registered serial number. These numbers can be tracked by police across the nation.
Report It lets you securely store serial numbers, item descriptions, pictures, and scans of receipts so that your items may be more easily identified in the event of theft or loss. You can send this information over to your local police department, and it will help the process of locating your items.
Contact the UT Southwestern Police Department at 214-648-8311 if you see a suspicious person or behavior.
---
Sept. 18, 2020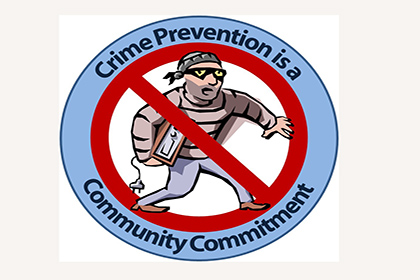 Why crime prevention matters
Crime is a societal problem that can only be properly addressed by members of our community. Crime prevention involves the shared responsibility by the community to remove or reduce crime. Find out how you can help to reduce crime:
Save the University Police contact information in your phone as a favorite. Immediately contact the University Police Department if you see suspicious person(s) and/or activity. Also, keep emergency phone numbers close by at work.
In the event of an emergency, there are emergency call boxes on campus with blue light telephones. Be proactive and locate the call boxes closest to where you park, or areas you visit frequently. If you do not know how to use them, contact the University Police Department for assistance.
Conduct your own security survey. If you notice any issues with landscaping or lighting on campus, please notify the University Police.
Whether on or off campus, practice being aware of your surroundings. Avoid wearing items that impair your ability to detect and respond to potentially dangerous situations.
Help us raise awareness about personal safety. Participate in campus safety programs offered by the University Police. Go to the University Police website or check Campus Update to receive information about safety.
If you have questions about personal safety, contact the UT Southwestern Police Department at 214-648-8311.
---
Aug. 31, 2020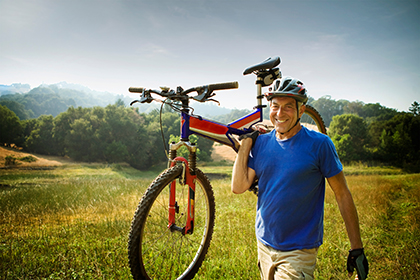 Bicycle theft prevention
Bicycle thefts are increasing on and off campus. Bikes are normally easy to steal due to poor locking practices by cyclists. To help prevent this from happening to you, follow the safety tips below to "remove the opportunity":
Buy a good lock and always use it. Make sure to use stiff and reliable locks.
Lock your bicycle to a secure structure. If you are unable to locate a bike rack, choose a structure that cannot be cut or compromised.
Unappealing means undesirable. Make your bicycle appear more subtle and less expensive by removing any accessories.
Check on your bicycle frequently. Checking on your bicycle could potentially deter a thief.
Make recovery easier in advance. Take quality pictures of your bicycle. Do not forget to write down the serial number and keep the receipt of purchase.
Crime prevention on campus
Register your bike with the UTSW Bicycle Registration Program. The best chance to recover a stolen bicycle is having a registered serial number. These numbers can be tracked by police across the nation.
Continuously be aware of your surroundings and avoid potentially dangerous situations.
Always contact the UT Southwestern Police Department at 214-648-8311 if you see a suspicious person or behavior.
---
Aug. 17, 2020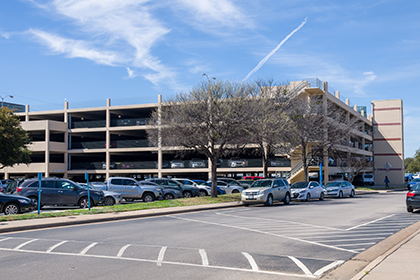 Parking garage and lot safety
There has been an increase in crime occurring in parking garages and lots. To help minimize these cases, take precautions and make your safety a priority by following these tips:
Lock your doors when driving and parked.
Never leave your keys in your car, whether you're at the gas station or in the parcel pick-up area.
Do not leave items of value in plain sight.
Keep the console area clean. Do not leave spare change or phone charges in this area.
Do not leave bags and boxes out in the open. Place personal items in the trunk.
Try not to carry multiple items at once, as this may make you an easy target.
Keep your eyes and ears open when walking out of and into parking garages. Attackers like to prey on people who are not aware of their surroundings.
Remember where you are parked to avoid spending unnecessary time walking around the parking lot.
Limit the amount of time you spend idle in the car.
Have your keys in hand to quickly unlock the door when leaving. The alarm button on a car remote can be used to scare off perpetrators.
If you are approached
Honk your car's horn. Doing this will alert others that you need help.
If a car approaches you while you are walking and you are harassed by the occupants, scream and run in the opposite direction so that the driver will have to turn around to pursue you.
Always contact the UT Southwestern Police Department at 214-648-8311 if you see a suspicious person or behavior.
---
Aug. 3, 2020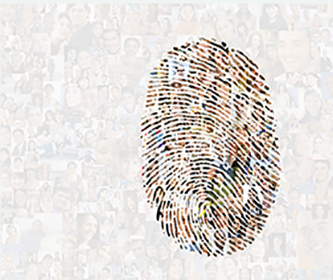 Identity Theft
Identity theft occurs when someone steals your personal information to gain financial advantage, or obtain credit and other benefits. This can damage your credit status and cost you time and money to restore your losses. Check out the tips below to help protect yourself against identity theft.
Warning signs
Unexplainable withdrawals from your bank account
Unfamiliar accounts or charges on your credit report
Denials for loan applications
Debt collection calls for accounts you did not open
Ways to help prevent identity theft
Protect your social security number. Never carry your social security card in your wallet.
Do not share personal information. Scam artists "phish" for information by pretending to be banks, stores, or government agencies. Do not respond to any request to verify your account number or password.
Create strong passwords. Use different passwords for all accounts and make sure passwords are strong.
Click with caution when doing business online. Only enter personal information on secure web pages. These will usually have "https:" in the address bar with a padlock symbol at the bottom of the browser window.
Check your credit card bills and bank statements for unauthorized charges or withdrawals
Resources to use and share
---
July 16, 2020
UT Southwestern Police Department resources
Hours of operation
The UT Southwestern Police Department Patrol Unit and Communications office operates 24 hours a day, seven days a week, including weekends and holidays.
Visit the University Police page for more information.
Reporting suspicious activity
If you would like to report suspicious activity or if you have information that police should know about something that could be criminal in nature, please submit an anonymous reporting form.
Personal escort services
Officers are available 24 hours a day, including weekends and holidays, for personal escort. Officers will walk with or drive anyone to any location on or near campus.
To request an escort, call 214-648-8311. You will be asked for your name, phone extension, and location.
Disabled vehicles
Motorist assistance is available on campus 24 hours a day, including weekends and holidays. Should you need a battery jump or lock your keys inside your vehicle, the Police Department can provide assistance.
Communications personnel will need your name, vehicle description, license plate number, and location.
Crime prevention
It is important that we practice safety awareness on and off campus. We encourage the community to continuously be aware of their surroundings and avoid potentially dangerous situations.
Crime prevention tips will be posted in Campus Update every two weeks. Please share this information with your peers. If you would like a virtual presentation or have safety questions, please jaquanna.dye@UTsouthwestern.edu JaQuanna Dye.
---
June 18, 2020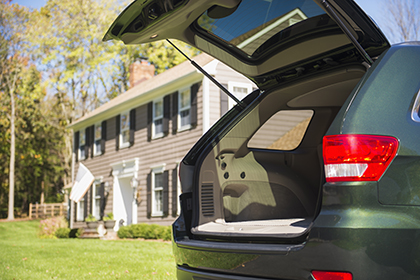 Keep your car safe at all times
Always lock your car, even if you are leaving for a brief time.
Roll windows up tight. One slightly open window can render all other precautions useless.
Remove the key. Do not hide a spare key as they can be found.
Check the interior of your vehicle for intruders before entering your car.
Remember to report suspicious activity to local law enforcement, or a person of authority using the 5 W's:
Who did you see
What did you see
When you saw it
Where it occurred
Why it is suspicious
---
May 22, 2020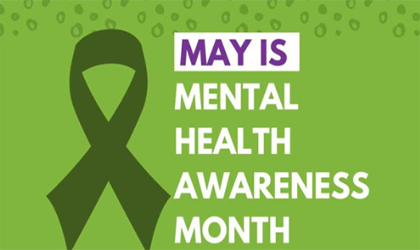 Mental Health Awareness Month
The outbreak of COVID-19 has altered our daily routines and affected many lives. During this time, it is important to continue taking care of yourself and our community by helping others cope with their stress to preserve physical well-being.
There are numerous ways to cope with stress:
Take breaks from watching, reading, or listening to news stories, including social media. Hearing about the pandemic repeatedly can be upsetting.
Take care of your body. Take deep breaths, stretch, or meditate. Exercise regularly and get plenty of sleep.
Make time to unwind. Try to do activities that you enjoy.
Connect with others. Talk with people you trust about your concerns and how you are feeling.
Often, mental health needs go unmet due to lack of community resources. Therefore, this post is a reminder for our community to continue working together to help those around us stay safe.
Mental health resources to use and share
---
May 13, 2020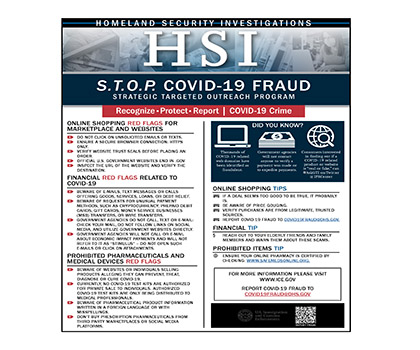 Protect yourself online
It is important to continue to stay aware of online scams, especially while buying goods during this pandemic. The Department of Homeland Security (DHS) listed a few red flags below that may be beneficial for our UT Southwestern community. For more information related to scams, visit the DHS website.
Online shopping
Do not click on unsolicited emails
Always ensure a secure browser connection
Inspect the URL of the website and verify the destination
Financial
Pay close attention to emails, text messages, or calls offering loans or debt relief.
Beware of requests for unusual payment methods, such as prepaid debit cards, gift cards, or wire transfers.
Government agencies will not call, text, or email.
Do not follow links on social media. Instead, utilize government websites directly.
Pharmaceuticals and medical devices
Beware of websites or individuals selling products alleging that they can prevent, treat, or cure COVID-19.
Do not buy prescription pharmaceuticals from third-party marketplaces or social media medical platforms
---
April 17, 2020
Sexual Assault Awareness Month
April is Sexual Assault Awareness Month (SAAM) and the University Police Department recognizes the need to educate the community on preventing and recognizing domestic and sexual violence. It is important to know that both domestic and sexual violence often intersect, meaning perpetrators are likely to be both physically and sexually violent toward victims.
What is domestic violence?
Domestic violence is any behavior used to establish power and control over another person. Some examples are:
Exerting strict control (financial, social, and/or appearance)
Emotional abuse, including insulting a partner in front of other people.
Isolation from family and friends
Unexplained injuries, or explanations that don't quite add up.
What is sexual violence?
Sexual violence is any forced or coerced sexual activity without consent. The most common forms are:
Rape
Fondling, or unwanted sexual touching above and under clothing.
Sexual harassment
Forcing a person to pose for sexual pictures
What are the warning signs of sexual or domestic violence?
From the victim
From the abuser

Sudden changes in appearance and/or behavior

Avoids contact with family and friends

Spends all of free time with abuser

Cries a lot; moody

Defends abuser and his/her actions

Sudden and drastic mood swings

Jealous and controlling

History of battery

Constantly checking on partner

Blames others for their problems
What can I do if I experience or know someone who is experiencing sexual or domestic violence?
Are you the victim?
Are you a friend or family member?

Decide that any abuse is too much

Document your injuries

Call a local hotline for help

Fill out personalized safety plan

Learn all that you can about abuse

Listen carefully

Support the person's choices

Be patient!
Helpful Resources
Dallas Area Rape Crisis Center (DARCC) – Staff and trained advocates are available to help those impacted by sexual violence navigate the journey of healing in a safe and confidential environment.
Women Called Moses – A 501(c)3 non-profit organization primarily created to provide a secure shelter for battered women and their children.
NO MORE – The largest coalition of non-profits, corporations, government agencies, media, schools, and individuals addressing domestic violence and sexual assault.
National Domestic Violence Hotline – A national organization providing assistance to those experience domestic violence.
If you have any questions, contact the University Police Department at 214-648-8311.
---
April 3, 2020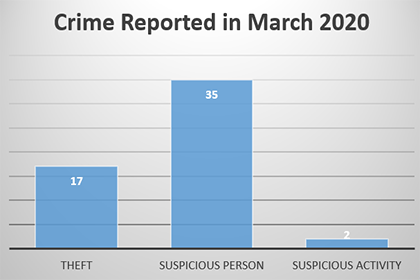 Stay safe during the COVID-19 pandemic
As we navigate through the COVID-19 pandemic, it is important that we remain vigilant and aware of criminal activity on campus. The Crime Report chart displays the most recent crimes reported in March 2020 (theft and suspicious person/activities). By looking at the chart, you will notice the number of reports to the University Police are low, which means our community is already doing an outstanding job at minimizing crime. Remember, criminals will look for "crimes of opportunity." Continue to practice safety awareness by remembering the safety tips below.
Personal safety
Be aware of your surroundings - Look to see who is in front of you and behind you.
If you are concerned about your safety, ask a friend to accompany you.
Communicate the message that you are calm, confident, and know where you are going. Stand tall, walk with purpose, and make eye contact with people around you.
Trust your instincts. If you feel uncomfortable in a place or situation, simply leave.
Property safety
Keep office doors locked when not in your office, and put purses or wallets in a secured cabinet or locker. Never leave items unattended.
Never leave items such as computer cases or purses in your vehicle in plain sight, even if the containers are empty.
Report suspicious activity
Criminals do not want to be seen or heard. We can all help keep our communities stay safe by paying attention to our surroundings and reporting suspicious activity. Public safety and security is everyone's responsibility. If you see something, say something.
For more crime prevention tips, contact the UTSW Crime Prevention Coordinator at 214-648-8311.
---
March 25, 2020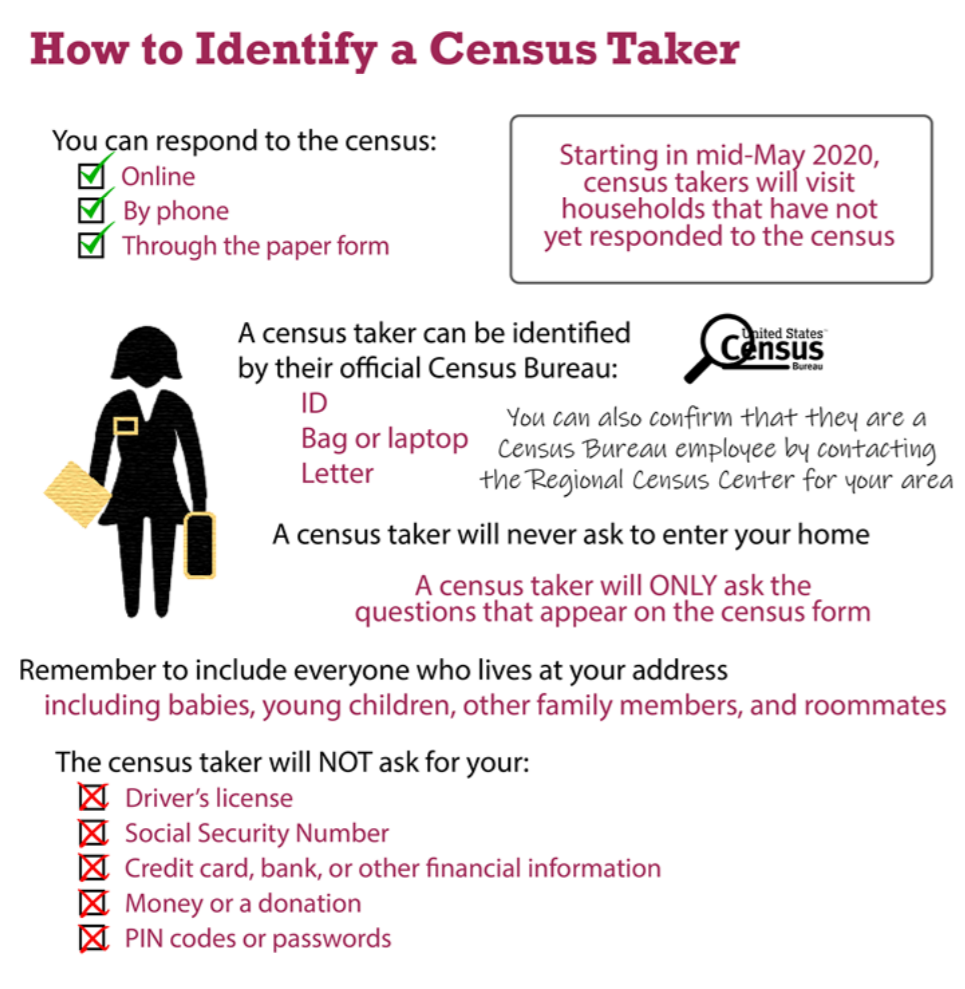 2020 U.S. Census safety
Avoid online scams
The U.S. Census Bureau will not send unsolicited emails to request participation, or ask for your social security, bank account, or credit card numbers.
Identifying a Census employee
If someone visits your home to collect a response, make sure they have a valid ID badge.
Decennial Census employees will have an official identification card with the employee name, picture, and expiration date.
Decennial Census employees will also have an official bag and Census Bureau-issued electronic device, such as a laptop with the Census Bureau logo.
If you are still unsure about individual's identity, call 844-330-2020 to verify.
To find more tips to help you stay safe, go to www.2020census.gov.
If you have any questions, contact the UTSW Crime Prevention Coordinator at 214-648-8311.
---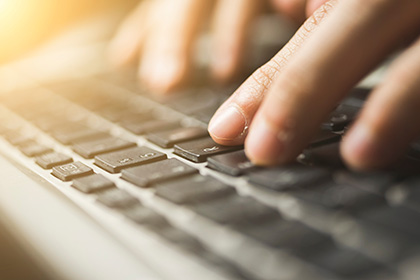 Cybersecurity
Choose a strong password
Use different ID/password combinations for different accounts.
Avoid saving passwords in unsecure locations.
Make passwords complicated and change passwords on a regular basis.
Secure your computer
Never leave devices unattended.
Prevent viruses from infecting your computer by installing and regularly updating anti-virus software.
Activate your firewall. Firewalls are the first line of cyber defense; they block connections to unknown or bogus sites.
Click with caution
Double check emails before responding. Check and verify the source of the message.
Never reply to emails that ask you to verify your information or confirm your user ID or password.
Secure your wireless network
Wireless networks are vulnerable to intrusion if they are not properly secured.
Hot spots are vulnerable. Avoid conducting financial or corporate transactions on these networks.
Protect your e-identity
Do not give out financial information over the internet.
Ensure that websites are secure when making online purchases.
If you have any questions, contact the Crime Prevention Coordinator at 214-648-8311.