Defining the future for UTSW's Class of 2023
Match Day reveals residency placements for 219 aspiring physicians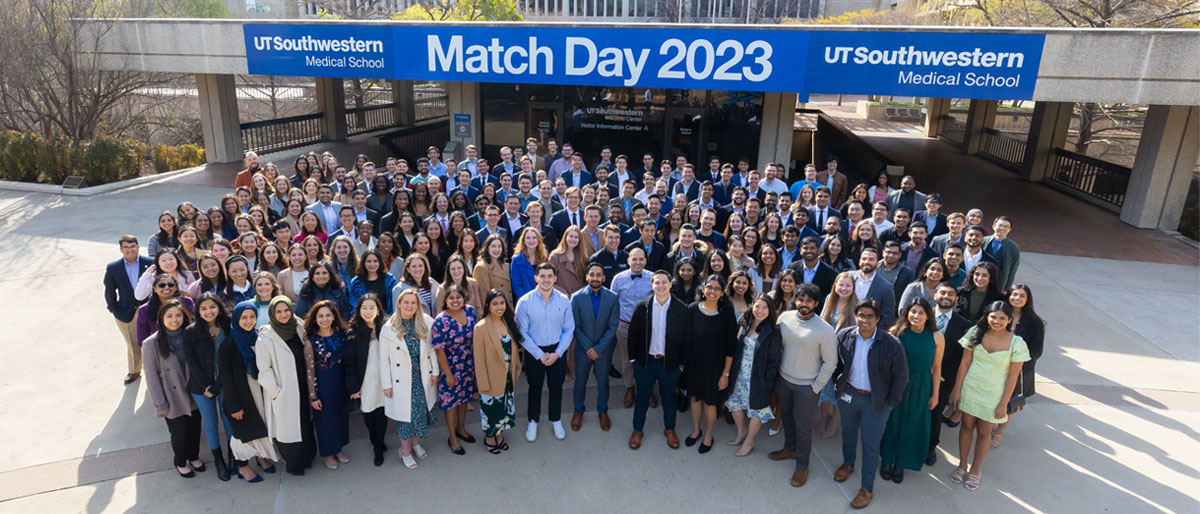 On Friday, March 17, soon-to-be UT Southwestern Medical School graduates came one step closer to their dreams of becoming part of the next generation of physicians. Students gathered in anticipation in the Bryan Williams, M.D. Student Center gymnasium – surrounded by friends, family, faculty, and staff – to learn where the next stage of their medical training would take place. The mood was festive, and at 11 a.m., students simultaneously ripped open their envelopes to reveal their matches into 28 different specialties at hospitals across the nation.
"Match Day is one of the most significant milestones in the life of a medical student," said Angela Mihalic, M.D., Dean of Medical Students and Associate Dean for Student Affairs. "Today represents a culmination of many years of hope, hard work, sacrifice, and self-discovery for these students. As educators, we have watched the remarkable transformation that has happened over the past four years. We wish them luck in the next phase of their medical education, where a world of opportunities awaits."
Celebrating the momentous event with the Class of 2023 were Daniel K. Podolsky, M.D., UT Southwestern President; W. P. Andrew Lee, M.D., Executive Vice President for Academic Affairs, Provost, and Dean of the Medical School; Charles Ginsburg, M.D., Vice Provost and Senior Associate Dean for Education; and other academic leaders and mentors. Long-standing UT Southwestern traditions included a countdown clock and drumroll that made for an exciting day for all.
For 2023, the top six residency specialties selected by UT Southwestern students were:
Internal Medicine
Pediatrics
Anesthesiology
Obstetrics/Gynecology
Surgery and Emergency Medicine (tie)
This year's graduating students embraced the opportunity to learn and grow during the pandemic, when the world became their classroom. They faced great challenges but demonstrated leadership and service in helping each other, UT Southwestern, and the nation.
"The Class of 2023 started medical training before the pandemic, then navigated medical school and witnessed medicine evolve as they were being trained to be doctors," said Melanie S. Sulistio, M.D., Associate Dean for Student Affairs and Associate Professor of Internal Medicine. "Not only will they be historically remembered as physicians who underwent the rigors of medical school during COVID-19, I suspect they will also be some of the most socially aware and agile physicians that have graduated, having witnessed all the adaptations of medicine. They will also undoubtedly bring more innovation to our field. It's been a true privilege to walk this journey with them."
Dr. Mihalic said she admired the remarkable flexibility, adaptability, and resilience the students displayed through all the challenges secondary to the pandemic, including the move to a virtual curriculum in the second year; reshuffling of their clerkship schedule to minimize the impact on their clinical training; and new complexities in the residency application process. "I am so proud of their spirit of cooperation, teamwork, and commitment to acquiring the strong fund of knowledge and clinical skills needed to face the new challenges in medicine," she said. "In addition, this Class played key roles in leading efforts to promote social justice, address racism in medicine, and promote improvements in the curriculum for expanded teaching of social determinants of health."
Norberto Rodriguez-Baez, M.D., Professor of Pediatrics and Associate Dean of Student Affairs for the Office of Student Diversity and Inclusion, said he believes the students' medical school training has prepared them to become strong leaders to serve a diverse world. "I'm very proud to see our students represent what they have learned about their social responsibility in addressing health care disparities. I know that they will work hard and become excellent, empathetic physicians. They will not be an echo; they will be the voice that changes the narrative, especially for those who feel they do not have one," Dr. Rodriguez-Baez said.
Each year, fourth-year medical students across the country participate in the National Resident Matching Program (NRMP) to determine where they will start their medical careers. The NRMP oversees a highly structured interview process that uses an algorithm to match the preferences of students with those of residency programs. Placements are announced on Match Day, a coordinated event held on medical school campuses across the nation. Last year, 42,549 active applicants participated in the Main Residency Match, according to the NRMP.
This special day represents the ultimate achievement for students and marks a bittersweet ending to medical school. Of the 219 students who matched in the Class of 2023, 56 will complete residencies at UTSW, 105 will train in Texas, while the rest disperse to top institutions across the country. After four years of friendship, camaraderie, and collaboration, students will go their separate ways, but their bond as UTSW alumni will last a lifetime.