Lea appointed Chief of Division of Gynecologic Oncology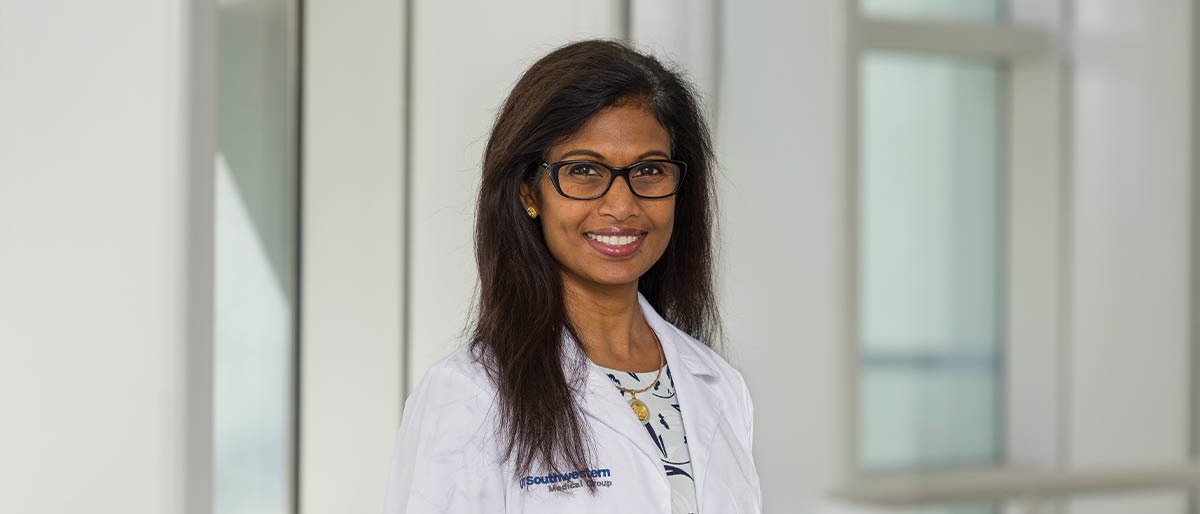 Jayanthi Lea, M.D., a Professor of Obstetrics and Gynecology who has worked to improve the outcomes and quality of care for women with gynecological cancers and those at risk for malignancies, has been named Chief of the Division of Gynecologic Oncology.
The gynecologic cancer specialist is charged with leading the Division in clinical, educational, and research excellence while overseeing the care of patients at both William P. Clements Jr. University Hospital and Parkland Memorial Hospital. Her new role took effect Feb. 1.
"Dr. Lea continues to work on ovarian cancer early detection, with National Institutes of Health funding to characterize the role of the immune system in the pathogenesis of ovarian cancer," said Catherine Spong, M.D., Chair of Obstetrics and Gynecology. "Most recently, she has been the physician champion of a developing multidisciplinary program at UT Southwestern for the care of women at risk for developing gynecologic malignancies."
As Director of the Gynecologic Oncology Fellowship Program, she also helps prepare physicians for productive, impactful careers through specialized training.
"The Division will build on its strength as a destination of choice that provides patients with the highest-quality evaluation and treatment as well as dedicated clinical trials that offer the latest in novel therapies," Dr. Lea said. "Through collaborative research, we will build a comprehensive program to advance the care of women with gynecologic cancers."
Dr. Lea graduated from the University of North Carolina at Chapel Hill with a bachelor's degree in biology. She earned her medical degree at East Carolina University School of Medicine and completed her residency training in obstetrics and gynecology at Riverside Methodist Hospital in Columbus, Ohio. Following a four-year gynecologic oncology fellowship at UT Southwestern, she joined the faculty in 2004. Dr. Lea returned to UTSW in 2010 after serving as Assistant Director for the Division of Gynecologic Oncology at Carolinas Medical Center in Charlotte.
She is a subspecialty board examiner for the American Board of Obstetrics and Gynecology, serves on the Gynecologic Oncology Qualifying Exam subcommittee, and is a member of the Case Review and Differential Item Functioning Analysis Group. Additionally, she is a member of NRG Oncology, a cancer clinical-cooperative group funded by the National Cancer Institute, and is an advisory board member of the National Ovarian Council Coalition.
As a scholar of the National Institutes of Health Reproductive Scientist Development Program, Dr. Lea investigated the molecular pathogenesis of cervical cancer. She played a major role in successfully establishing a clinically annotated ovarian cancer tumor repository with matched normal and blood tissue samples to enable biomarker detection for early detection and treatment.
In collaboration with the Harold C. Simmons Comprehensive Cancer Center and the Cecil H. and Ida Green Center for Reproductive Biology Sciences, Dr. Lea will recruit clinicians and scholars to establish UTSW as a destination of choice for gynecologic cancer care. Drs. Lea and Spong are both members of the Simmons Cancer Center.