UTSW summer research programs provide undergrads valuable experience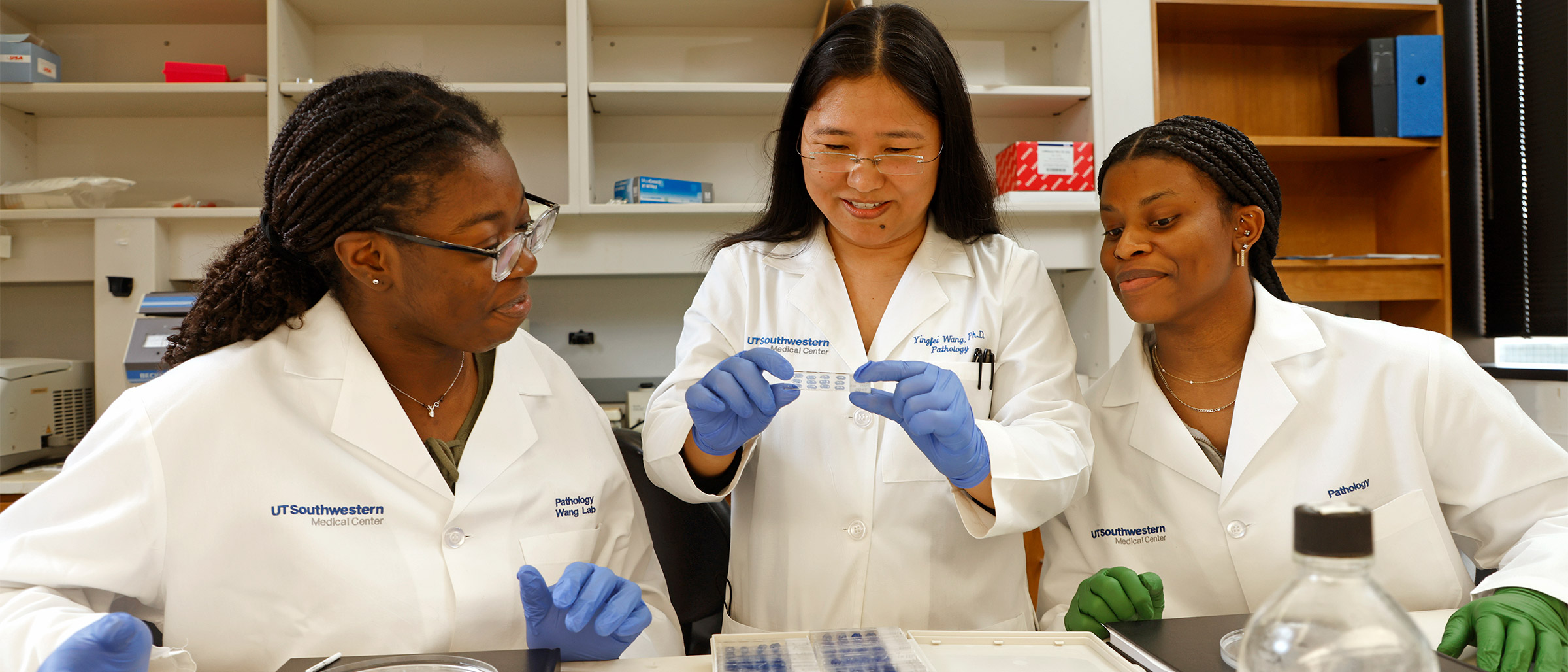 Undergraduates from across the country received valuable laboratory experience with leading UT Southwestern scientists through biomedical research training programs over the summer. In all, 22 Amgen Scholars and 43 Summer Undergraduate Research Fellows were introduced to the kinds of projects that they might one day encounter in biomedical research careers.
Both programs are designed to inspire future biomedical investigators by providing opportunities for participants to conduct research, analyze data, present results, develop relationships with faculty mentors, and network.
UT Southwestern was selected to join the Amgen Scholars Program in 2019 when it was awarded a four-year grant from the Amgen Foundation. At the time, it was one of only 13 institutions in the U.S. selected to host the program. (Amgen is a vendor for UT Southwestern and also supports UTSW research.)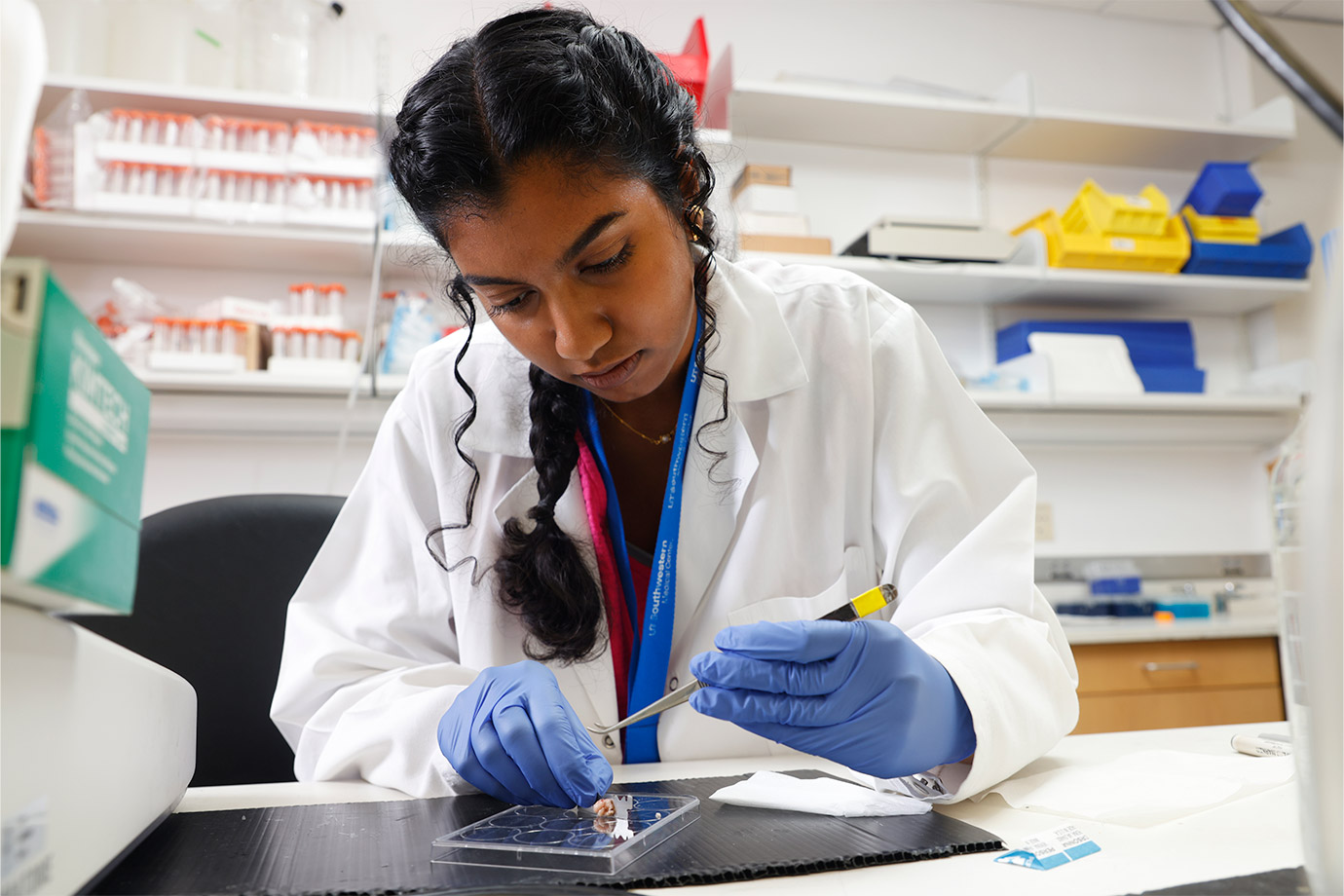 The SURF (Summer Undergraduate Research Fellowship) program is a 10-week fellowship program for college students pursuing Ph.D. or M.D./Ph.D. careers that the UT Southwestern Graduate School of Biomedical Sciences started in 1984.
"The Amgen Scholars and SURF programs have given a platform to many students from different walks of life to gain meaningful research experiences and leverage the skills to take their careers to the next level," said Arnaldo Díaz Vázquez, Ph.D., Assistant Dean for Diversity and Inclusion and Director of the two programs.
The programs encourage students from backgrounds historically underrepresented in the sciences to apply, including African-American, Hispanic, Native American and Pacific Islander, as well as first generation and socioeconomically disadvantaged students and those who are studying at small liberal art colleges, enabling opportunities for students who otherwise might not get a chance to work at a top biomedical institution.
The Amgen program is funded with a grant from the Amgen Foundation, while SURF is supported by funds from UT Southwestern. In addition, the SURF-Stem Cell program receives support from the Hamon Center for Regenerative Science and Medicine and Eric Olson, Ph.D., Chair of Molecular Biology and Director of the Hamon Center, while the Summer Undergraduate Research Institute for the Study of Kidney Disease (SURISKD) is funded through a National Institutes of Health grant under the direction of Principal Investigator Thomas Carroll, Ph.D., Professor of Internal Medicine and Molecular Biology. SURF-Stem Cell and SURISKD programs are both subsets of the SURF program, the first focused on studies of tissue formation and regeneration of damaged organs while the latter specializes in kidney-related research.
"The summer research opportunities at the Graduate School of Biomedical Sciences align perfectly with our mission and commitment to diversity and inclusion. We celebrate and acknowledge the value of each scholar's culture and perspectives and understand that we must continue increasing our reach and cultivating individual talents to diversify the STEM workplace, which will ultimately translate into advancements in science and human health," Dr. Díaz Vázquez said.
UT Southwestern's third class of Amgen Scholars experienced a summer filled with activities designed to promote scholarly advancement, professional growth, and a sense of community.
For University of California, San Diego, senior Maddie Brown, becoming an Amgen Scholar fulfilled a dream. Growing up in Dallas, she became fascinated by science and in particular by research at UT Southwestern, which was in her neighborhood.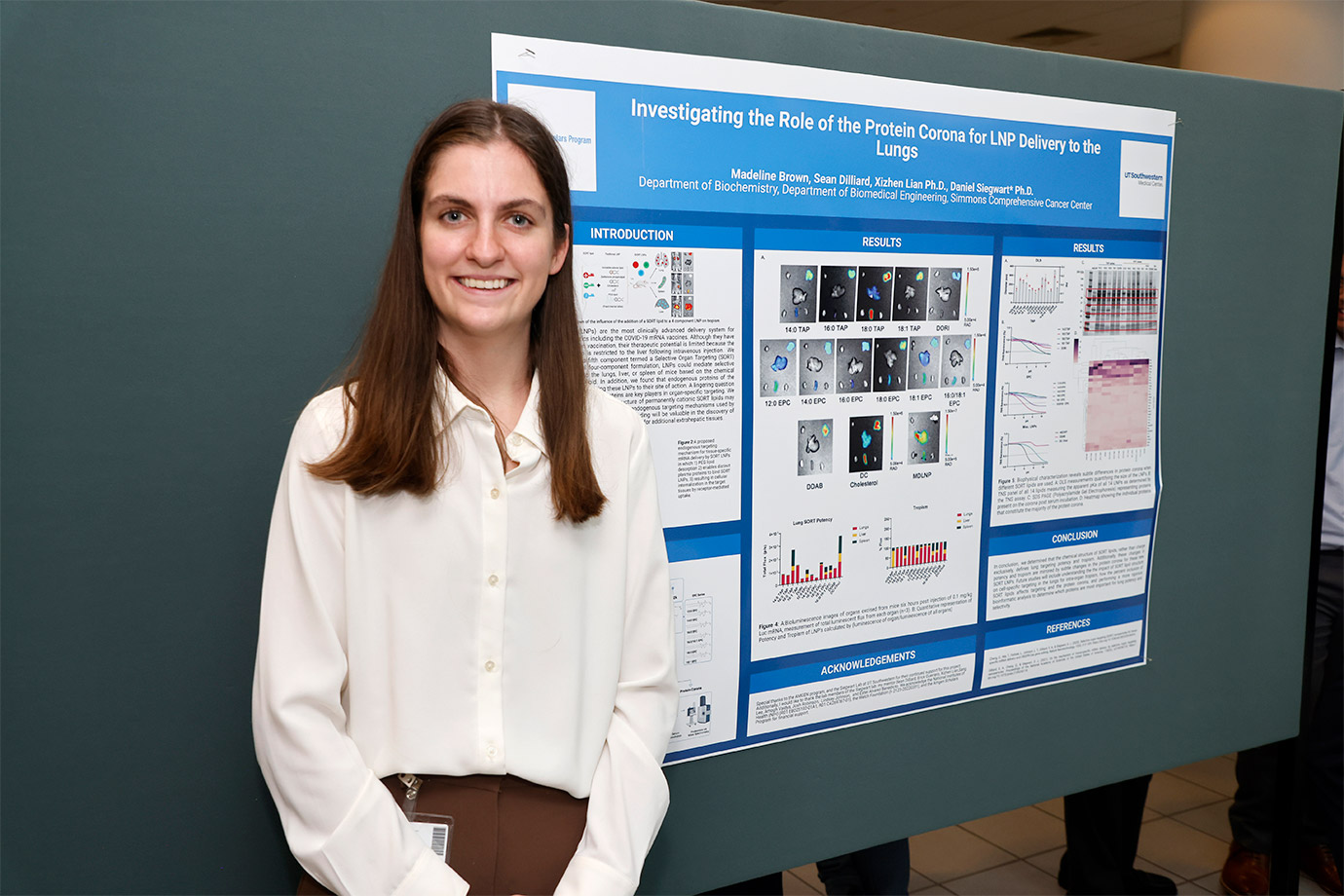 When she became an Amgen Scholar, Ms. Brown was elated to train in her hometown. Working in the lab of Daniel Siegwart, Ph.D., Associate Professor of Biochemistry and Biomedical Engineering, provided many opportunities. One of the most rewarding has been speaking with a wide array of faculty members, Ms. Brown said.
"The program here has fostered the notion that if you are curious about a subject, never hesitate to reach out to an expert to learn more," she said. "As a result, I have been able to explore many new and interesting concepts in biology – from cell metabolism to drug targeting."
The highly competitive Amgen Scholars program is a tremendous honor for recipients, said Dr. Siegwart, who also holds an appointment in the Harold C. Simmons Comprehensive Cancer Center.
Dr. Siegwart's laboratory has worked on messenger RNA lipid nanoparticles (LNPs), similar to those used in the mRNA COVID-19 vaccines, for the last decade. His lab discovered unique versions of LNPs that can target and deliver genetic medicines to the lungs called selective organ targeting (SORT) LNPs. SORT LNPs are being further developed by ReCode Therapeutics, a UT Southwestern spinout company that was cofounded by Dr. Siegwart, with multiple clinical trials on track to start in 2023 for treatment of genetic respiratory diseases.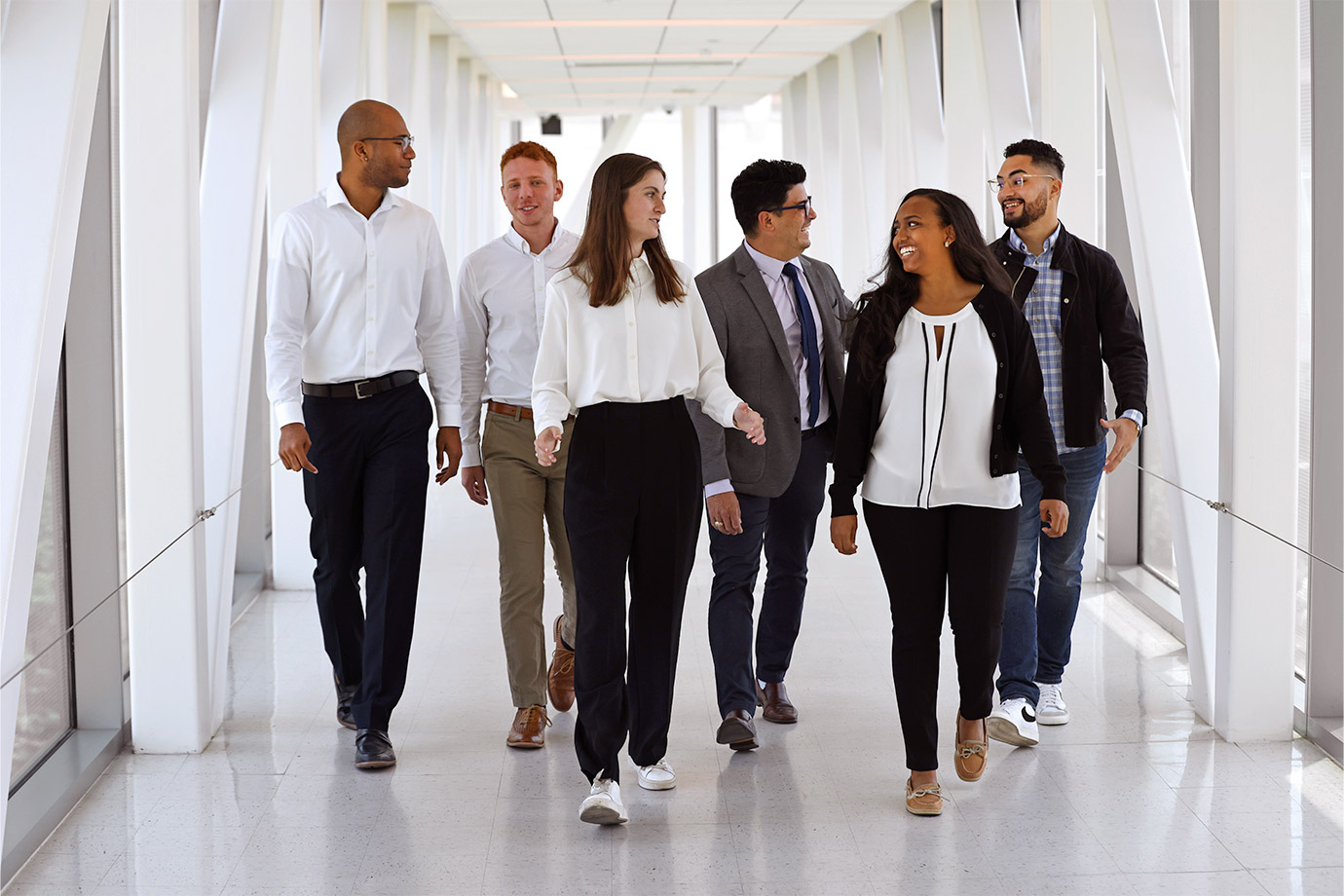 "This summer, Maddie worked diligently to elucidate important details of the mechanism – how and why Lung SORT LNPs target the lungs," he said. "Through scientific insights, hard work, and a diverse collection of biochemical assays, she revealed key aspects of how Lung SORT LNPs bind specific proteins in the blood to transport genetic medicines inside of lung cells."
SURF gives undergrads a taste of research life
Each summer, the SURF program gives participants the chance to explore careers as researchers, assigning these fellows to laboratories and research projects according to their training and science interests.
Like Amgen scholars, SURF fellows maintain a busy schedule of conducting research, working with mentors, and preparing to present their research. UT Southwestern provides housing at a local hotel for SURF fellows.
"The fact that UT Southwestern is an esteemed biomedical research institution and the home of six Nobel Prize recipients and some of the world's top scientists and medical professionals makes it exciting for me and keeps me motivated to grow," said SURF fellow Raul Caballero Montes.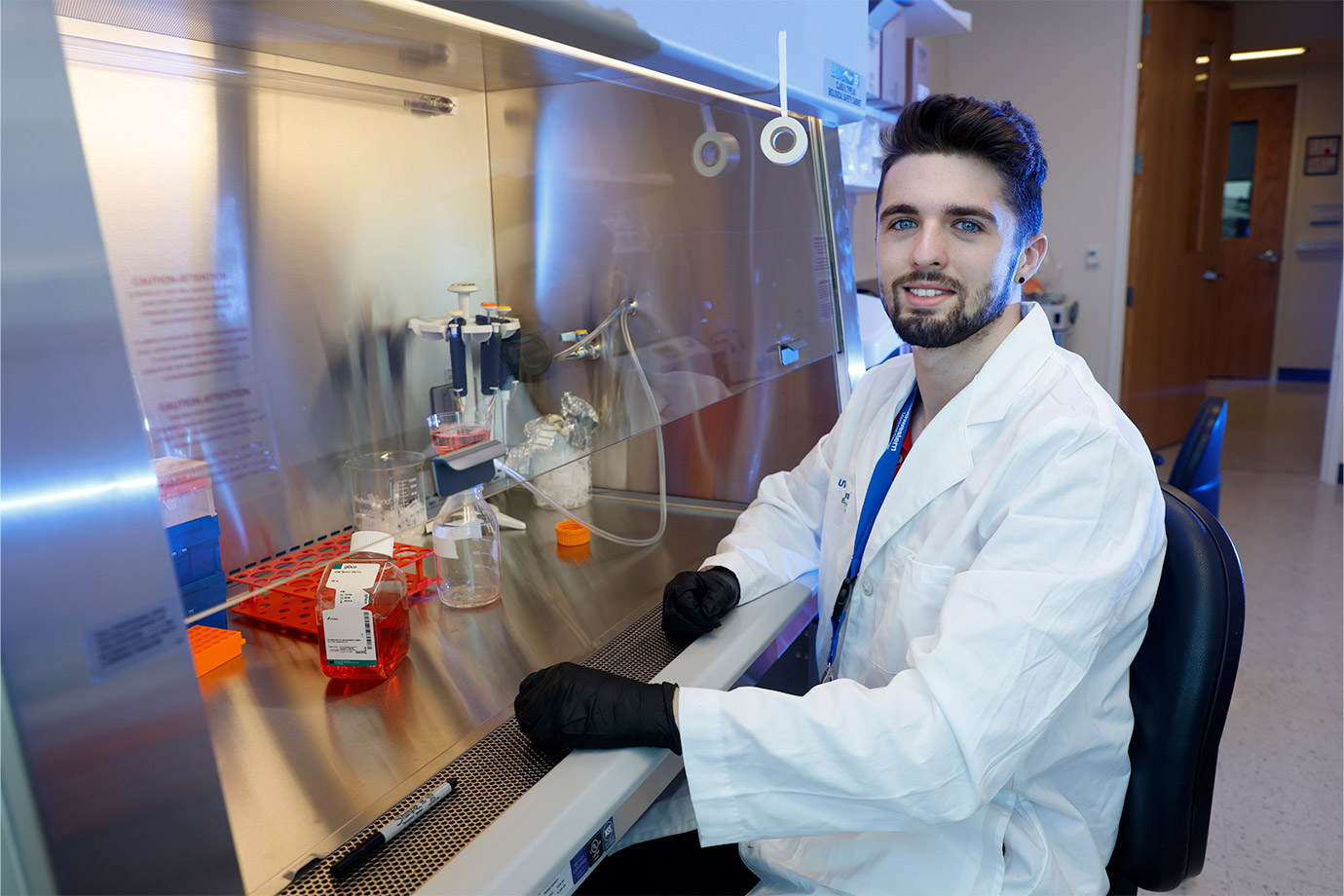 Working in the lab of Javier Garcia Bermudez, Ph.D., this past summer, Mr. Caballero Montes conducted research in cancer metabolism. Dr. Bermudez is an Assistant Professor of Pediatrics and in the Children's Medical Center Research Institute at UT Southwestern. The research of Mr. Caballero Montes focused on understanding mechanisms that rescue cancer cells from oxidative stress and damage and how to use this knowledge to induce a type of cell death called ferroptosis. Mr. Caballero Montes hopes to improve cancer treatments and prevent cancer spread.
"All the expertise that you get in your lab is combined with the learning experience that you get from the weekly scientific seminars and from speaking with other principal investigators, summer fellows, postdoctoral researchers, and others you have the chance to network with," said Mr. Caballero Montes. "The opportunity to cultivate a scientific mindset – and the feeling of contributing to something enormous – is more than you could possibly imagine."
A foundation for career success
After completing the summer training programs at UT Southwestern, undergraduates leave with a sharp vision of what to expect from a career in research. For Lupita Rios, who grew up in Guatemala and moved to the U.S. at age 12, SURF opened her eyes to dreams she never imagined.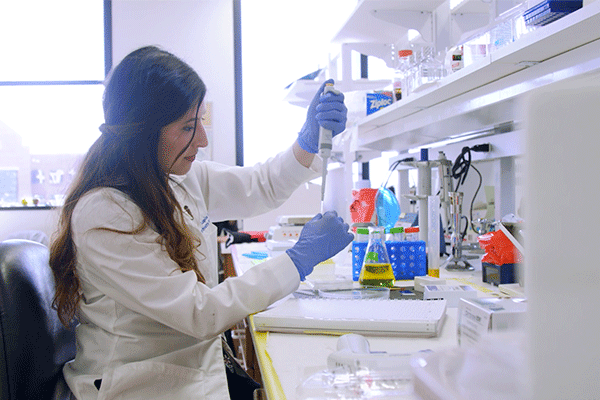 "Up until high school, I had no idea that becoming a scientist was even a possibility," said the 2015 and 2016 SURF fellow. "I was the first in my family to attend a university. Therefore, I was not aware of all the awesome career choices available for me."
Working in the lab of former faculty member David Self, Ph.D., inspired her to pursue a career in neuroscience, she said.
"This experience was amazing!" said Ms. Rios, who as a SURF student worked in the Department of Psychiatry, focusing on studies of cocaine addiction in rat models. "I was able to do a lot of hands-on work that is difficult to learn in classes alone. I learned a lot of valuable skills, such as developing and designing my own experiments, and I got to use cutting-edge scientific tools."
Participation in the SURF program solidified her decision to pursue a Ph.D. in neuroscience at UT Southwestern.
"After graduating, my plans are to continue my path in research, and help pave the way in STEM careers for other students like me," she said.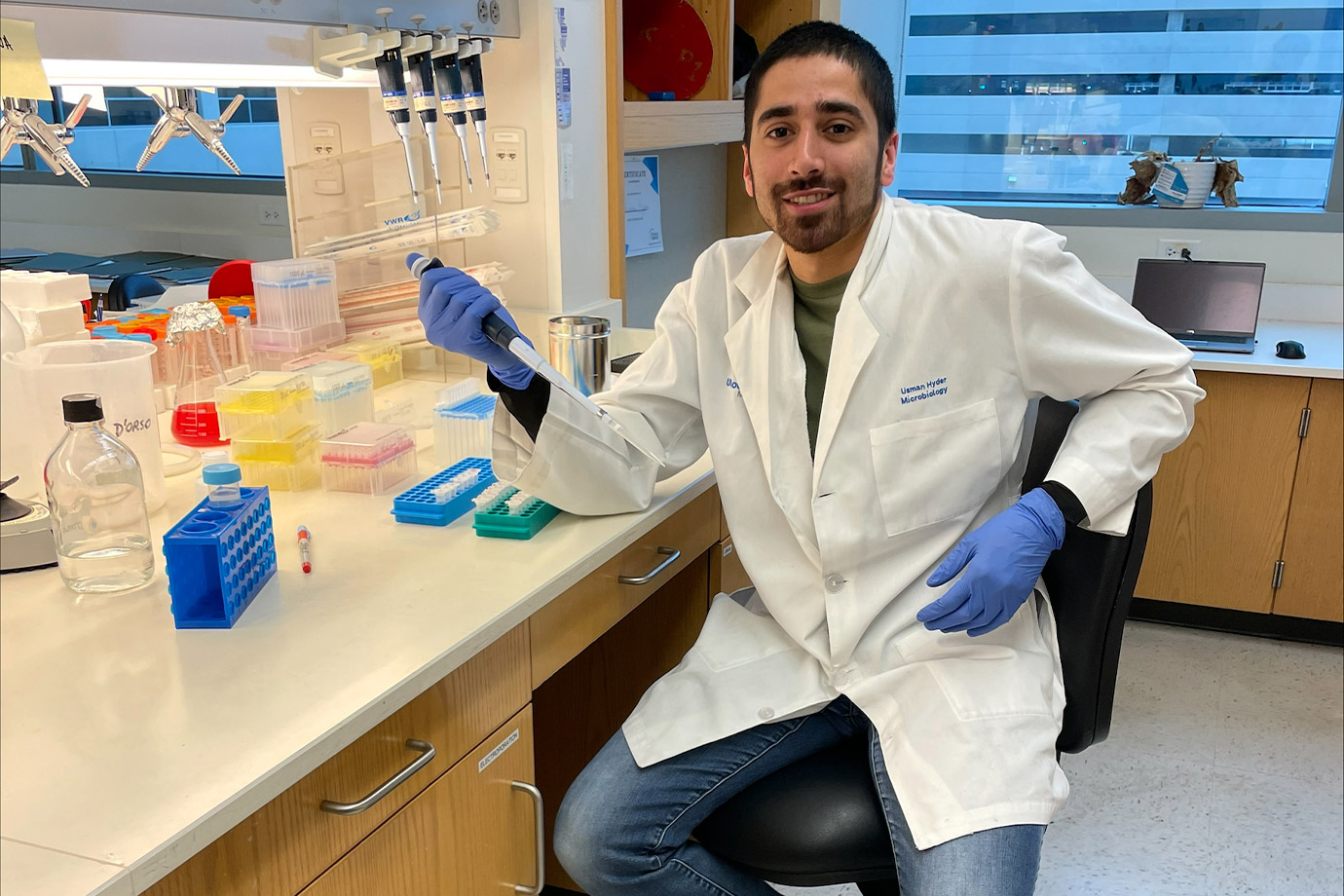 Similarly, SURF reinforced Usman Hyder's desire to become a scientist. As a 2017 participant, Mr. Hyder learned how to manage multiple experiments, to think critically about experimental design, and to understand what it meant to both fail and succeed at experiments.
The program helped him gain confidence and learn to be an independent scientist, said Mr. Hyder, who worked that summer in the lab of Ivan D'Orso, Ph.D., Associate Professor of Microbiology.
"SURF solidified that I had the capacity to go to grad school and that becoming a principal investigator was a goal that I wanted to achieve," he said. "The critical thinking skills gained during SURF have been important for me to stay focused in the research path."
Now in his fifth and final year of a Ph.D. program in Genetics, Development and Disease at UT Southwestern, he credits SURF and Dr. D'Orso with providing the foundation to help him achieve his career goals.
"Because of my experience both during SURF and now five years later, it remains a dream to come back to UT Southwestern and start a lab here," he said.