Epidemiologist, data scientist appointed inaugural Associate Deans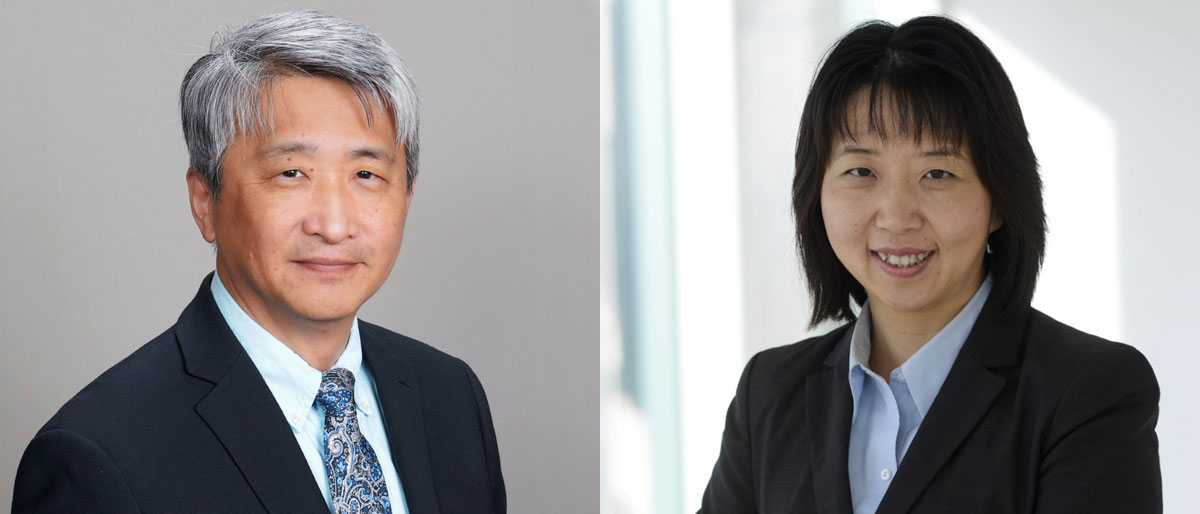 L. Joseph Su, Ph.D., M.P.H., a nutritional epidemiologist who researches links between diet and contaminants in food to cancer and health, and Yang Xie, Ph.D., an expert in the field of data science, have been appointed Associate Deans at UT Southwestern.
Dr. Su is Associate Dean for Academic Affairs in the Peter O'Donnell Jr. School of Public Health, which will enroll its first class of students in late 2023. In this new role, Dr. Su will work with faculty to establish a solid foundation of innovative curriculum backed by evidence-based research and to attract a diverse student body.
Dr. Xie, Professor of Population and Data Sciences and in the Lyda Hill Department of Bioinformatics, is Associate Dean for Data Sciences. In this role, also new to the University, she will work with the Provost's office and other academic leaders to expand quantitative and data science capabilities and expertise at UTSW, establishing an initiative in data science for precision health.
"Drs. Su and Xie bring expertise that will help launch a strong School of Public Health," said UTSW Medical School Dean W. P. Andrew Lee, M.D., Executive Vice President for Academic Affairs and Provost. "The ability to analyze the large amounts of data now available in order to uncover medical and treatment insights and tailor medicine to individual patients is becoming a bigger component of health care practice. And the work of epidemiologists to discover the health impacts of diet, lifestyle, and environment is a fundamental need in public health."
Dr. Su comes to UTSW from the University of Arkansas for Medical Sciences, where he was a founding member of the Center for Dietary Supplements Research; Associate Director of Population Sciences and co-Director of Cancer Control and Population Sciences at the Winthrop P. Rockefeller Cancer Institute; and Professor in the Fay W. Boozman College of Public Health. He received undergraduate degrees from Chung Yuan Christian University in Taiwan and the University of Minnesota. Dr. Su received his M.P.H. in public health nutrition at the University of Minnesota and a Ph.D. in nutritional epidemiology from the University of North Carolina at Chapel Hill.
He plans to continue research into what dietary components affect aggressive growth or predisposition to cancer. One study found an increased risk for pancreatic cancer in those with exposure to cadmium, a heavy metal that has been detected in rice. He has also researched why African American males are more likely to suffer from prostate cancer and are twice as likely to die from the disease.
Dr. Xie, who joined UTSW in 2006, was the founding Director of the Quantitative Biomedical Research Center. She is also the founding Director of the Data Science Shared Resource core that provides informatics and data management and analytics support for Harold C. Simmons Comprehensive Cancer Center researchers. She was named Principal Investigator and Director of a $5.4 million Cancer Prevention and Research Institute of Texas grant to establish and support data science research for pediatric cancer.
Dr. Xie received her undergraduate degree in medicine from Peking University Health Science Center in Beijing and a master's degree in epidemiology from Peking Union Medical College, also in Beijing. She received a Ph.D. in biostatistics from the University of Minnesota Twin Cities.
"I feel honored to serve as the inaugural Associate Dean of Data Sciences because data science is playing increasing roles in all aspects of medical research," Dr. Xie said. "How to analyze, interpret, and utilize this data to understand biology to help with patient care and public health – that has become more and more important."
One hope for using data science is to predict an individual patient's treatment response to the available drugs, she said. Combining data science analytics of patient genomics, clinical and lab data – along with imaging and artificial intelligence that lets algorithms predict patients' responses to therapy – may soon lead to such tailored treatment strategies, Dr. Xie added.
Her goals are to promote or develop: innovative data science and artificial intelligence research for biomedicine and population health; close collaboration among data science and biomedical, clinical, and population research and practice; data science infrastructure development for biomedical research; and data science education programs.