Class of 2022 makes a triumphant return to in-person Match Day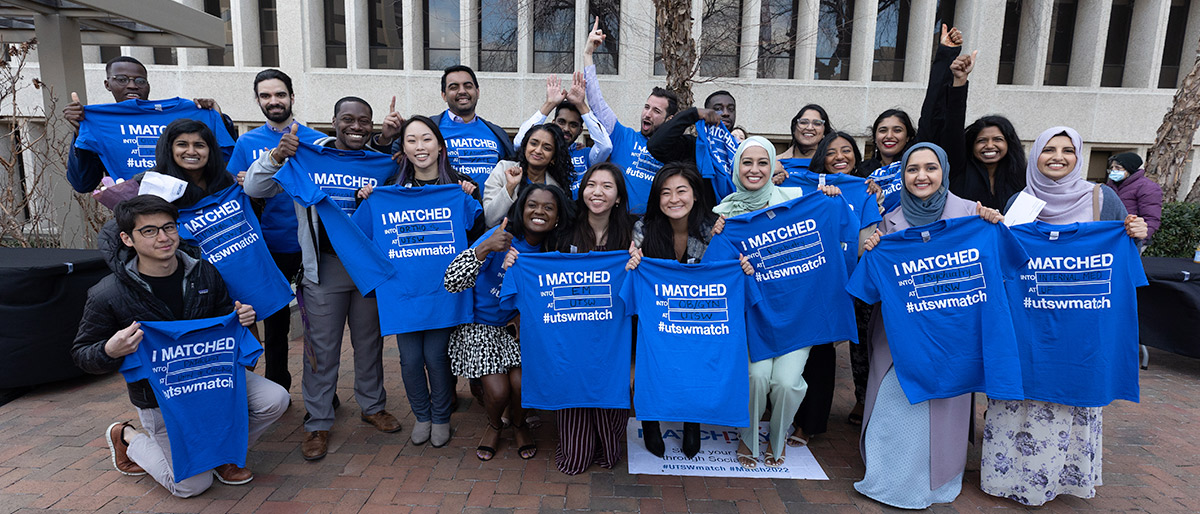 The faces of 205 fourth-year medical students revealed eager anticipation as they gathered together in person to mark 2022 Match Day after two years of virtual events. These soon-to-graduate UT Southwestern Medical School students longingly awaited 11 a.m. to open envelopes revealing the hospitals and programs where they will be completing residencies.
Held outside on Eugene McDermott Plaza on Friday, March 18, the event concluded months of anticipation. This year's students matched into 26 different specialties at hospitals across the country.
"Match Day is a culmination of many years of hopes, hard work, sacrifice, and self-discovery for these students," said Angela Mihalic, M.D., Dean of Medical Students and Associate Dean for Student Affairs. "Each year it is remarkable to look into each student's face, recall them from first-year orientation week, and see the remarkable transformation that has happened over the past four years."
W. P. Andrew Lee, M.D., Executive Vice President for Academic Affairs, Provost, and Dean of the Medical School; Charles Ginsburg, M.D., Vice Provost and Senior Associate Dean for Education; and many other academic leaders took part in this milestone event. The day's festivities included a countdown clock and drumroll – both long-standing UT Southwestern traditions.
In 2022, the top five residency specialties selected by UT Southwestern students were:
Internal Medicine
Anesthesiology
Pediatrics
Orthopedics
Psychiatry
For the Class of 2022 in particular, the path to Match Day was laden with obstacles imposed by the COVID-19 pandemic. "These students had hands-on, real-life learning that could never be taught in a lecture or textbook. They are one of the few groups of physicians who know exactly how a world reacts to a pandemic," said Melanie Sulistio, M.D., Associate Dean for Student Affairs. "These students have learned how decisions affect public health, and also how information is spread in the modern age, something that will serve them well as they become physician leaders."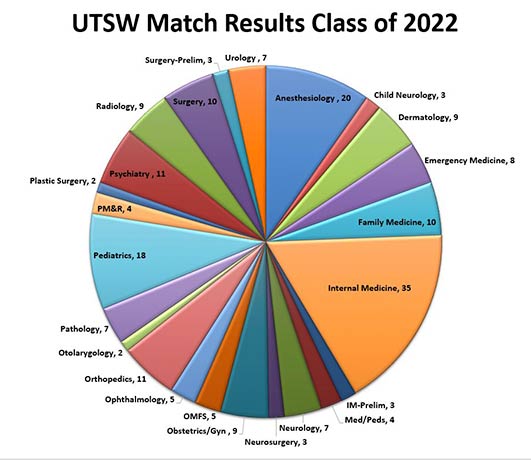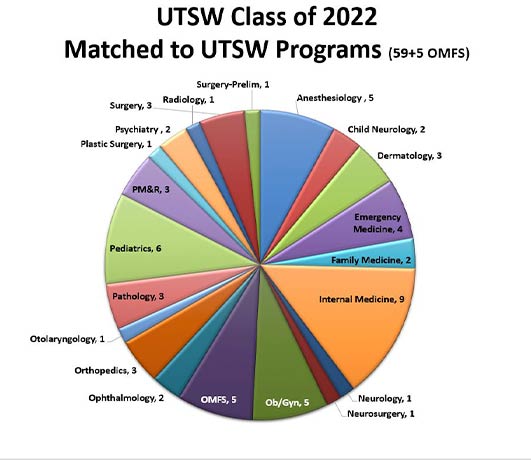 Each year, fourth-year medical students participate in the National Resident Matching Program (NRMP). Students complete an extensive cycle of applications and interviews for residency programs at hospitals throughout the country. The NRMP then uses an algorithm to match students to programs according to rankings provided from both parties. In 2021, 42,508 active applicants participated in the Main Residency Match, according to the NRMP.
While managing the rigors of medical school during a pandemic, this year's senior medical students also proved their commitment to improving the inclusivity of medicine for all, whether patient or provider. "The Class of 2022 has demonstrated a strong passion for advocacy, both in their educational pursuits as well as in advocating for patients," Dr. Mihalic said. "They have shared in and led efforts to promote social justice, address racism in medicine, and promote improvements in the curriculum for expanded teaching of social determinants of health."
Shawna D. Nesbitt, M.D., M.S., Associate Dean for Student Diversity and Inclusion, mirrored the praise of the advocacy efforts of this year's matching students. "Their thoughtful and innovative approach to learning about health equity and the effect of institutionalized racism on the health of our patients is inspiring. This class represents the hope of a healthier and more equitable society," Dr. Nesbitt said. "The future of medicine is far brighter with the entry of the Class of 2022 into health care."
Match Day represents the culmination of years of hard work for medical students on the precipice of graduating. Of the 205 students who matched in the Class of 2022, 64 will complete residencies at UT Southwestern, 102 will train in Texas, while the rest disperse to top institutions across the country.