Improving LVAD outcomes with sternal-sparing surgery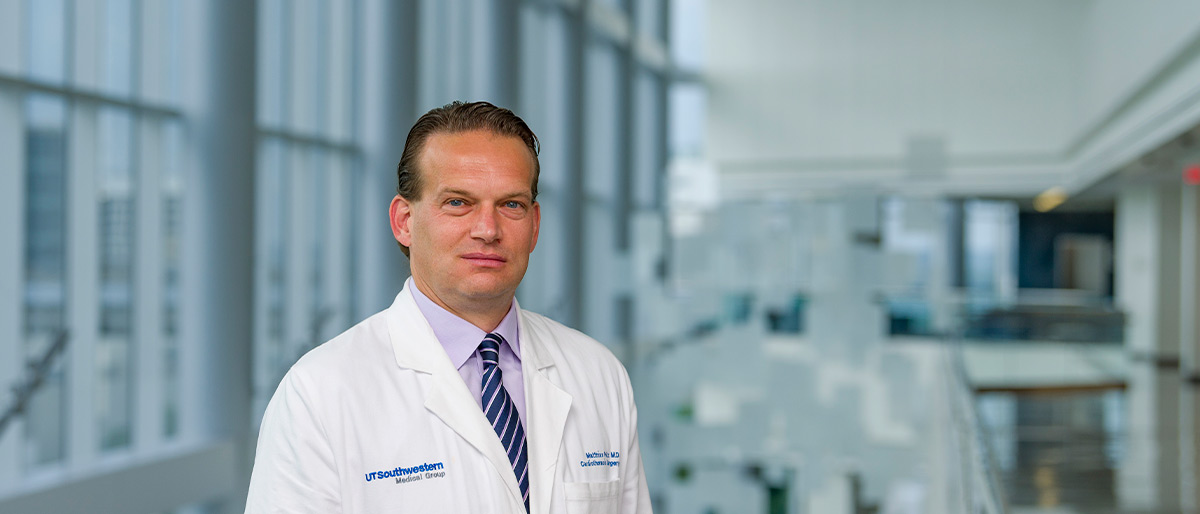 A less invasive approach to implanting a left ventricular assist device (LVAD), which leaves the sternum intact, has led to improved outcomes at UT Southwestern, including a four-year survival rate that is more than 30% higher than the INTERMACS (Interagency Registry for Mechanically Assisted Circulatory Support) average.
Ninety-five percent of patients who receive a LVAD at UT Southwestern now have the sternal-sparing surgery, which surgeons at the Dallas medical center began using in 2019.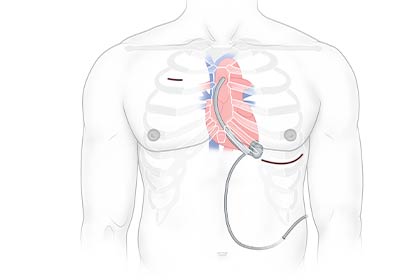 "I don't call sternal sparing 'minimally invasive,' because we do make an incision overlying the apex of the heart for implanting the pump, and then tunnel the graft and make another incision along the upper right chest to sew it to the aorta," said Matthias Peltz, M.D., Associate Professor and Surgical Director of Cardiac Transplant in the Department of Cardiovascular and Thoracic Surgery. "But we don't disrupt the stability of the chest wall, which significantly reduces the trauma of the surgery."
According to internal data, patients whose LVAD is implanted using the less invasive approach have shorter hospital stays, less need for transfusion, less time on ventilators, reduced risk of right-heart dysfunction, and a quicker return to normal activities, compared to the traditional surgery. To verify these apparent benefits and corroborate them with national data, UT Southwestern is participating in the SWIFT trial, a multi-institutional assessment of outcomes using the sternal-sparing approach compared with those of the clinical trial that first established the efficacy of the HeartMate III LVAD pump. (The SWIFT trial is sponsored by Abbott.) To date, LVAD patients at UT Southwestern also have less bleeding, less early infection and less renal dysfunction compared to the national average.
"Even though over 60% of our LVAD patients are INTERMACS class 1 or 2 (the sickest classes), our current era four-year survival rate is 78.9% – which is almost the same as the national average at only one year," said Dr. Peltz. "That's thanks in large part to the stellar care team that supports patients after implantation. We've also gotten better at identifying the right candidates for the procedure."
As Associate Medical Director of Mechanical Circulatory Support, Alpesh Amin, M.D., is a key part of the LVAD team. He agreed that the care team, especially its multidisciplinary makeup, is a large contributor to strong patient outcomes.
"Before anything else, we seriously assess whether LVAD is the right therapy for a given patient. After implantation, members of the team (including cardiologists, cardiac surgeons, nurses, nurse practitioners, physical therapists, dietitians, case managers, and social workers) meet at least twice a week to discuss all of our LVAD patients," said Dr. Amin, an Associate Professor in the Department of Internal Medicine. "We also have a pharmacist involved in our anticoagulation management, and, to fight infection, we have regular training sessions with our patients, their family, and staff to ensure that dressing changes for the LVAD exit site are done with a sterile technique. We do all we can to prevent complications and catch them early."