Plano teen to compete in World Cup of Amputee Soccer in Turkey
UTSW prosthetist who coaches Dallas adaptive soccer team will travel to support group, serve as referee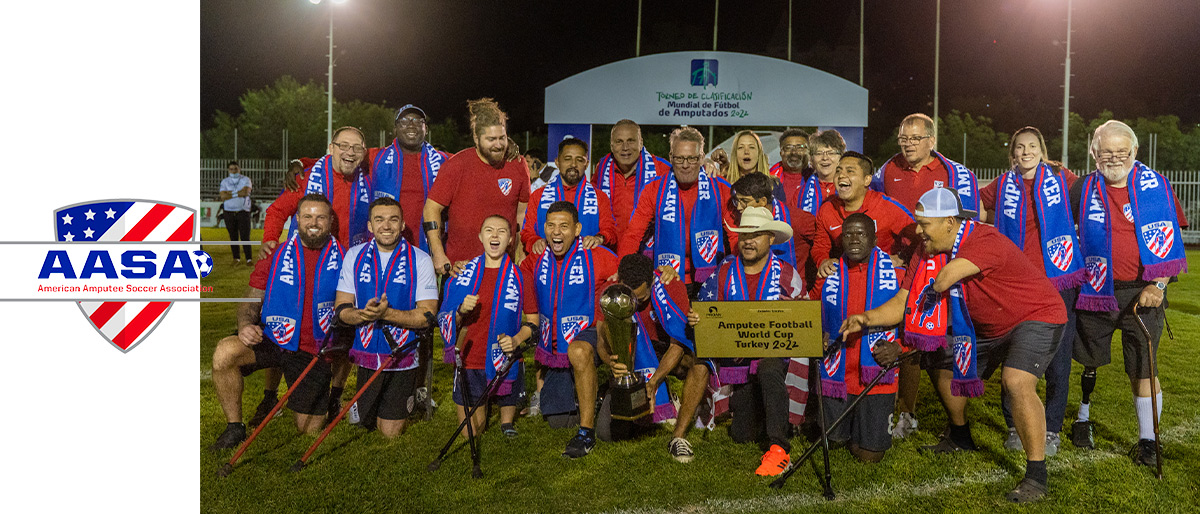 Bone cancer in his right knee at age 7 did not stop Kavi Pandya from playing sports. After rotationplasty – a surgery that preserves the lower leg, attaches it to the thighbone, then houses the ankle as a knee joint – the avid athlete was back on the baseball field with the help of a prosthetic.
When his cancer returned at age 12 and his right leg was amputated at the hip, Kavi feared he would never play again. He then discovered the Lone Star Adaptive Soccer Association, which fulfilled his passion to continue playing sports.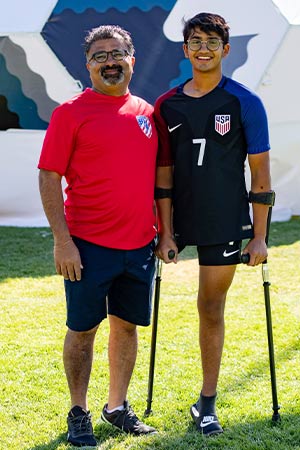 "I just love every part of sports so much," said Kavi, 16, a patient of Patrick Leavey, M.D., Professor of Pediatrics at UT Southwestern and a pediatric hematologist/oncologist at Children's Medical Center Dallas. Kavi discovered soccer when he attended a UT Southwestern expo on adaptive sports hosted by the Dallas-Fort Worth Adaptive Sports Coalition.
He knew immediately at the time that he wanted to play on the team. The coalition is hosted by UT Southwestern's Department of Physical Medicine and Rehabilitation and the Peter O'Donnell Jr. Brain Institute in collaboration with other adaptive sports groups in North Texas.
This October, Kavi will play on Team USA Amputee Soccer when the team competes in the 2022 Amputee Soccer World Cup in Turkey involving teams from 24 countries vying to win the sport's biggest prize. Kavi recently learned he made the final roster and is now in training after returning in March from the team qualifier in San Juan de los Lagos, Mexico. As a member of the World Cup team, Kavi will be joined by UTSW certified prosthetist/orthotist Fabian Soldevilla.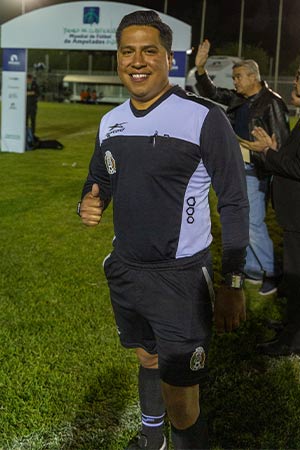 Mr. Soldevilla, an assistant coach with Lone Star who also is a UTSW Faculty Associate and Prosthetics-Orthotics Lab Manager in the School of Health Professions, will not attend the competition in that capacity but instead serve as a referee. Nonetheless, he is thrilled to see Texas players he has coached showcase their talents on a global stage.
So many eyes will be on the USA team and amputee soccer in general for the World Cup, Mr. Soldevilla said.
"The players' passion, competitiveness, and extraordinary athletic abilities attract tons of fans," he said. "Although these athletes are missing limbs, it doesn't stop them from having amazing accomplishments."
Unconventional athletes
The nonprofit Lone Star Adaptive Soccer Association brings together 13 amputee players from across Texas. Players range in age from 8 to 43 and have lost a limb to cancer, accidents, or birth abnormalities.
They all bring amazing drive to the sport, Mr. Soldevilla said. "Just because they have an amputation doesn't mean they can't be athletes. It takes a herculean effort to play soccer with a limb missing. These players have tremendous stamina and strength," he explained.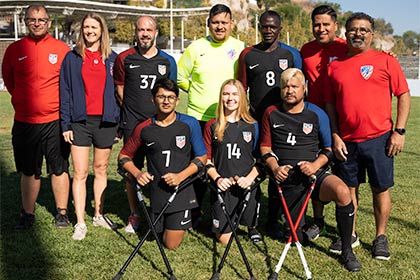 Players with lower body amputations use crutches made of carbon fiber and metal – called sticks by the athletes – to move the ball toward the goal. They cannot wear prosthetics during games. Players with upper body amputations play as goalkeepers and do not use any special equipment.
"Their core is really, really strong compared with able-bodied players who can use their hips and plant a leg to provide support when moving the ball," said Mr. Soldevilla. "With adaptive soccer, you have to have a really strong core to get power and speed."
A natural-born athlete
Kavi, the youngest team member of the Lone Star Adaptive Soccer Association's Dallas team, has always been competitive and had dreamed of being an athlete for years. Getting knocked down or banged up by the sticks, as he often does, never discourages him.
"This sport is faster and more physical than people realize," he said.
As much as he loves playing, Kavi said it's the time teammates spend together after the game that is most meaningful.
"When we are all sitting together laughing and having fun, it just feels like we are a family," he said.
Finding camaraderie can be challenging for some amputees, which is one reason why the support that the team provides is so important, Mr. Soldevilla said.
"The team does more than give these athletes a place to play, whether for competition or recreation," he said. "It's a community of individuals who can share similar experiences."
Benefits of adaptive sports
Research has shown that participating in sports offers many benefits inclusive of physical and psychosocial rewards. It can reduce obesity and lower the risk of developing other medical conditions, depression, or anxiety, said Stephanie Tow, M.D., Director of the DFW Adaptive Sports Coalition.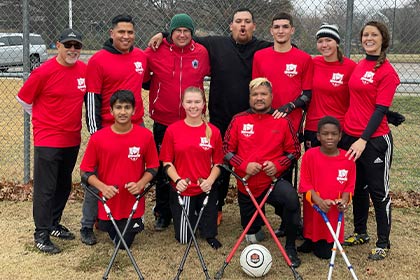 "Adaptive sports participation often helps emphasize people's abilities rather than their disabilities," said Dr. Tow, also an Assistant Professor of Physical Medicine and Rehabilitation at UT Southwestern and Director of the UTSW Adaptive Sports Medicine Program. "For people who have a limb difference or amputation, participating in soccer or other sports or fitness programs provides them with a major aspect of their life that they should have access to regardless of their ability."
Although he was initially discouraged when his leg was amputated, Kavi said he learned to enjoy life again and is now optimistic about his future. His goal is to become a sports medicine physician.
For now, nothing compares to the thrill of running across the soccer field.
"There's nothing sad about it," he said. "It's just so much fun and feels so good."