Neuroscience graduate receives Weintraub Award for memory research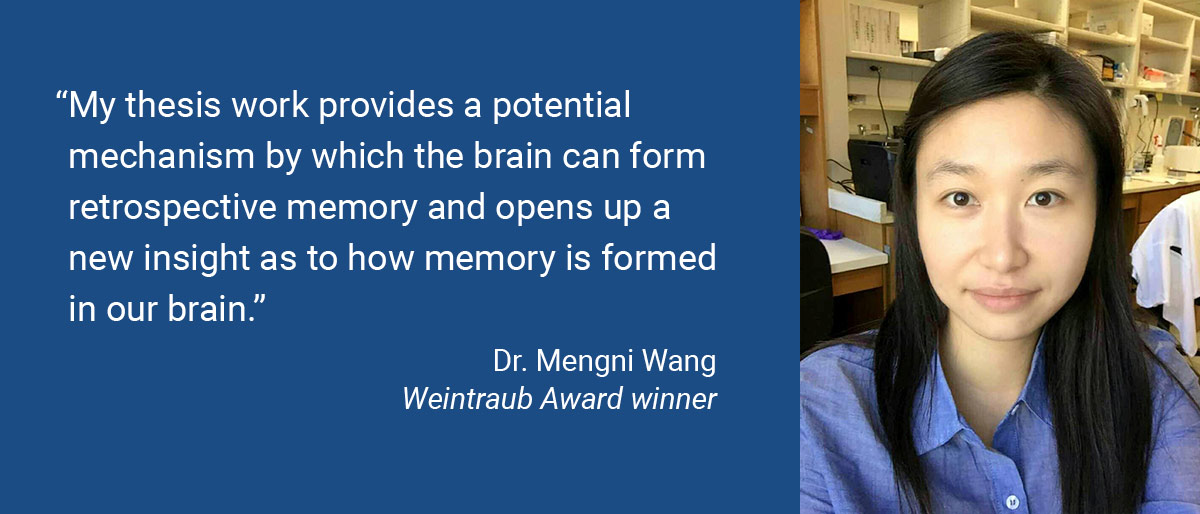 One of the most mysterious functions of the brain is its ability to form a memory of an experience, said Dr. Mengni Wang, a recent neuroscience graduate of the UT Southwestern Graduate School of Biomedical Sciences. To understand how this happens, she studied how spatial memory is formed when a rat explores an environment.
For this research, Dr. Wang was selected for a Harold M. Weintraub Graduate Student Award. Given by the Fred Hutchinson Cancer Research Center in Seattle, the award recognizes outstanding achievement in graduate studies in the biological sciences. It includes an honorarium and a certificate. Thirteen award recipients were chosen this year from among nominations received internationally.
Earlier studies have shown that neurons in the hippocampus region of the brain can "remember" spatial locations in the environment, Dr. Wang said. Those neurons are called place cells.
When a rat runs a route, a set of place cells "fire" – or become active – sequentially and rhythmically so that a spatial route can be encoded in the brain, she explained. This process is facilitated with a series of rolling mini sequences called theta sequences, which have long been found to only align with an animal's actual running direction – suggesting a prospective encoding process.
To determine how rats achieve the retrospective thinking needed to reach their destination as well as the way back, Dr. Wang used in vivo electrophysiology to record the activity of neurons as the rats completed a route. She analyzed the neural signal data with a series of statistical and computational methods.
"Interestingly, we found the theta sequence consisted of two components: a canonical forward sweep representing the prospective thinking and a novel reverse sweep underlying the retrospective thinking," she said. "My thesis work provides a potential mechanism by which the brain can form retrospective memory and opens up a new insight as to how memory is formed in our brain."
Dr. Wang grew up China and received bachelor's degrees in biology and mathematics from China Agricultural University in Beijing. Passionate about doing scientific research and making her own discovery, she was determined to pursue a Ph.D. and applied to graduate schools in the U.S.
Graduate School graduation rates

"I decided to join UTSW because the basic science program here lets one choose a research lab freely from a broad range of fields. That was perfect for me because I had always been fascinated by neuroscience but hadn't gotten much experience in it because there wasn't a neuroscience department back in my college," she said.
In addition to the inclusive and friendly atmosphere of the campus environment, Dr. Wang has enjoyed the freedom, independence, and trust to develop her own research projects, she said.
"I feel grateful for my mentor, Dr. Brad Pfeiffer, who has supported my personal growth as a scientist with his extraordinary patience and trust in me," she said.
"Mengni is an outstanding scientist and the kind of graduate student that every PI wants in their lab," said Dr. Pfeiffer, Assistant Professor of Neuroscience. "Early in this project, she found a slight oddity in how neurons were activating during experience, and rather than ignoring that oddity in favor of easier scientific questions, she focused on understanding how and why that oddity had occurred. That scientific drive culminated in a very impactful finding that many graduate students would have missed."
As a recent graduate, Dr. Wang is now in the process of searching for a postdoc lab. "I'd like to continue my academic research in neuroscience, specifically focusing on using computational models such as machine learning methods to understand how the brain works," she said.
Long term, she wants to establish her own lab in the neuroscience field so she can dig deeper into the myths of the brain.