Annual heart health initiatives bring community together for a cause
UTSW Steps Challenge champ takes third consecutive win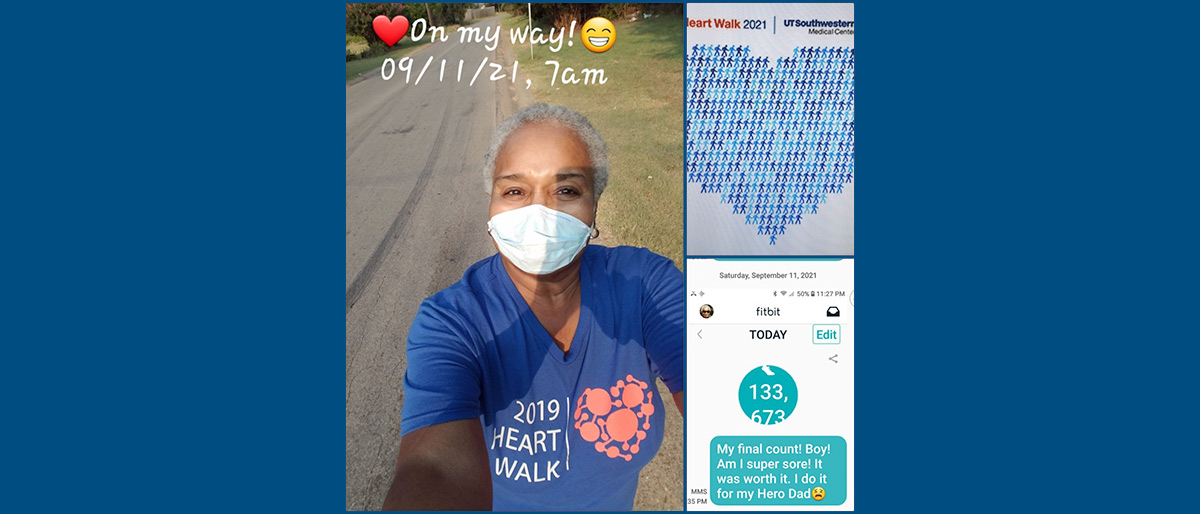 Members of the UT Southwestern community gathered virtually for the second year in a row to show their commitment to raising awareness in the fight against cardiovascular disease.
On Sept. 11, UTSW had 720 registered walkers participate in the 2021 American Heart Association's Dallas Heart Walk, the organization's premier fundraising event. UTSW's 53 teams raised $21,054 to help train thousands in lifesaving CPR and fund groundbreaking brain and heart research. This year, participants were encouraged to walk 1 to 3 miles in the comfort of their homes or anywhere in their community to avoid large gatherings during the pandemic.
To up the ante, more than 100 employees also took up the UTSW Steps Challenge on the same day for some friendly competition. Those participants collectively walked 1,579,888 steps – an average of about 15,000 steps per person.
Thelma Morgan, a Medical Transcriptionist for Clinical Laboratory Services, took home a three-peat victory after racking up an astonishing 133,673 steps in 24 hours, her new personal best. Others who finished at the top of UTSW's Steps Challenge leaderboard with more than 45,000 steps are: Alvaro Noriega Ramirez, Clinical Laboratory Assistant in Transfusion Services, Jaymol Mathew, Registered Nurse II at William P. Clements Jr. University Hospital, and May Dela Cruz, B.S.M.T., H(ASCP), Quality Assurance Coordinator for Clinical Laboratory Services.
In the 2020 Steps Challenge, Ms. Morgan amassed 105,745 steps and, in the Heart Month Step Challenge seven months before that, she walked 85,637 steps in a single day. Each year she has paced with more fervor, driven by her motivation and love for her late father, who passed away from a heart attack five years ago.
"I could hear his voice telling me 'you can do this' throughout the challenge," she said.
Ms. Morgan's score has a special meaning this year because it combines numbers that represent both her and her father; he was born in 1933 and she graduated from high school in 1973. She said she tried to have the last two digits of her total be 55, to reference her birth year as well, but she kept surpassing the number by a few too many steps while speed walking around her makeshift trail in her home.
However, not all of her steps were taken indoors – she added an excursion outside of her neighborhood to the UT Southwestern Medical Center at RedBird location to get a closer look at how construction is coming along on UTSW's new state-of-the-art outpatient facility.
Ms. Morgan said technology has played an essential role for many, including herself, in managing mental and physical health in the face of a pandemic. She credits her devices with keeping her connected to friends and family and keeping her moving.
"I'm thankful we have access to modern technology like tablets, laptops, smartphones, and Fitbits to help us manage our health and well-being," Ms. Morgan said. "My devices have kept me upbeat and kept my mind on the things I can control during COVID-19."