Steps Challenge winner smashes 100K steps target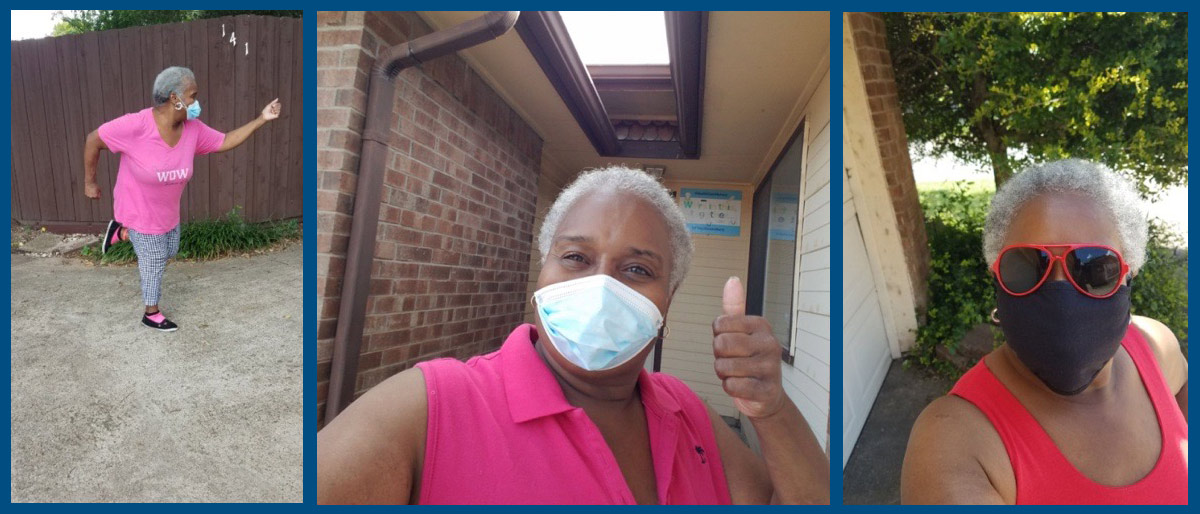 UT Southwestern's reigning cardio queen is burning through fitness trackers as she breaks steps challenge records.
Thelma Morgan, a Medical Transcriptionist for Clinical Laboratory Services, secured her second, back-to-back, UTSW Steps Challenge win after amassing a jaw-dropping 105,745 steps in just 24 hours. Her family jokes that even the market's most popular wearable trackers are no match for Ms. Morgan's tenacity after her last one fizzled out in the weeks leading up to the annual challenge.
Watch: A special thank you from Dr. John Warner
The walking event was moved to a new date this year to coincide with the American Heart Association's Dallas Heart Walk, which united walkers virtually on Sept. 12 in response to the coronavirus pandemic. UTSW had 1,725 total walkers participate in the Heart Walk, including 82 UTSW teams that raised $36,320.
More than 300 members of the campus community took part in UTSW's Steps Challenge and collectively walked about 4 million steps. Notable steppers who logged more than 50,000 steps include Sangeeta Patel, May Dela Cruz, Alvaro Noriega Ramirez, Jaquana Ards, and Laura Thielemann.
In the wake of COVID-19, Ms. Morgan believes staying physically active is as important as ever. Many people have watched their daily movement decline since spring, compared to pre-pandemic conditions. These lifestyle shifts have resulted in more sedentary routines in a lot of cases.
"Setting goals is the first step to becoming a champion of your health," she said. "You owe it to yourself and your heart to stay healthy and be the best you can be, inside and out." Ms. Morgan sets a personal goal to walk at least 15,000 steps each day.
Dr. John Warner, Executive Vice President for Health System Affairs, crushed his own goal of surpassing 40,000 steps during the September challenge.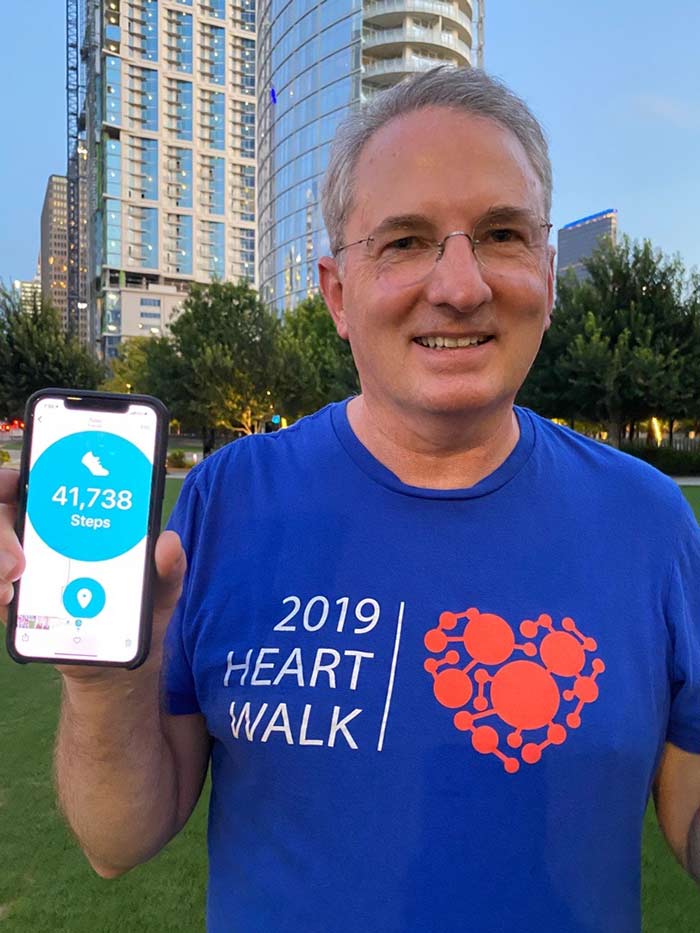 This month, Ms. Morgan wanted to raise the bar by walking the most she ever has in a single day. With a comfortable pair of shoes and a portable charger to keep her phone's step tracker powered all day, she knew she would be unstoppable.
"I always look for reasons to smile," she said. "I saw these events as a means to embrace something positive amid the pandemic and a way to care for my health. My father died from a massive heart attack four years ago, and this is how I keep his memory alive. I was on a mission to reach 100,000 steps, and I'm happy to say that I scored another win for my dad."
She previously walked 85,637 steps during an earlier challenge in February as part of American Heart Month. She has worked hard to build up her high-steps reputation over the last four years of the Steps Challenge. Year after year, she has climbed up the ranks, and now she is standing at the top.
"You do not focus on the hurdle; you look to the finish line," she said.
Upon learning the news of her big win, Ms. Morgan was elated. She immediately took a few victory laps around her home. She said she could feel her dad smiling down from above.
The 65-year-old aims to leave behind a strong legacy at work and in life. When she does retire, she said Steps Challenge participants will have some big shoes to fill, but she knows the UT Southwestern community will gladly step up to the challenge.