Ambition propels Thelma Morgan to top of Heart 2020 Step Challenge leaderboard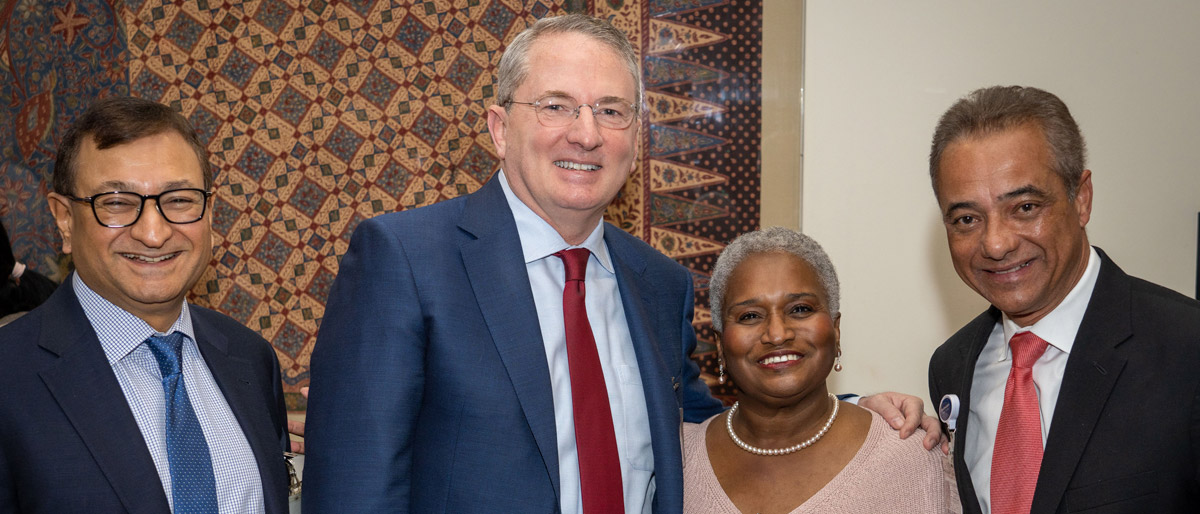 Thelma Morgan was brought to tears when she looked down at the fitness tracker on her wrist and saw the number 85,637 glowing on the screen. That number marked the tens of thousands of steps she walked within a 24-hour period to honor her late father, and her first UT Southwestern Heart Month Step Challenge victory.
During the annual wellness initiative, nearly 600 participants across campus walked a combined 7,005,690 steps, zooming past the institution's 5-million-step goal.
"For the fourth year of the challenge, I was determined to beat my last three scores," Ms. Morgan said. "I wanted to beat the 39K, the 46K, and the 44K, but I didn't think I was going to double it."
Related Video: Dr. Warner honors Step Challenge winner

Ms. Morgan, a medical transcriptionist for Clinical Laboratory Services, has walked the halls of UT Southwestern for 35 years. She was set on bringing home the gold, along with the grand prize of breakfast tacos for her team delivered by Executive Vice President for Health System Affairs Dr. John Warner. Collectively, her Department contributed about 3 million steps in the challenge.
"As a cardiologist, I view Heart Month as a way to refocus on what I am going to do throughout the year to not only advance my own heart health, but of those around me – my family, my friends, my colleagues, and all of you," Dr. Warner told attendees at the celebratory breakfast held March 6. "Ms. Morgan is a great example of what we hope to do, which is to stimulate activity, get people thinking about ways to be more active at work, and encourage each other."
Ms. Morgan lost her father to a heart attack four years ago. She now walks more than 15,000 steps a day in his memory.
"My focus is walking and staying active because there are a lot of health issues in my family, but I'm determined to beat all of that," she said. "I did the Step Challenge for my dad. He was my hero."
She woke up and started stepping at 12:01 a.m. on Feb. 27. The 64-year-old walked throughout the day's earliest hours, walked during her work breaks, and walked nonstop when she got home – all while remembering her purpose: "I'm doing it for Pops," she said.
Ms. Morgan recently received two intraocular lens implants after being diagnosed in 2006 with an eye condition that affected her vision. After pushing past those hurdles, she wanted this year to also highlight how far she has come after clearing so many challenging life events.
"I have a clear vision and a new focus," she said. "It's my 2020."
Ms. Morgan's resolve helped her walk more than 40 miles in a single day, and she wants others to recognize the strength and power of their own resiliency.
"My dad taught me to be an 'I can' person," she said. "Take on the challenge and see it as a mountain. Set your goals to reach the highest point, and do whatever it takes by any means necessary."
Ms. Morgan's incredible achievement in this year's challenge is evidence of her father's advice in action.