Pandey wins NHLBI Big Data Analysis Challenge for heart failure research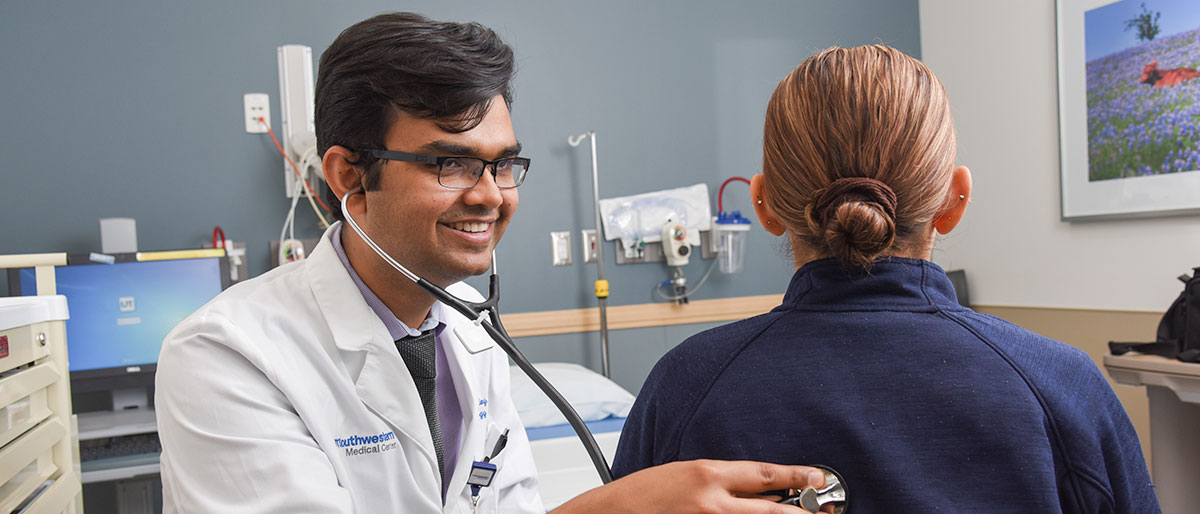 Dr. Ambarish Pandey, Assistant Professor of Internal Medicine and a Texas Health Resources Clinical Scholar, is using big data to improve diuretic resistance among patients with acute heart failure.
Patients hospitalized with heart failure often have volume overload – too much blood in one of the heart chambers for proper function – and are treated with diuretics. Many of these patients do not have an adequate urine output response to the diuretics initially administered, which leads to a prolonged hospital stay as well as persistent symptoms of shortness of breath, he explained.
"We developed a machine learning-based approach to predict patients – at the time of hospitalization – who may be less likely to respond to diuretics and, thus, may be diuretic-resistant," he said. "Early identification of these patients may allow us to implement more aggressive diuresis protocols early on and allow quicker resolution of patients' volume overload and symptoms of shortness of breath and congestion."
For this work, Dr. Pandey and his team were among five winners of the National Heart, Lung, and Blood Institute (NHLBI) Big Data Analysis Challenge: Creating New Paradigms for Heart Failure Research. The award includes a $50,000 prize.
An estimated 6.5 million American adults live with heart failure, a chronic and progressive disorder that can be debilitating, according to the NHLBI, which is part of the National Institutes of Health. Through its competition, the NHLBI seeks to foster innovation and address the need for new, open-source disease models that can define subcategorizations of adult heart failure and ultimately support new research potentially leading to advancements in managing heart failure.
"Winning this challenge has provided us the forum to present our work to the NHLBI and other like-minded investigators, get feedback from them, and develop collaborative relationships to move this work forward," Dr. Pandey said. "It has also highlighted the cutting-edge work done by our group at UT Southwestern in the space of developing big data-based novel approaches to the management of heart failure."
Dr. Pandey worked in collaboration with investigators at the Cleveland Clinic and the University of Mississippi Medical Center in Jackson, as well as colleagues in UTSW's Clinical Informatics Center, including Dr. DuWayne Willett, Professor of Internal Medicine. Dr. Matthew Segar, a UTSW internal medicine resident trainee who has a background in big data research and informatics, led the data analysis.
"Our work helped uncover key biological factors that underlie diuretic resistance," Dr. Segar said. "More importantly, our project provides a framework for personalizing acute heart failure care and treatment, lowering health care costs, and reducing the time patients spend in the hospital."
The researchers pooled data from several NHLBI trial cohorts, harmonized the data, and leveraged machine learning-based analytical approaches to develop the diuretic resistance classifier. They subsequently externally validated their model in other cohorts.
Next, they plan to implement the diuretic resistance prediction model in electronic medical records to assist health care providers taking care of patients with acute heart failure. They also want to conduct future research on how the model can inform downstream management of these patients, Dr. Pandey noted.
"Our project aims to provide the health system with a model to predict diuretic resistance in patients hospitalized with heart failure," he said. "This will allow us to identify patients who are less likely to respond to traditional approaches to diuresis in-hospital and may benefit from more aggressive diuresis protocols."