Pandey honored with Health in Aging Foundation New Investigator Award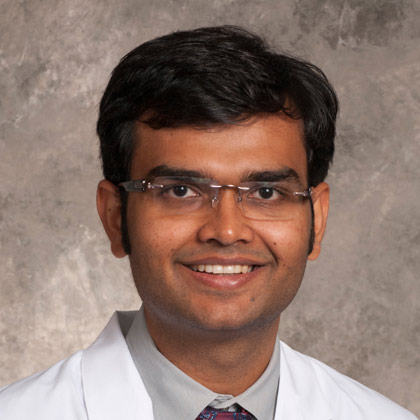 Frailty, a geriatric syndrome characterized by reduced resilience to physiologic stress, is common among older adults with Type 2 diabetes and has long been associated with poor functional status and worse quality of life. It can also predispose a person to heart failure. Research led by Dr. Ambarish Pandey, Assistant Professor of Internal Medicine and a Texas Health Resources Clinical Scholar, demonstrates the importance of frailty as a potentially modifiable risk factor for heart failure.
Dr. Pandey's work assessed frailty burden at baseline and at follow-up, including the risk of heart failure. Using data from the Look AHEAD (Action for Health in Diabetes) trial, the research team observed that higher burden of frailty was associated with higher risk of heart failure in those with Type 2 diabetes. They also found that the frailty-associated risk of heart failure was modifiable with changes in the frailty burden over time, and that improvement over time was associated with lower risk of heart failure – particularly heart failure with preserved ejection fraction, a heart failure subtype that is most common in older adults and is difficult to treat, Dr. Pandey said.
"These findings highlight the importance of assessing frailty in older patients with Type 2 diabetes as a strategy to identify those who may be at a higher risk of developing heart failure," he said.
For this work, Dr. Pandey received the 2021 Health in Aging Foundation New Investigator Award. Presented by the American Geriatrics Society at a virtual meeting in May, this prestigious recognition honors early-career investigators whose research reflects new and relevant insights in geriatrics.
"This is a very important award for my research career as a geriatric cardiologist focused on preventing and treating heart failure among older individuals," Dr. Pandey said.
For the next steps with this research, Dr. Pandey and his team are focusing on developing approaches to lower the burden of frailty among patients at high risk of developing heart failure. These include remote care-based exercise training and weight loss interventions in obese individuals.
"We are also pursuing studies focused on evaluating the effects of newer therapies for diabetes on the frailty burden in this patient population," he said.
Dr. Pandey received his medical degree from the All India Institute of Medical Sciences, New Delhi, and completed his residency in Internal Medicine and a fellowship in Cardiology at UT Southwestern.