Renowned clinician-scientist returns to Dallas as new Chair of Ophthalmology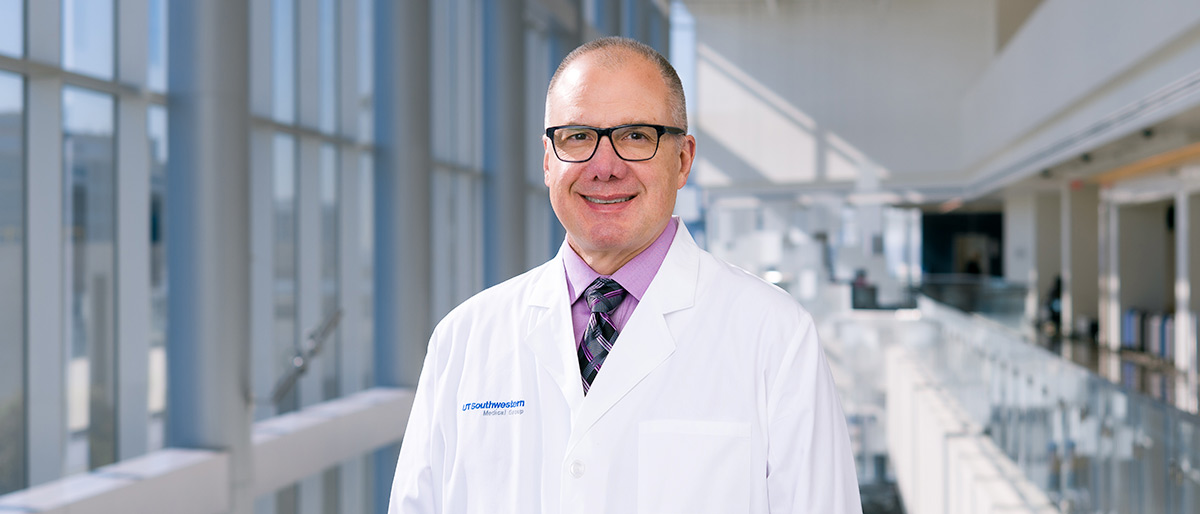 As a native of Dallas, J. William Harbour, M.D., has watched UT Southwestern grow over the years into one of the nation's premier academic medical centers. Now he is playing a role in shaping its future as the new Chair of Ophthalmology, succeeding Professor Emeritus James McCulley, M.D., who led the Department for 40 years before retiring June 30 as Chair.
Dr. Harbour joined UT Southwestern Nov. 1 from the University of Miami Miller School of Medicine, where he served as the Vice Chair for Translational Research at the Bascom Palmer Eye Institute and as Associate Director for Basic Science at the Sylvester Comprehensive Cancer Center.
He received his undergraduate degree from Texas A&M University in College Station and earned his medical degree from The Johns Hopkins School of Medicine. Dr. Harbour completed his residency at the Wills Eye Hospital in Philadelphia, followed by fellowships in retinal surgery at the Bascom Palmer Eye Institute and in ocular oncology at the University of California, San Francisco. He then pursued a postdoctoral fellowship in cancer research at Washington University in St. Louis, rising to the rank of Distinguished Professor.
Dr. Harbour is a clinician-scientist with a busy clinical/surgical practice and an active and well-funded laboratory, which he will continue here. Much of his research has focused on uveal melanoma and retinoblastoma, the most common eye cancers in adults and children, respectively. His work has led to the discovery of several genetic events associated with tumor progression and metastasis. He has developed new surgical methods for intraocular biopsy, radioactive plaque surgery, and vitrectomy in eyes with intraocular tumors. He also has trained more than 100 students, residents, and clinical and research fellows, several of whom are now experts in their fields.
"The strong interdisciplinary research experience and established collaborative initiatives that Dr. Harbour brings will further elevate UT Southwestern as a national hub for excellence in ophthalmology discovery and clinical care," said W. P. Andrew Lee, M.D., Executive Vice President for Academic Affairs, Provost, and Dean of UT Southwestern Medical School. "We are excited to have him join us."
In an interview for Center Times, Dr. Harbour shared why he chose to join UTSW and what he hopes to accomplish.
What drew you to UT Southwestern?
A big reason was the exciting growth happening here. I grew up in Dallas and I can remember when the Medical School was just the South Campus. The North Campus was just open fields. When I came back to visit my family, it was exciting to see a vibrant medical center there. With the growth of the area's population, there's a real opportunity in my field to make UT Southwestern into a major referral center for hundreds of miles around. I am also looking forward to developing collaborations with world-class experts at UT Southwestern in several fields to develop synergy with my own.
What is your vision for the Department?
I'm fortunate to be starting with a large, vibrant Department with a strong foundation, which is a tribute to Dr. McCulley's leadership. We have a strong, busy clinical faculty, very good clinical facilities, a strong training program, and good researchers. My goal is to take advantage of those strengths and the growth in the region to take it to the next level.
What is exciting in the field of ophthalmology now?
There's been a revolution in care in the last decade. Many diseases, like macular degeneration, used to inevitably lead to blindness but can now be treated. Many of these advances have been spurred by cutting-edge research in proteomics, genetics, and pharmacology. My passion is turning advances in the lab into advances in patient care. I think UT Southwestern is really poised to lead in a lot of these areas.
What aspects of your background make you a good fit for this position?
I've been at top institutions around the country for my whole career. I've seen many successful strategies that leading institutions use to advance. I've also witnessed the skills of great leaders. I plan to apply what I've learned.
What are you most looking forward to in returning to Texas?
To return to my roots and be close to family.