McCulley named Professor Emeritus after four decades as Chair of Ophthalmology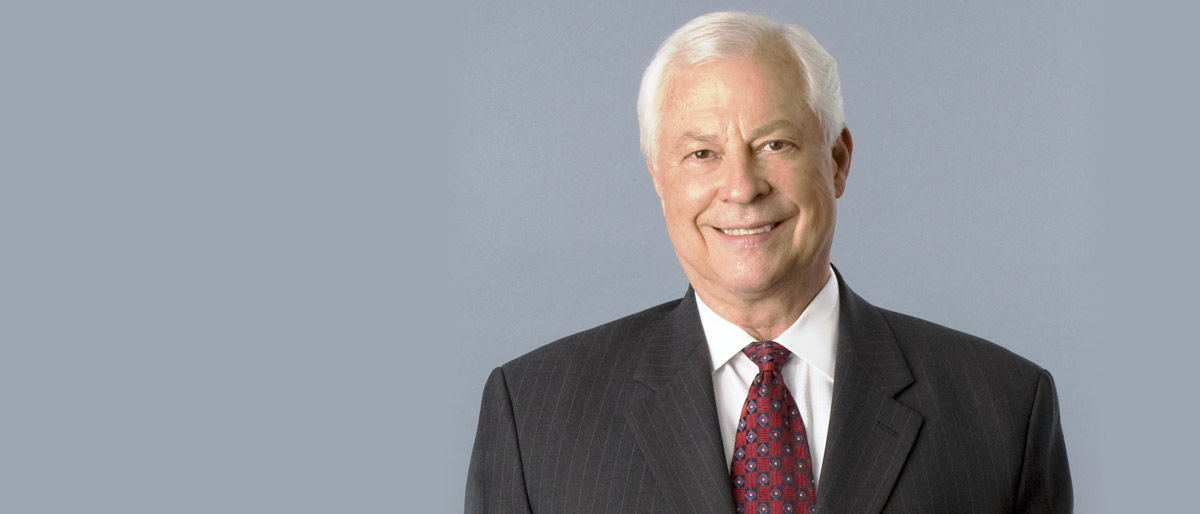 James McCulley, M.D., who as Chair grew UT Southwestern's Department of Ophthalmology into a major comprehensive care and training center while also producing internationally recognized research on topics such as eyelid inflammation and a blindness-causing parasite that can affect contact lens wearers, has been named Professor Emeritus at UTSW.
Under Dr. McCulley's leadership spanning 40 years, the Department expanded from nine faculty to more than 50 by the time he stepped down June 30. He put the Department on firm financial footing and nurtured a program that now has the subspecialty depth to treat a wide array of eye diseases and conditions and that boasts one of the leading ophthalmology residency programs in the nation.
Along the way, he published more than 300 peer-reviewed articles, becoming an internationally recognized researcher on an eyelid inflammation condition called blepharitis that causes dry eye, as well as sounding an early alarm to contact lens wearers on the risk of blindness from acanthamoeba, a parasite found in fresh water, tap water, and sometimes even in contact lens solution. Dr. McCulley's blepharitis research received National Institutes of Health funding for 28 years.
However, he said, "What I'm most proud of is the strength of the Department of Ophthalmology that was created during my tenure as Chair."
"Dr. McCulley has served as an excellent clinician, is an accomplished researcher, and has trained and mentored scores of ophthalmology clinicians and investigators," said Dwain L. Thiele, M.D., Vice Provost and Senior Associate Dean for Faculty Affairs and Initiatives. "He is best known for his leadership that has guided the development of UT Southwestern's Ophthalmology Department into one of the most outstanding departments of ophthalmology in the United States, with tremendous growth in patient care, research, and teaching missions."
Dr. McCulley joined UT Southwestern in 1980 as an Associate Professor of Ophthalmology and was named Chair the following year. He was appointed by Kern Wildenthal, M.D., Ph.D., UT Southwestern's second President who is now President Emeritus and Professor Emeritus.
"Dean Wildenthal's comment to me was that my success would depend on how effectively I hired, and that has proved to be the case," Dr. McCulley said.
Dr. McCulley became the second Chair of Ophthalmology at UT Southwestern – the Department had earlier been a Division. In his clinical practice, he focused on the ophthalmological subspecialties of corneal and external diseases of the eye and surgeries to correct vision, such as LASIK and other keratorefractive surgeries. Some of his best-known research examined the safety and effectiveness of such procedures. He also led the way in culturing corneal cells in vitro so they could be transplanted as a thin tissue to avoid patients needing a full-thickness corneal transplant.
Prior to joining UTSW, Dr. McCulley served as Assistant Professor of Surgery (Ophthalmology) at Stanford University School of Medicine. Earlier experience included serving as a Lieutenant Commander in the Medical Corps of the United States Naval Reserve and a Staff Ophthalmologist at the National Naval Medical Center in Bethesda, Maryland. A native of Fort Worth, he attended Texas Christian University, then graduated from Washington University School of Medicine in St. Louis. He completed his internship, residency, and a fellowship at Harvard Medical School-affiliated institutions.
Dr. McCulley received the prestigious Castroviejo Medalist Award in 2012, as well as the American Academy of Ophthalmology's Life Achievement Honor Award in 2014. He was named a distinguished alumnus of Harvard Medical School, Washington University Medical Center, and TCU.
For the future, he plans to continue teaching and attending conferences but will phase out his clinical practice by the end of the year and has already turned over his lab to a successor.