2021 Excellence in Nursing Awards - Research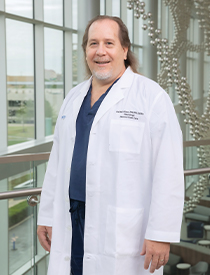 DaiWai Olson
Ph.D., RN, CCRN, FNCS
Director of the Neuroscience Nursing Research Center
Professor of Neurology
From his nominator: During the last eight years at UT Southwestern, Dr. DaiWai Olson, the Director of the Neuroscience Nursing Research Center (NNRC), has humbly displayed our values of excellence, innovation, compassion, and teamwork.
Through the NNRC, Dr. Olson has had more than 200 RNs involved in nursing research. He has started 164 projects with bedside nurses; the NNRC has published 121 articles and submitted 164 scientific abstracts.
As a nursing advocate, Dr. Olson wanted to explore and swiftly publish the innovative ideas developed by nurses in the Medical Intensive Care Unit (MICU) while caring for COVID-19 patients. His idea had two missions: to provide insight into innovative ways to preserve personal protective equipment (PPE) and to streamline nursing care for better patient outcomes.
Dr. Olson collaborated with the Nurse Manager, Educator, and bedside staff to explore the innovative techniques to promote safe care for COVID-19 patients. He received training on proper donning and doffing of PPE, patient room set up, and ideas of staffing ratios. Dr. Olson and the MICU nursing team wrote and published an article titled "Reflections on Nursing Ingenuity During the COVID-19 Pandemic" in the Journal of Neuroscience Nursing.