2021 Excellence in Nursing Awards - Leadership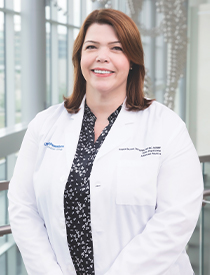 Angela F. Bazzell
D.N.P., APRN, FNP-BC, AOCNP
Assistant Director, Advanced Practice Provider
Health System Advanced Practice Provider Administration
From her nominator: "Angela Bazzell is a transformational leader who wakes up to a calling. She is a visionary and a strategic thinker who has the organic ability to bring out the best in her team. No matter how large the challenge, Angela sees an opportunity. As the Assistant Director, Advanced Practice Provider (APP) program at the Harold C. Simmons Comprehensive Cancer Center, Ms. Bazzell continues to make strides, impacting her team and the patients. Under her authentic leadership, several APPs have participated in research and quality initiatives that have been accepted in national forums.
As a forward thinker, Ms. Bazzell envisioned an urgent care in the Simmons Cancer Center building to manage cancer care-related toxicities and symptom burdens, without utilizing emergency room (ER) visits.
When the pandemic started spreading its dark wings across Texas, Ms. Bazzell led the implementation of a symptom management unit in the cancer care building, which translated very soon to Simmons Acute Care. Simmons Acute Care (SAC) is an APP-led unit that provides care for patients undergoing treatment or follow-up for cancer-related diagnosis.
From its official inception in August 2020, SAC has prevented 176 ER visits, and patients were either directly admitted to an Oncology unit or discharged. When the pandemic unfolded with all its swiftness, the SAC not only prevented this vulnerable population from ER visits, it also proved to be an efficient and cost-effective care model for cancer care without compromising the quality of care. The outcomes from SAC have been shared nationally and locally."
---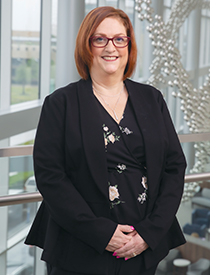 Kimberly A. Collier
B.S.N., RN, CNOR
Director of Surgical Services
Outpatient Surgery Center Support
From her nominator: "Kimberly started at UTSW in August 2020 amid a worldwide pandemic as the Director of Surgical Services: Outpatient and Endoscopy. She quickly hit the ground running, assessing areas for safety and efficiency.
Due to social distancing, the waiting area was not able to hold the patients and their family members during this time, so she collaborated with another service to get more waiting room space so no one would be left standing. She helped start the new robotic bronchoscopy program. She rounded on staff and physicians every day, which builds relationships and trust. Currently she is working on the renovation of two spaces to increase capacity and improve safety for patients and staff.
Working in outpatient surgical areas, it is so important for the nurses to be excellent at assessment, and Kimberly leads her team to be better nurses. She puts the patients at the center of all she does. "
---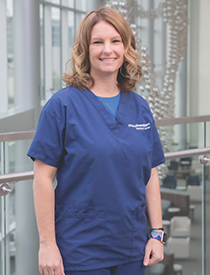 Jodi Lipps
B.S.N., RN
Operating Room Assistant Nurse Manager
Surgery, Zale Lipshy Pavilion – William P. Clements Jr. University Hospital
From her nominator: "I am reaching out with the goal of recognizing my mentor for her excellence in leadership. Jodi's journey at our hospital began as an intern in 2010 and quickly evolved to serving our unit as assistant nurse manager in 2016. This expeditious evolution speaks volumes to her passion for being a difference-maker.
Inspired and guided by her leadership is a team focused on continuous improvement. One of many projects undertaken by Ms. Lipps resulted in decreasing operating room traffic. This is only one example of her proactive leadership.
Ms. Lipps' significant contributions of elevating patient care, encouraging innovation, and empowering her team exemplify the consistent qualities of an award-winning leader! "
---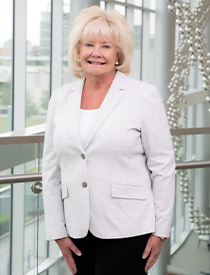 Suzanne Stone
B.S.N., RN
Manager of Nursing
Stroke Program Administration
From her nominator: "As the Stroke Program Manager, Ms. Stone demonstrates UT Southwestern's standard of providing quality nursing care through effective use of resources and the development of innovative programs in clinical practice, education, and research. In 2016, she led the Stroke Program to its first Comprehensive Stroke Center certification, the highest level of stroke care that can be provided by a hospital. Her leadership, passion, and desire for excellence have led the Stroke Program to three successful re-certifications.
She works with all members of the multidisciplinary team, ensuring that the highest level of care and safety is able to be provided to stroke patient population.
Throughout the COVID-19 pandemic, Ms. Stone worked with both the neurosurgery and neurovascular service lines to create an extensive protocol for the stroke patients who had COVID-19. This involved identifying paths of travel, creating order sets that ensure patient safety but reduce nurse exposure, and coordinating specific personnel who are to care for these patients. Nurses across the organization commented on how comfortable they felt being able to use this protocol to help physicians guide care and place orders."
---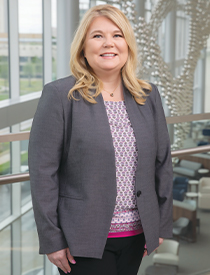 Rebecca Tutt
B.S.N., RN-BC
Director, Ambulatory Nursing Operations
From her nominator: "Rebecca is one of those people who always comes to mind when you need someone to lead an important project with a positive, can-do attitude. Her enthusiasm is contagious. She diligently worked to establish patient walk-up flu kiosks throughout our campus, to operationalize our COVID-19 vaccination clinics, and implement one of the first drive-up COVID-19 testing sites in Dallas-Fort Worth.
This nurse has been integral in helping more than 42,000 individuals receive their COVID-19 vaccination and helping the health care community fight this pandemic.
Ms. Tutt is a leader everyone wants to follow. It is awe-inspiring to hear her staff make it a point to tell others within our organization how much they love their job because of her. They say that she sees their value, 'encourages us to live our dreams and is always there to help if times get tough.'
Ms. Tutt truly is a mentor, role model, and inspiration that we are very fortunate to have in our institution. Additionally, she has excellent clinical skills and makes a point to share her knowledge. This nurse has always been and will continue to remain a hero to the Ambulatory teams that she has diligently served for years. She managed the unknown with grace, dignity, and the understanding that in everything we do, we serve our patients and staff first. She is what I imagine Florence Nightingale envisioned as she advanced the nursing profession."