Drive-up site provides safe, efficient testing for hundreds of patients
Each day, vehicles pull up to white tents erected outside the Bass Administrative and Clinical Center as patients arrive for COVID-19 testing. When the windows roll down, UT Southwestern nurses and staff do all they can to communicate empathy and quiet confidence through shielded eyes to ease the apprehension they can often see and feel.
"Most of the patients are nervous when they get to us. After all, we are standing there in gowns, masks, gloves, and face shields," said Danielle Bennett, a Medical Office Assistant Coordinator in Ambulatory Services. "They are all concerned about the virus, the tests, their well-being, and the well-being of those they may have come in contact with. Most of the patients thank us – some with tears in their eyes – for what we are out here doing."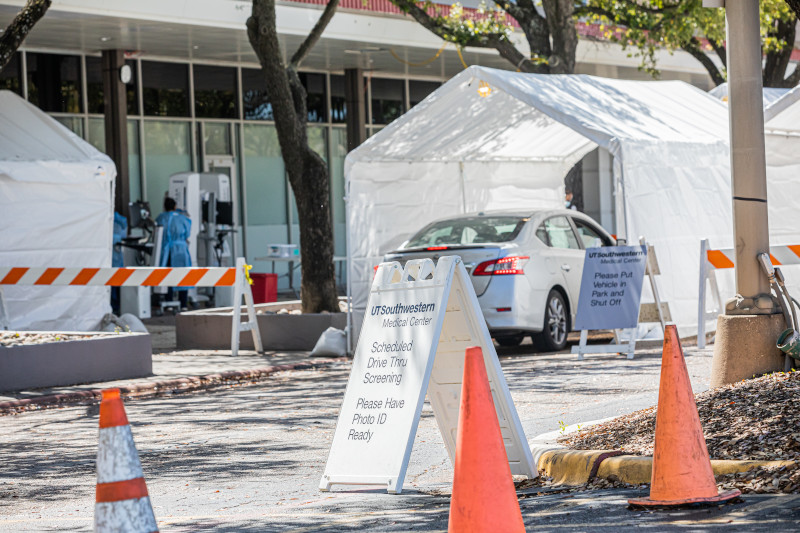 Since March 20, hundreds of referred UTSW patients suspected of having COVID-19 have come to UT Southwestern's Drive-Up Specimen Collection Site to be tested in their vehicles by PPE-protected personnel. The drive-up operation offers a safe testing environment and provides easy access for people referred for testing by their clinician. The site also decreases the volume of patients in the Emergency Department at William P. Clements Jr. University Hospital and keeps suspected COVID-19 cases away from highly populated clinical areas. By April 20, approximately 1,040 tests for patients as young as 12 years of age had been completed.
For the health care staff working on-site, each drive-up site experience is a little different.
Josephine "Josie" Ruiz, a Certified Medical Office Assistant who previously was working in the Ambulatory Float Pool for the Harold C. Simmons Comprehensive Cancer Center, said some patients seem hesitant to roll down their window.
"Sometimes they are scared to touch anything. It often seems like they don't notice that I am fully gowned with a mask and goggles on to protect myself," Ms. Ruiz said. "We point that out and usually they calm down."
Signage guides traffic in and out of the drive-up site, and Campus Police and Public Safety officers direct traffic as needed. Patients remain in their vehicles at all times. Just as in outpatient clinics, PPE-protected Clinical Staff Assistants provide support to gather all necessary paperwork such as consents, if not already completed via MyChart. A clinical team member then collects the specimen and on-site Laboratory Services personnel ensure the specimen is properly labeled, managed, and transported to a lab established in the BioCenter for processing.
Octavia Wilson, an Ambulatory Services Float Pool Registered Nurse whose previous campus assignment had been at General Internal Medicine, said the multistep system works well.
"A lot of the patients are initially nervous because they do not know what to expect for the actual test and are also nervous about getting the results," she said. "We explain the procedure to them, hand them some tissue, and let them know that the ordering provider will call them with the result. I feel honored to be a part of one of the health care teams providing this service to the community during this time."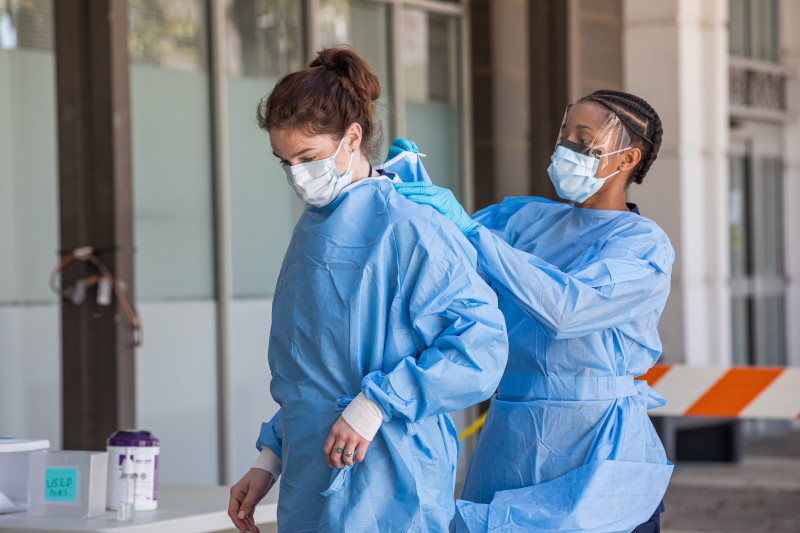 Dr. Christopher McLarty, Associate Vice President and Chief Nursing Officer for Ambulatory Services, said teams from several departments including Facilities, Safety and Business Continuity, Information Resources, Ambulatory Nursing, and Ambulatory Operations spent days, evenings, and weekends preparing to provide the critical service.
"While few of us could have imagined all that we'd face and accomplish in recent weeks and over such a short period of time, I am so appreciative to the teams that have come together to meet our operational needs and serve our community," he said. "They worked tirelessly to ensure that we were prepared to provide safe and efficient care at opening and have continued to collaborate on improving the operation every day since. I'm grateful to work alongside these teams and for the commitment they've all demonstrated in the face of this pandemic."
Testing is open from 9 a.m. to 5:45 p.m. daily. The site's team – three Nurses, five Medical Assistants, four Clinical Staff Assistants, one primary Lab Tech during weekdays, and alternating Lab Techs on the weekends – work in shifts come rain or shine. In typical March and early April fashion, the weather has included heat, cold, wind, sprinkles, and heavy showers.
"We have had some nice days and some cold and wet days, but the UT Southwestern Facilities team, our management, security, and our teammates have made the best of a rough situation," said Ms. Bennett, whose float pool duties had been within a variety of clinics prior to her latest assignment. "We take care of each other and I really see and love the true colors of my UTSW family."
Ms. Wilson agreed, stressing that the group has been strengthened by individual members as well as by other groups and departments.
"We have a great team that is working together very well and rolls with the daily changes. Everyone from all the different departments has really been coming together to get whatever needs to be completed for the testing site," she said. "We've been given heaters to help with the cold, and they erected a tent to protect us from the sun and the wind. When it rains we have our umbrellas out and bring our rain boots, so it's all good."
As the COVID-19 drive-up testing team closed out the second week of April, staff were prepared to handle more patients. The Dallas area hadn't yet reached its apex for COVID-19, and testing demand was expected to rise as employee programs like UT Southwestern's Virtual Care Clinic offered services for more potential patients.
"Sadly, we have seen an increase in testing and we expected as much," Ms. Bennett said. "We're ready to deliver on the most updated recommendations from our leaders here and the Centers for Disease Control and Prevention."