Quality and safety improvements boost rankings – and save more than 500 lives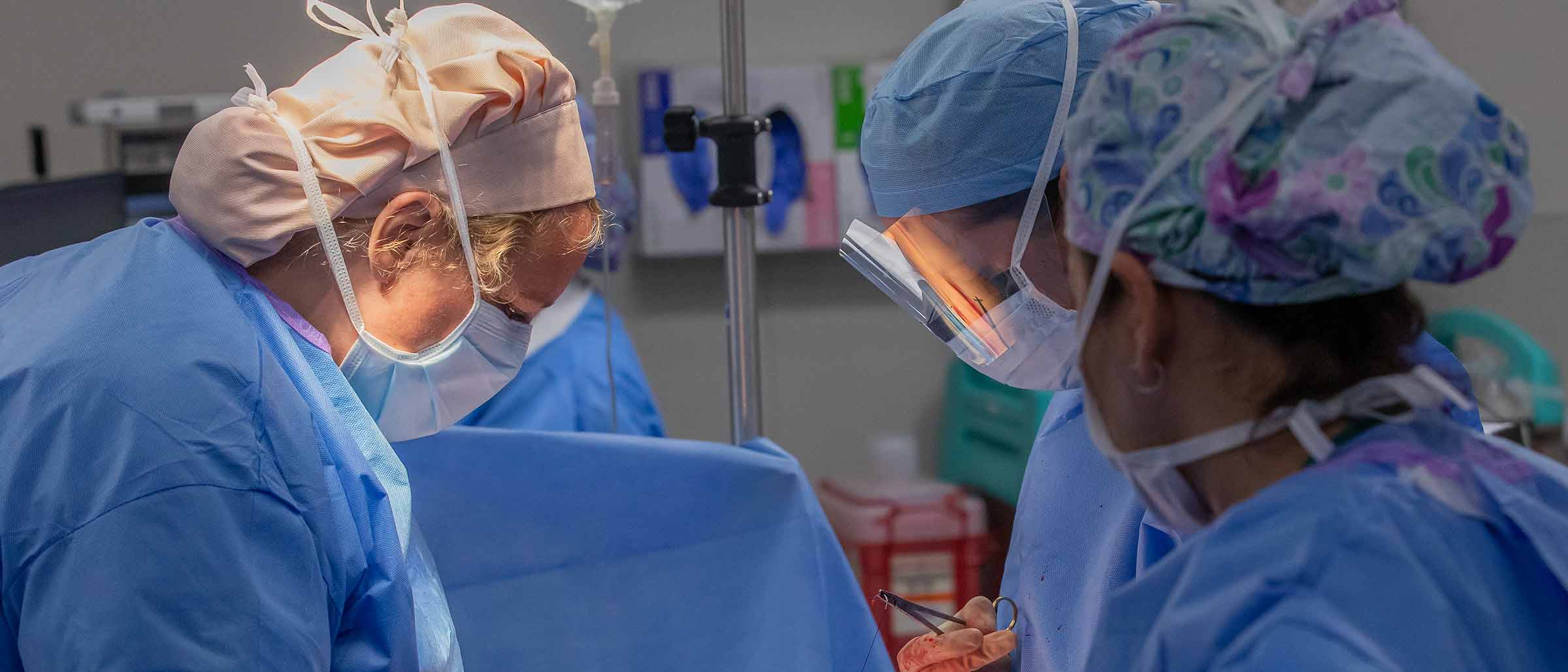 Dr. Sterling Overstreet has noticed a tremendous change in the Emergency Department in recent years. It's not the result of COVID-19 – or even because of any physical changes to the ER space. Rather, it reflects a cultural shift at UT Southwestern in which teams of doctors and nurses are working more efficiently, saving more lives.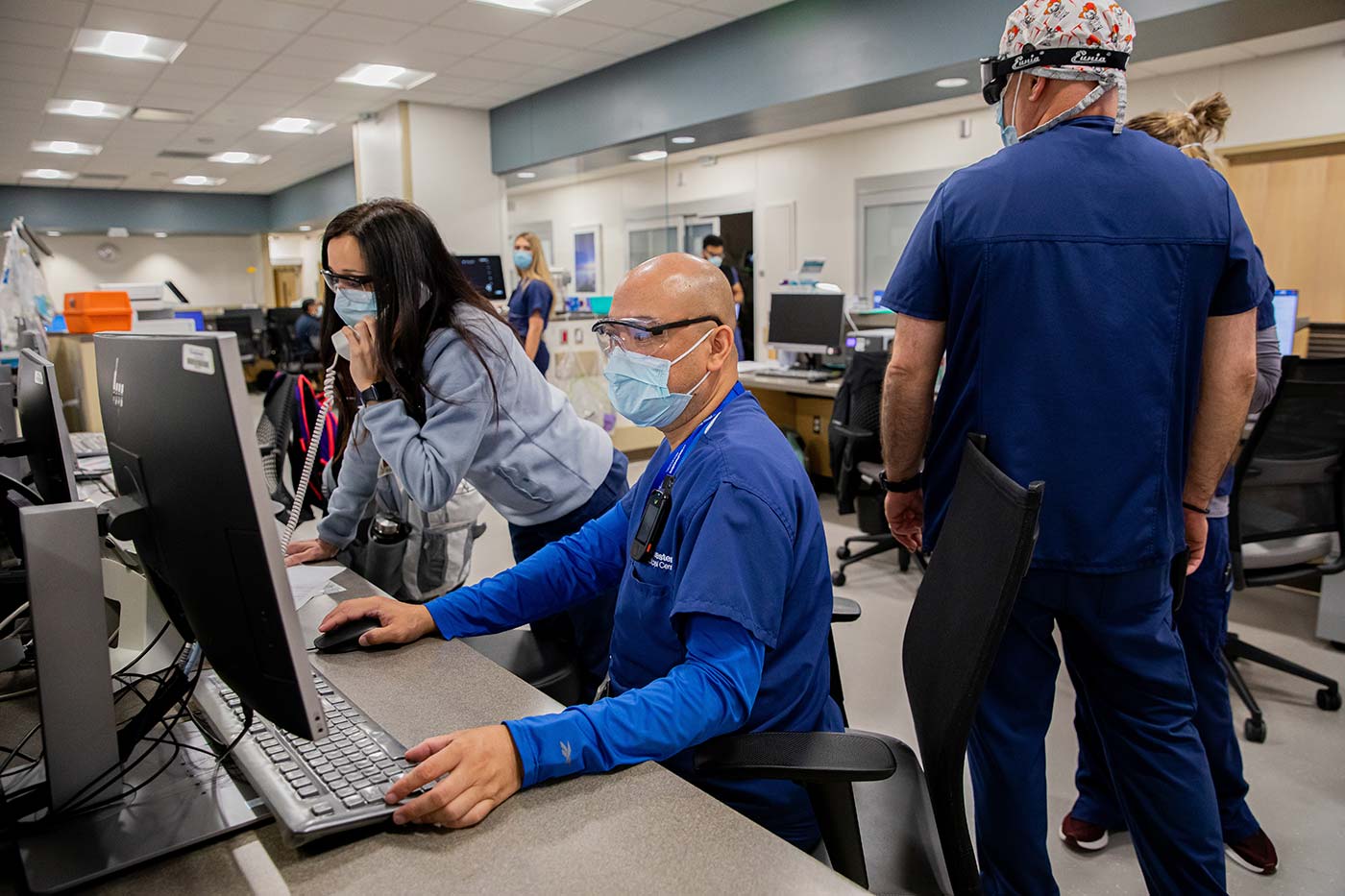 For example, by reworking how patients are diagnosed and treated for sepsis, deaths at UT Southwestern's William P. Clements Jr. University Hospital related to the bloodstream infection have decreased by 40 percent since January 2018.
"Antibiotics get in the patient over 100 minutes faster whenever we're using the established order set for sepsis," said Dr. Overstreet, Assistant Professor of Emergency Medicine and Quality Officer for Health System Affairs. "Overall, the patient receives treatment significantly faster, which we know reduces mortality."
This and other changes were enacted over a period of two and a half years at Clements University Hospital and UT Southwestern's clinics to increase patient quality and safety outcomes. By bringing a new level of scrutiny to each step of the clinical process, continuous improvements have saved an estimated 563 lives from January 2018 to August 2020, said Dr. William Daniel, Vice President and Chief Quality Officer.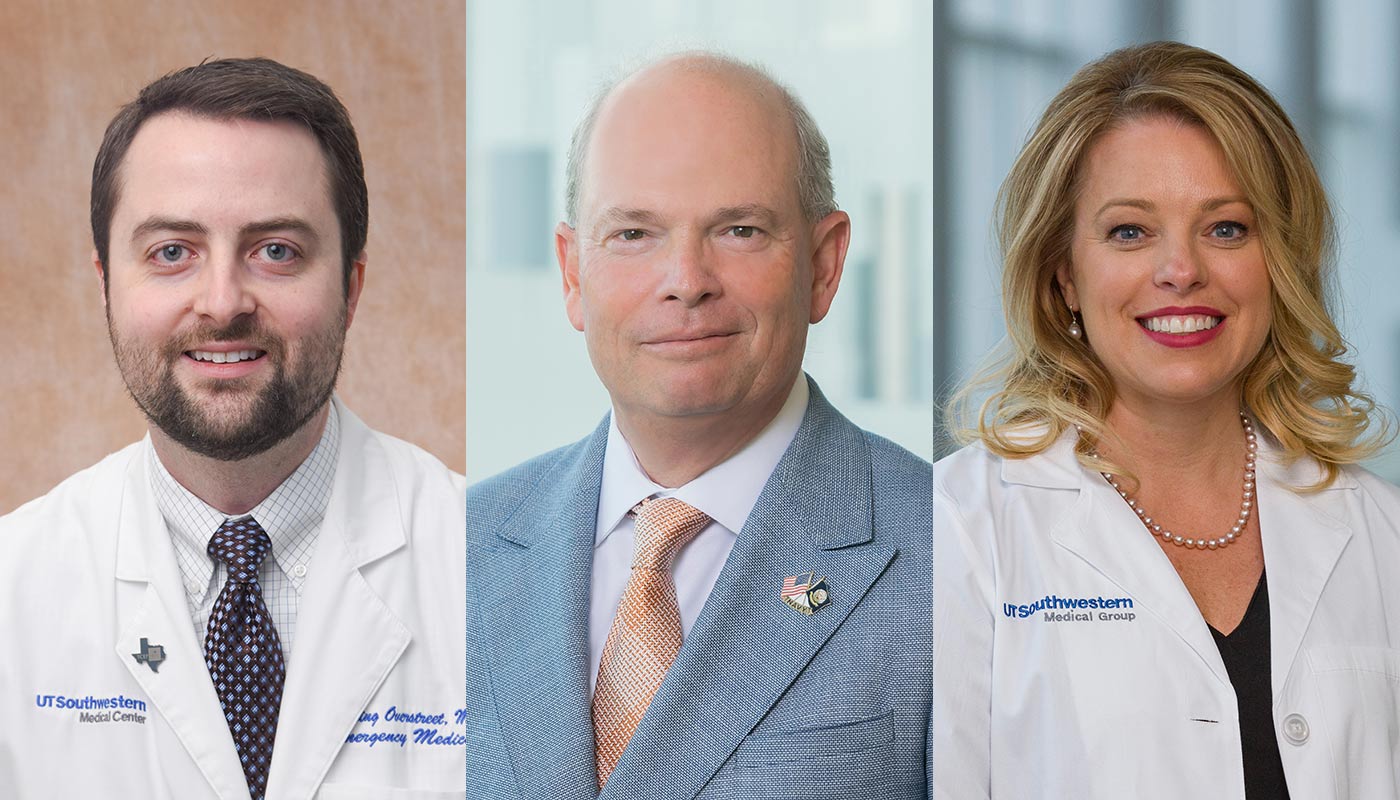 After joining UT Southwestern in November 2016, Dr. Daniel made reduction of sepsis deaths – a problem faced by hospitals nationwide – his first priority.
Dr. Sonja Bartolome, Professor of Internal Medicine and Associate Vice President of Ambulatory Quality Outcomes, said the key was taking a holistic approach.
"Quality and safety is mostly about making the system around the patient, doctor, and nurse work optimally," Dr. Bartolome said. "This lets the doctors and the nurses do their part, and lets everything else run smoothly and without errors in the background. That's what the core of quality and safety is about."
Changes lead to improvement
Critical steps had to be taken and performed in the correct order – so sophisticated software was applied to old-school checklists. Work sped up – not because it was rushed – but because it was done more efficiently. A commitment to teamwork increased not because people were put under pressure, but because greater attention was paid to the process.
As a result, lives have been saved in every hospital service line.
"This is a credit to the real change in work culture," Dr. Daniel said. "Teamwork is the reason we were able to get to these super-elite levels of patient survival."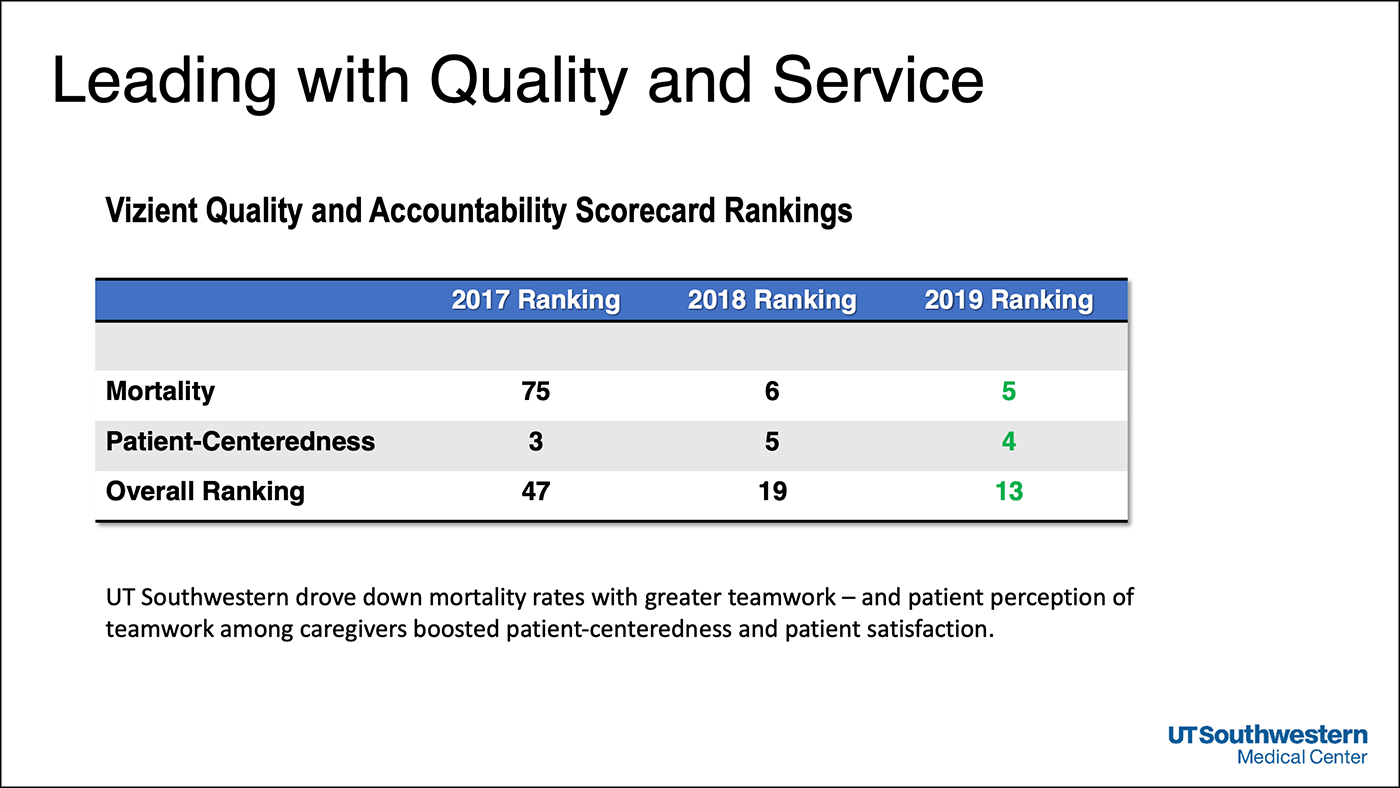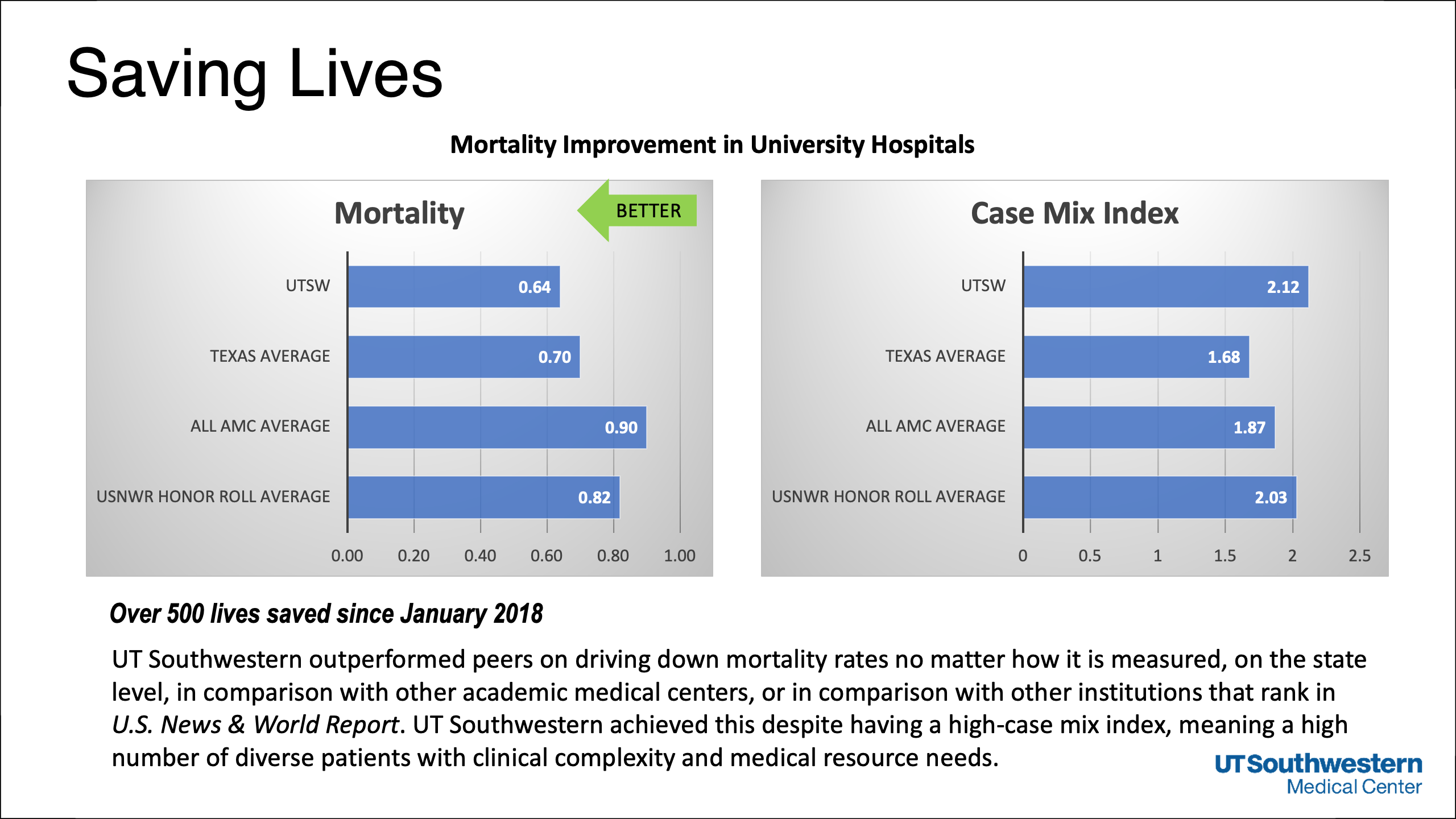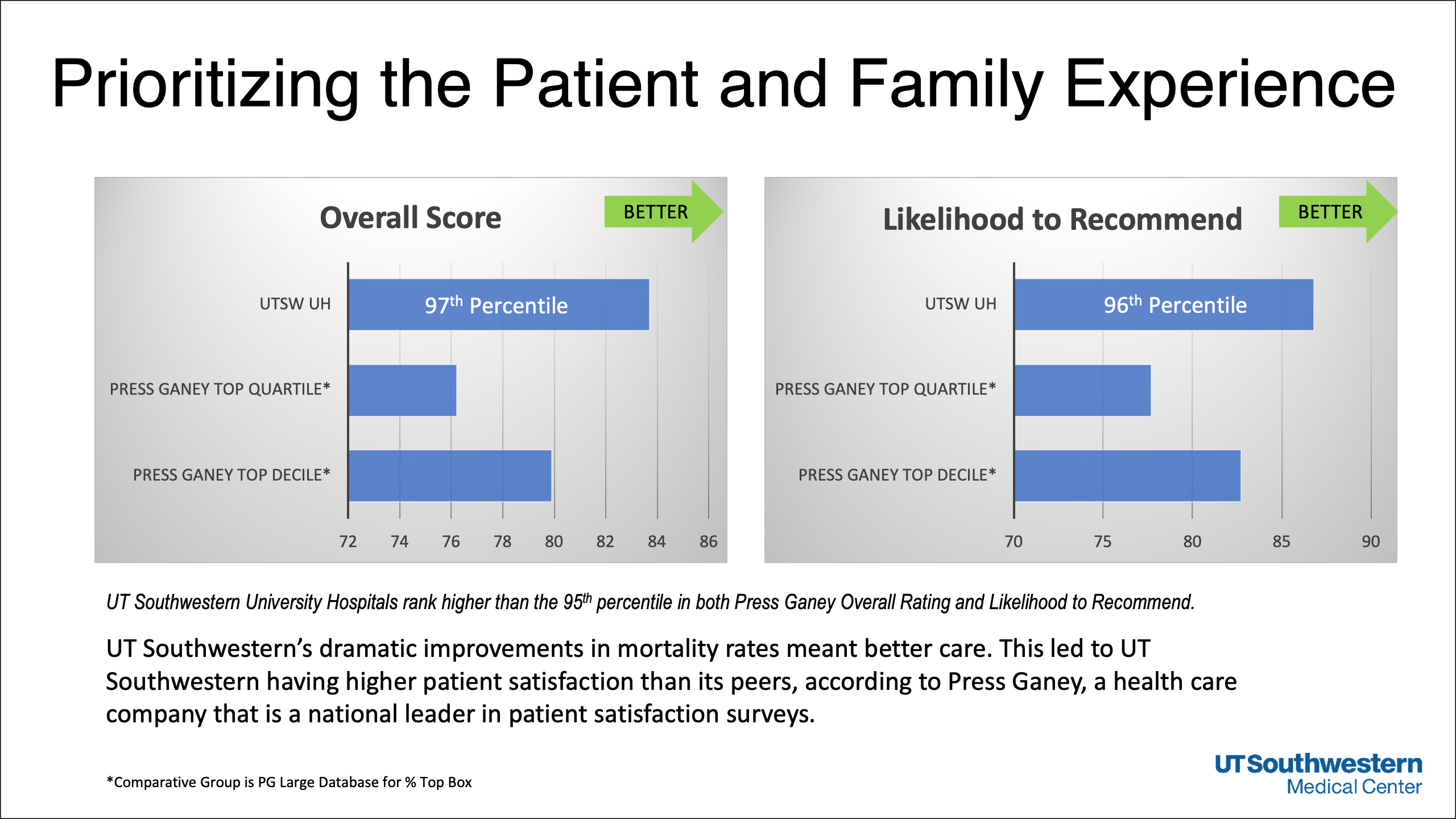 Among 2,800 hospitals ranked by their 30-day mortality rates by the Centers for Medicaid and Medicare Services, UT Southwestern skyrocketed to the top 1 percent from the top 25 percent in just three years. The hospitals were ranked for their 30-day mortality in five areas: acute myocardial infarction, coronary artery bypass graft, chronic obstructive pulmonary disease, heart failure, pneumonia, and stroke. CMS gives Clements University Hospital five stars, its highest rating.
The improvements in quality outcomes, in turn, have boosted patient satisfaction, which rises when patients perceive their health care providers are working together as a team. Last year, UT Southwestern ranked fourth among academic medical centers in patient experience as measured by Vizient Inc., a company that tracks health care indicators.
Targeting sepsis
Dr. Daniel and his team identified sepsis reduction as the main target for improvement because it was the greatest threat to patients. According to the Centers for Disease Control and Prevention, 1.7 million adults get sepsis, and it kills nearly 270,000 people nationwide every year. Three-quarters of patients who get sepsis come to a hospital's Emergency Department, so the focus there was intense.
Analysis showed Clements University Hospital staff were doing everything right to address sepsis, but that taking steps more quickly could save more lives.
"For sepsis, we realized that the earlier you recognize someone has the infection, the better. Every hour delay brings about a 4 percent increase in mortality," Dr. Daniel said.
Following activation of new quality and safety improvements, patients were screened for sepsis. If certain criteria were met, nurses did not wait for a doctor's orders to start antibiotics. Rather, they were empowered, starting in January 2018, with standing delegated orders to start treatment.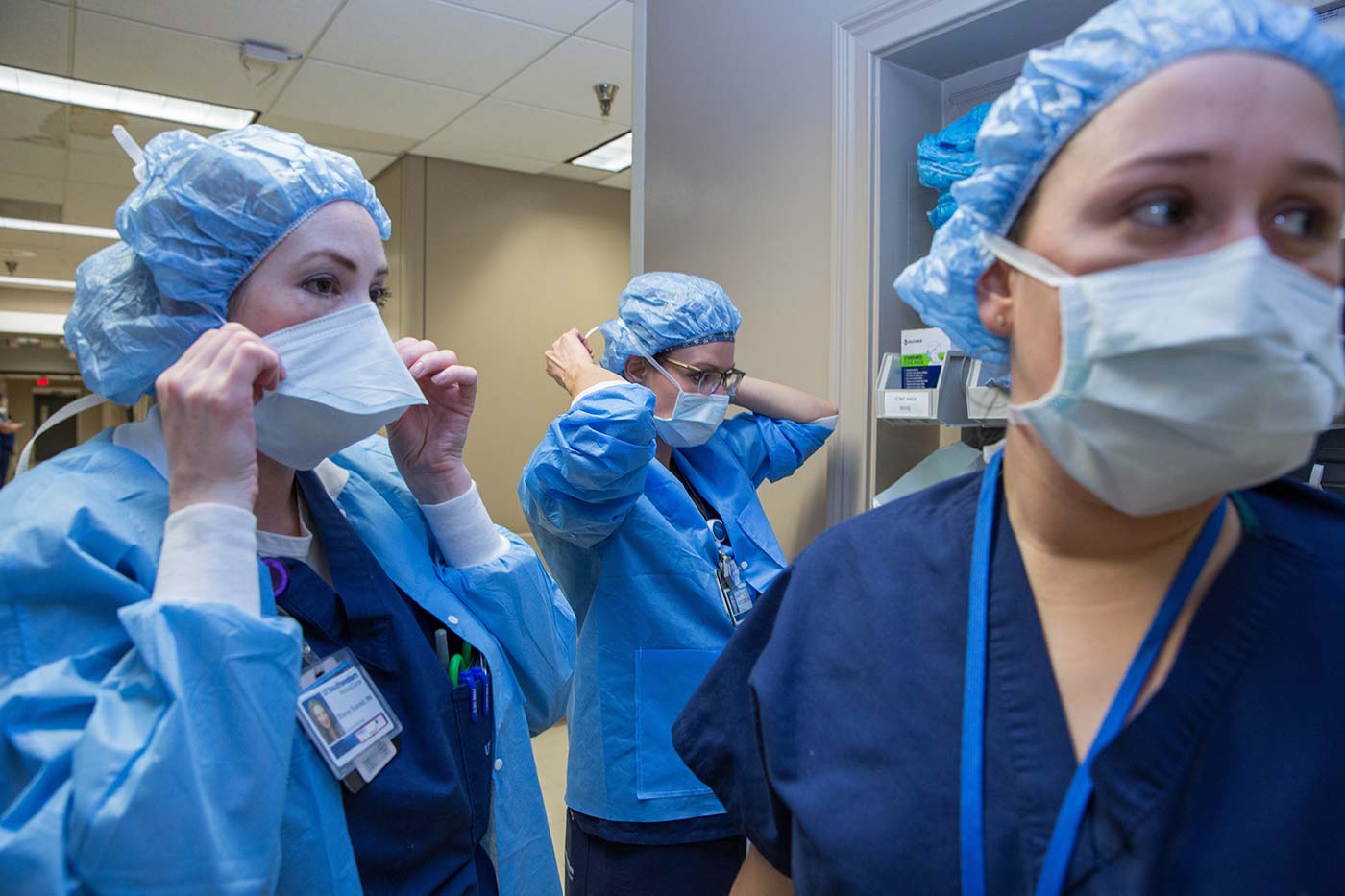 This approach was so new that some nurses checked with the Texas Board of Nursing to see if this could be done, according to Chief Nurse Executive Susan Hernandez, who said she and other leaders welcomed the skepticism because teamwork and honest scrutiny were needed to ensure success.
Ms. Hernandez said nurses then embraced the changes – and saw results.
"Once the numbers tell a story, there's no arguing. They can see it, they can see that they're making a difference," she said.
A 'Magnet' for success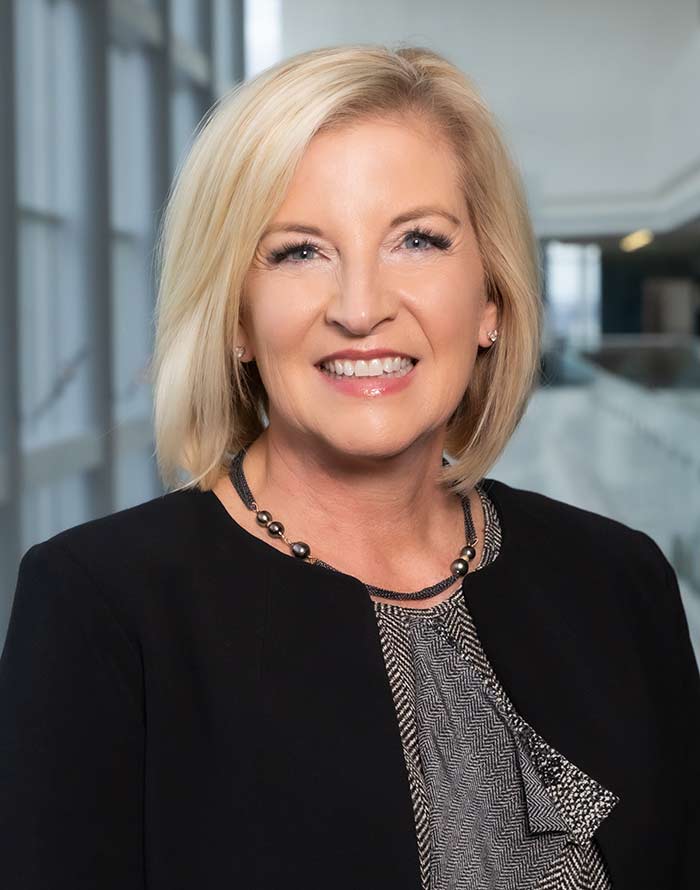 Ms. Hernandez led UT Southwestern's effort to achieve Magnet designation in 2016, an elite status granted by the American Nurses Credentialing Center for excellence in aligning the goals of nurses with the organization's overall improvement in patient outcomes.
Dr. Daniel said this designation, held by only 8 percent of hospitals in the United States, was one of the major drivers of UT Southwestern's quality and safety efforts.
Ashley Holroyd, Associate Vice President of Quality Operations, came to UT Southwestern in 2018 to unearth areas to improve and speed up care. She leads a team of 70, including 12 industrial engineers and process optimization experts who work with health care providers to analyze each step of the operational process, seeking areas to improve.
"It's about creating value for our patients, as well as creating the optimal environment for our caregivers to be able to provide the highest level of care. We want to empower the staff, through resources and training, to become problem solvers," Ms. Holroyd said.
Her data analytics team builds scorecards and dashboards to track performance and identify opportunities throughout the organization, while project management and transformation teams provide additional resources to facilitate change.
Quality improvement as a philosophy
This new look-for-something-to-improve philosophy has spread throughout UTSW's clinical culture. So when the pandemic hit this year, health care workers used quality and safety principles to improve care for COVID-19 patients.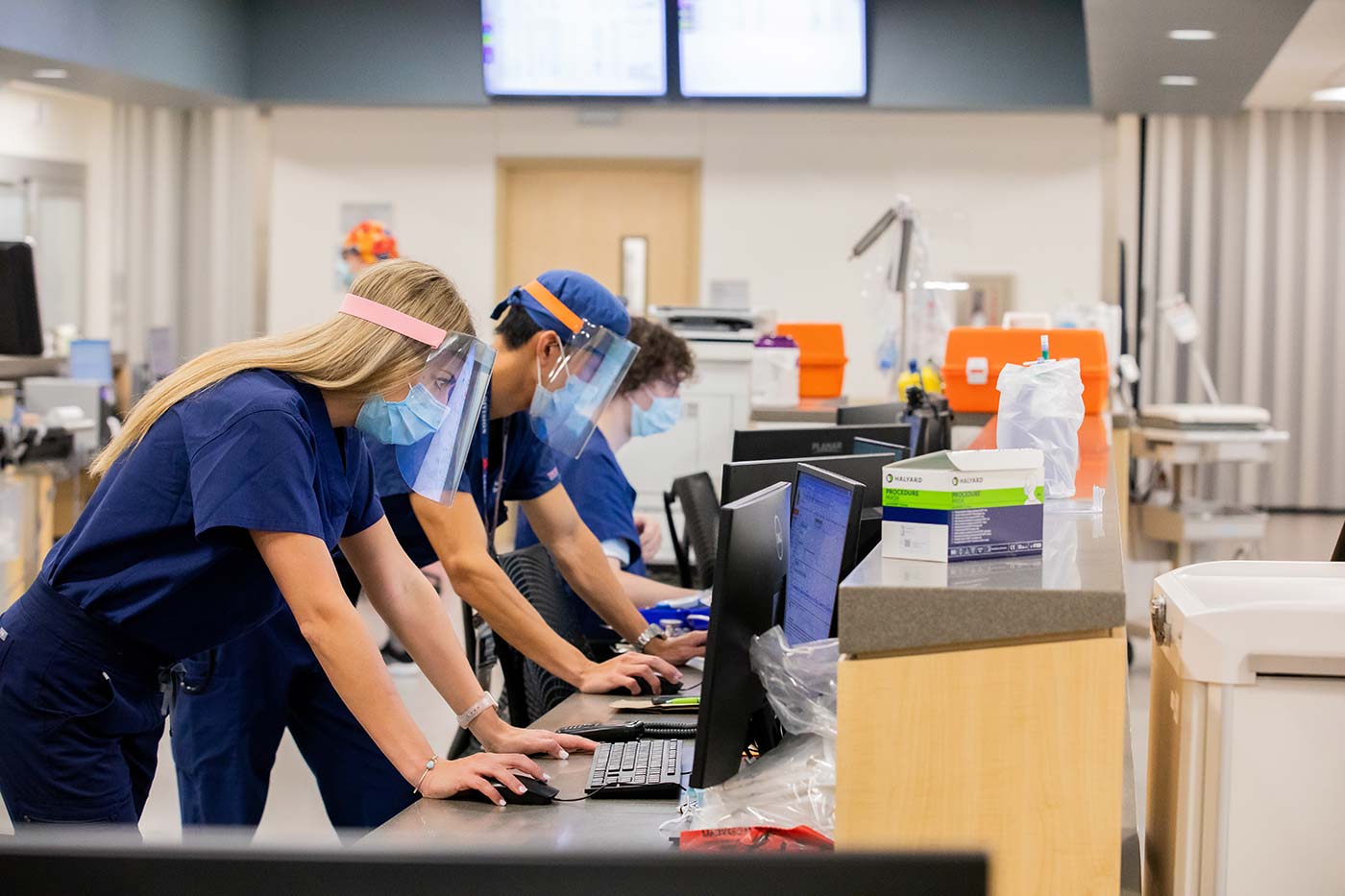 Dr. Daniel said health care providers rethought procedures for resuscitating COVID-19 patients and found ways to put fewer providers at risk for exposure to the virus. Equipment was placed outside patient rooms and configured to deliver the same level of support for the patient. Exposure was reduced while still maintaining high levels of patient resuscitation.
Members of the UTSW liver transplant team also embraced the new philosophy and found ways to get patients off breathing machines before they leave operating rooms. This advance, once thought to be unattainable, reduces complication risks and increases patient comfort.
And in several operating rooms, new "black box" technology has been installed to record all aspects of a surgery so physicians and nurses can review data and find ways to improve.
"Quality and safety improvements are not an administrative or bureaucratic structure," Dr. Daniel said. "It's really about engagement and empowerment at the very front lines."