Graduate student receives UTSW's first NCI F99/K00 award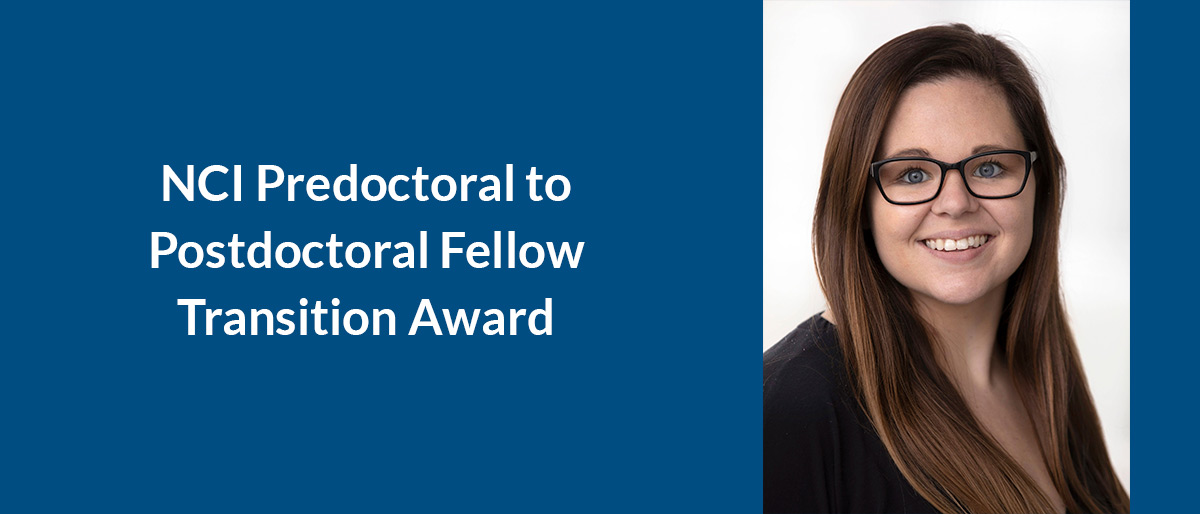 Emily Arner, a fourth-year student in the Cancer Biology Graduate Program and a member of the Brekken lab, is trying to decipher how pancreatic cancer cells adapt to escape the primary tumor, enter the bloodstream, and form secondary tumors, or metastases. Her goal is to find signaling pathways that could be used to treat aggressive metastatic cancers.
"Despite significant research efforts, metastatic cancers and relapse remain the primary cause of cancer-related deaths," she said. "My research goals are focused on understanding the molecular mechanisms underlying cellular plasticity and metastasis to reveal novel ways to target these programs for effective therapies."
Ms. Arner's work just received a significant boost – backing from a National Cancer Institute (NCI) Predoctoral to Postdoctoral Fellow Transition (F99/K00) Award, which supports outstanding Ph.D. candidates as they complete dissertation research training and transition to mentored, cancer-focused postdoctoral career development research positions. The F99 phase of the award provides support for Ms. Arner's stipend, tuition, fees, and an institutional allowance for the last two years of her graduate training, while the K00 phase will provide funds for salary, benefits, and career development for the first four years of her postdoctoral studies.
"The F99/K00 is a relatively new award at the NCI. It is set as a transition award that takes the trainee through the remainder of their Ph.D. and provides funding for their initial years as a postdoc," said Dr. Rolf Brekken, Professor of Surgery and Pharmacology, a Principal Investigator in the Hamon Center for Therapeutic Oncology Research and a member of the Harold C. Simmons Comprehensive Cancer Center.
The F99/K00 application process differs from other National Institutes of Health (NIH) fellowships in that only one applicant per institution can apply. "Emily is the third applicant from UTSW and the first to receive the award. It's a strong validation of her as an outstanding trainee, that the Cancer Biology Graduate Program is a great program, and that UT Southwestern is a wonderful environment for cancer biology training," Dr. Brekken said.
Ms. Arner's project will have implications for how the field understands epithelial plasticity, a common strategy by which tumor cells evade therapy. It is also translationally relevant, as understanding the intricacies of epithelial plasticity could lead to therapeutic strategies.
"Ideally, we hope to be able to uncover new insights into the metastatic pathway so we can bring new targeted therapy into the clinic," Ms. Arner said.
After she finishes her Ph.D., Ms. Arner hopes to complete postdoctoral work at an NCI Comprehensive Cancer Center, such as UT Southwestern's Simmons Cancer Center. Long term, she wants to become a tenure-track faculty member at a competitive institution and make important contributions to the fields of metastasis and cell plasticity, she said.