First medIDEAS festival makes some noise in Frisco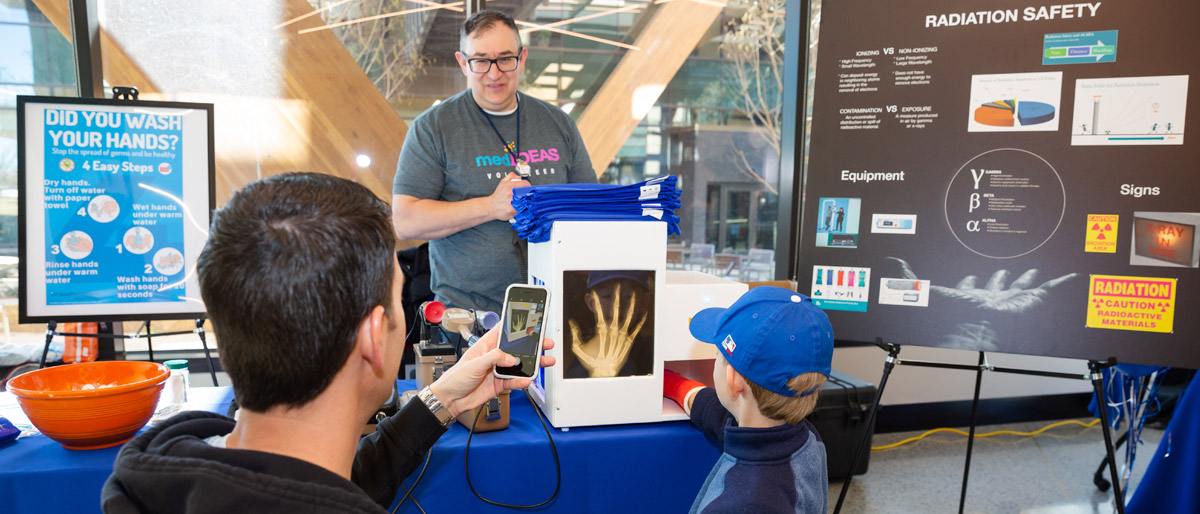 The sounds of science filled the halls of UT Southwestern Medical Center at Frisco on Saturday, Feb. 8, as hundreds of wide-eyed children and their parents enjoyed an afternoon of medical discovery and amusements at the inaugural medIDEAS festival.
A steady chorus of "ooohs and ewwwws" emanated from the Otolaryngology table, where you could take a peek deep inside your ear and see it on a nearby iPad.
The loud "thwacks" of whack-a-mole reverberated from the Dermatology display, where volunteers shared skin cancer prevention tips and sunscreen.
And cheers erupted from the "It Takes Guts" Gastroenterology game every time a certain popular brown, smiling emoji was tossed successfully into a plastic potty.

Related Video: Locals attend first medIDEAS festival
The medIDEAS community event, formerly known as Science Saturday, was envisioned as an entertaining, hands-on way to connect with Collin County residents and introduce them to UT Southwestern's new medical campus in Frisco, which opened Dec. 3. The event, focused on engaging the community and highlighting UT Southwestern's role as a leading academic medical center, brought to life the institution's commitment to excellence in research, clinical care, and education.
By all accounts, the festival was a hit.
"We love all the science activities," said Sohyla Avari of McKinney, who brought her 14-year-old son, an aspiring researcher. "I've been trying everything, too, because I want to be a good role model, of course!"
In the expansive physical therapy gym, mother and son tested their balance and grip pressure, and then took a few swings on the golf simulator. They also gave their cognitive skills a workout on the BITS (Bioness Integrated Therapy System) big screen, racing against the clock to map out a numbered trail and pop red, white, and blue bubbles in sequence.
BITS is one of many unique treatment tools at UT Southwestern Frisco.
Many of the activities were geared toward kids – take a selfie dressed like a doctor, get a cast put on and then cut off, try on a hazmat suit. But there were also some more cerebral displays, such as:
The "Brain Art" gallery exhibited UT Southwestern employees' mixed-media interpretations of the brain.
Information tables highlighted the ConTex concussion registry, bone marrow donations, and mindful meditation, with cool giveaways such as portable ice packs.
And at "The Muscle Mambo," Dr. Reed Williams, Assistant Professor of Physical Medicine and Rehabilitation, demonstrated diagnostic ultrasound, which uses sound-wave technology to examine muscles, joints, and tendons in real-time.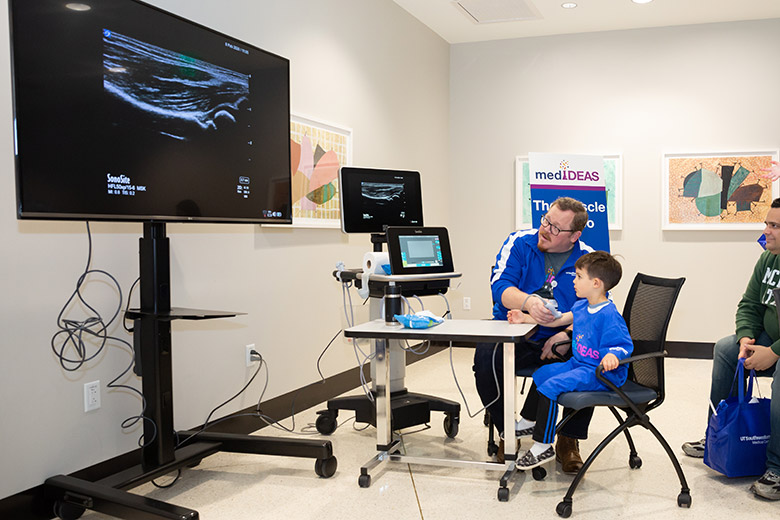 Frisco resident Theodore Barrett, 91, came to medIDEAS with his grandson, Noah Belveal, a biologist and researcher, and as they browsed through the Brain Art gallery, he joked: "At my age, it's great to have UT Southwestern so close. I should probably move in here!"
UT Southwestern Frisco hosted the inaugural medIDEAS, but the plan is to hold future installments at sites across North Texas, including at UT Southwestern Medical Center at RedBird in southern Dallas.
"UT Southwestern created medIDEAS to share the excitement of our medical advances through community outreach," said Dr. Mark Goldberg, Associate Vice President of Institutional Advancement at UT Southwestern with a focus on the Peter O'Donnell Jr. Brain Institute. "The hands-on, family-friendly festival provides great opportunities for kids and adults to interact directly with our experts and trainees. It's also a great experience for our many volunteers from across the Medical Center."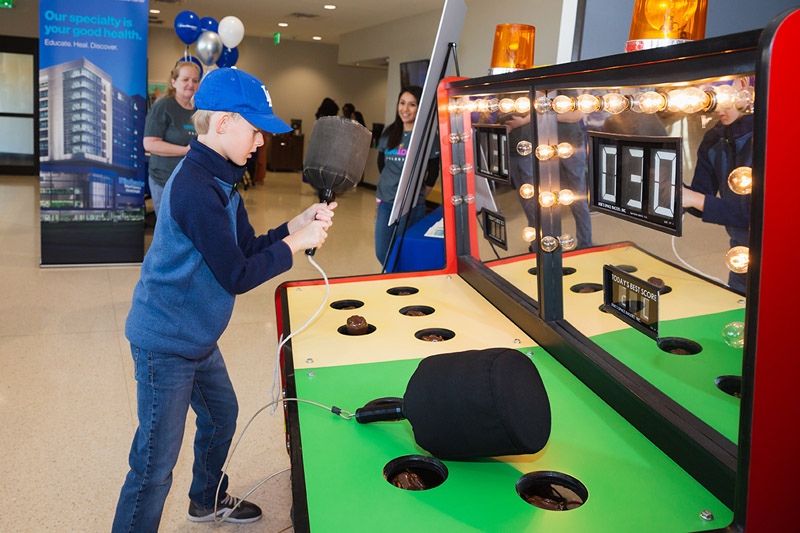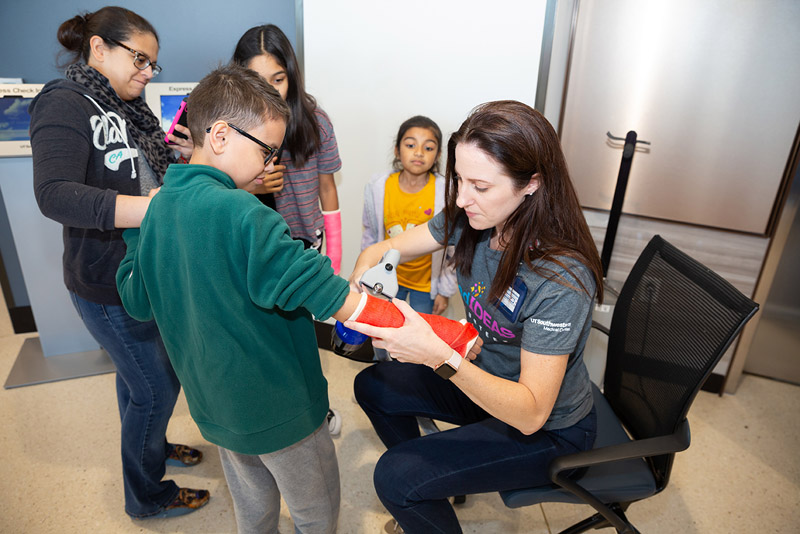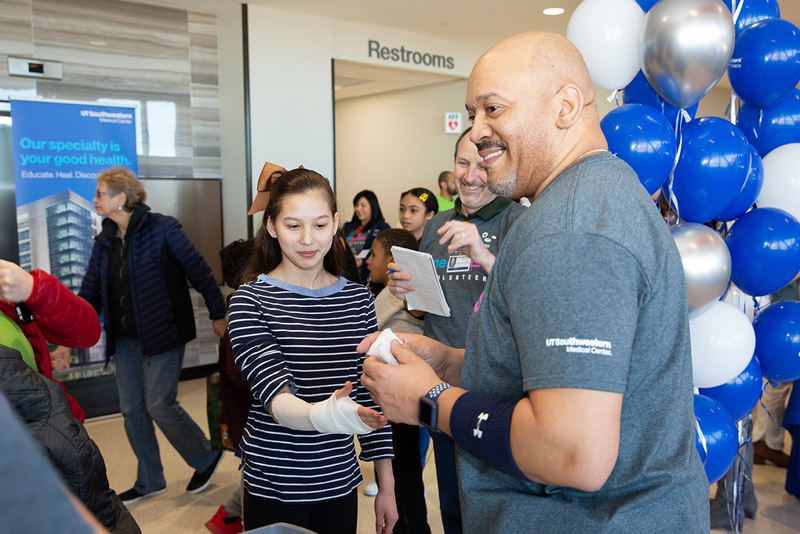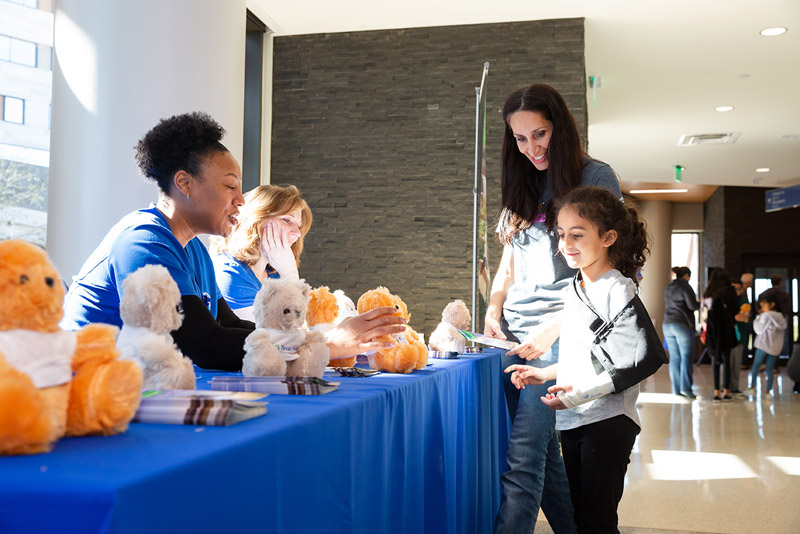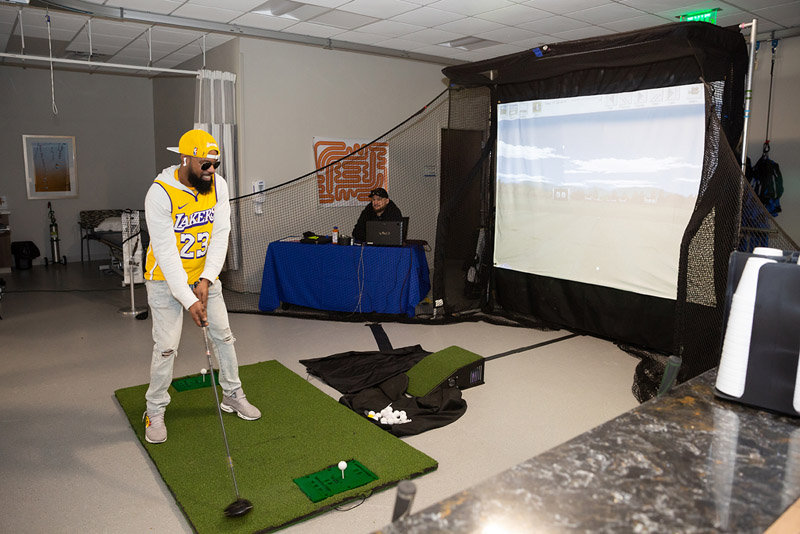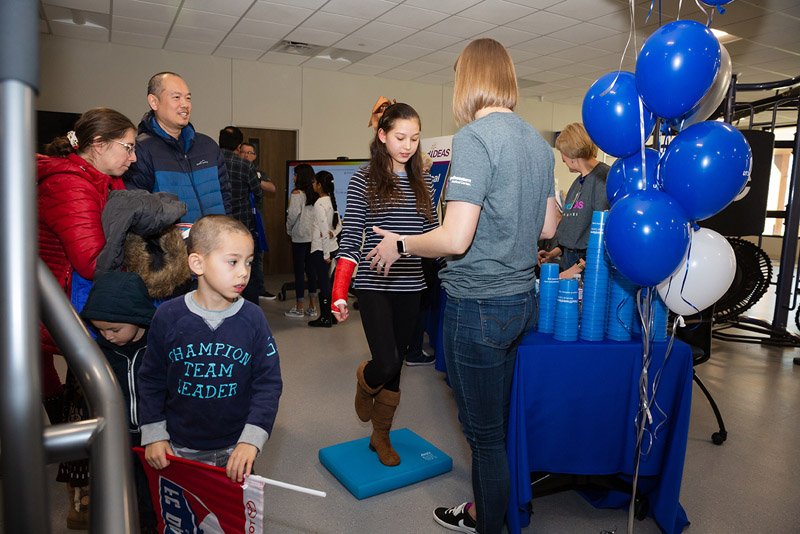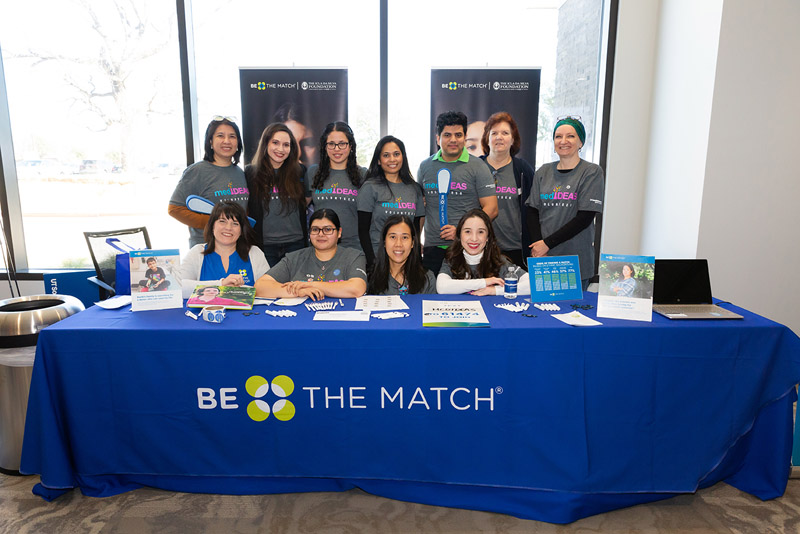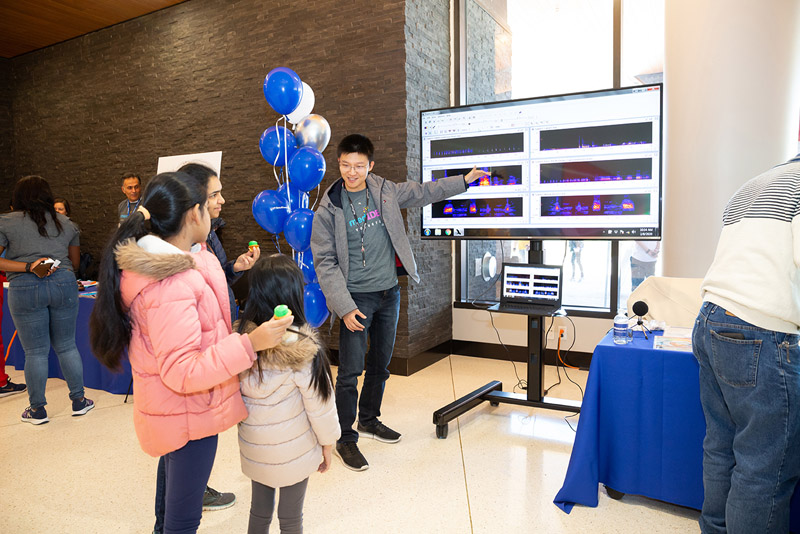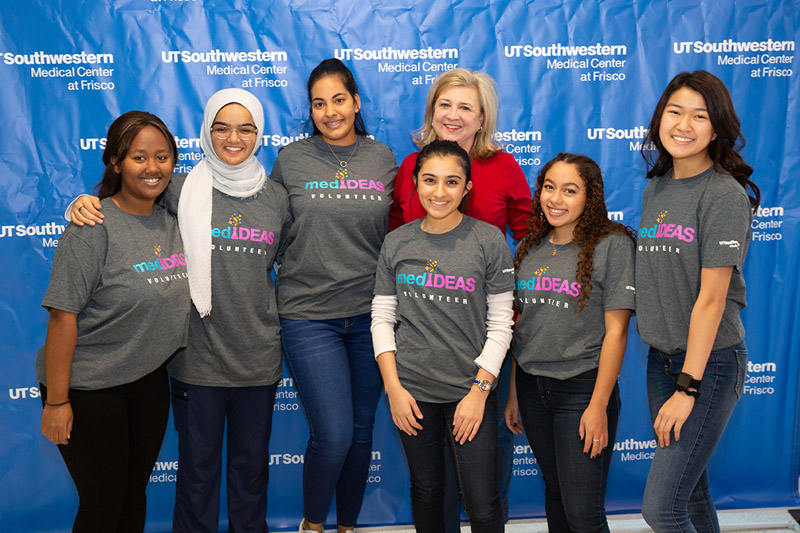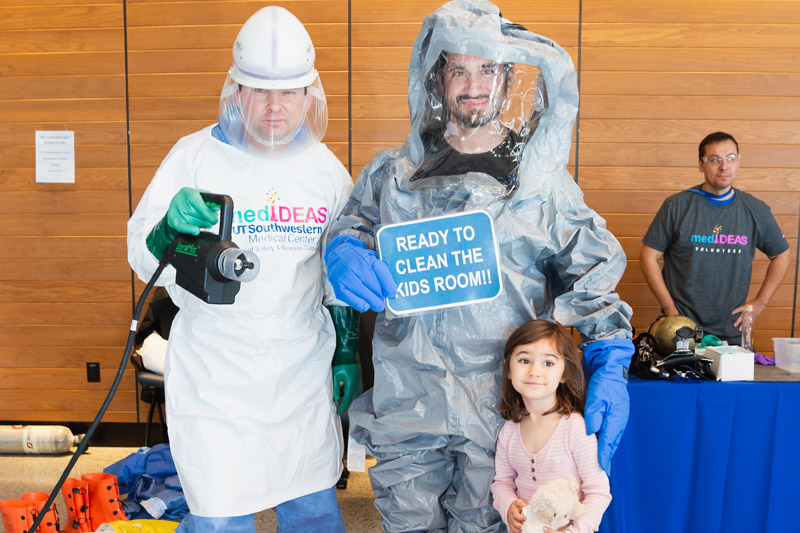 More than 100 UTSW volunteers enjoyed connecting with the community in Frisco, including Dr. Socorro Chamblee, a Faculty Associate in Otolaryngology – Head & Neck Surgery, who diligently peeked in ears at the "Can You Hear Me Now" table.
"This is a great way to show people we have a presence here," said Dr. Chamblee, who was in private practice in McKinney for 17 years before joining UTSW Frisco in December. "We are seeing so many interesting and challenging cases. And I think events like this help raise awareness of just what it means to have an institution like UT Southwestern, with all of our specialists, in your backyard."