Research laboratories adjust to limited operations during pandemic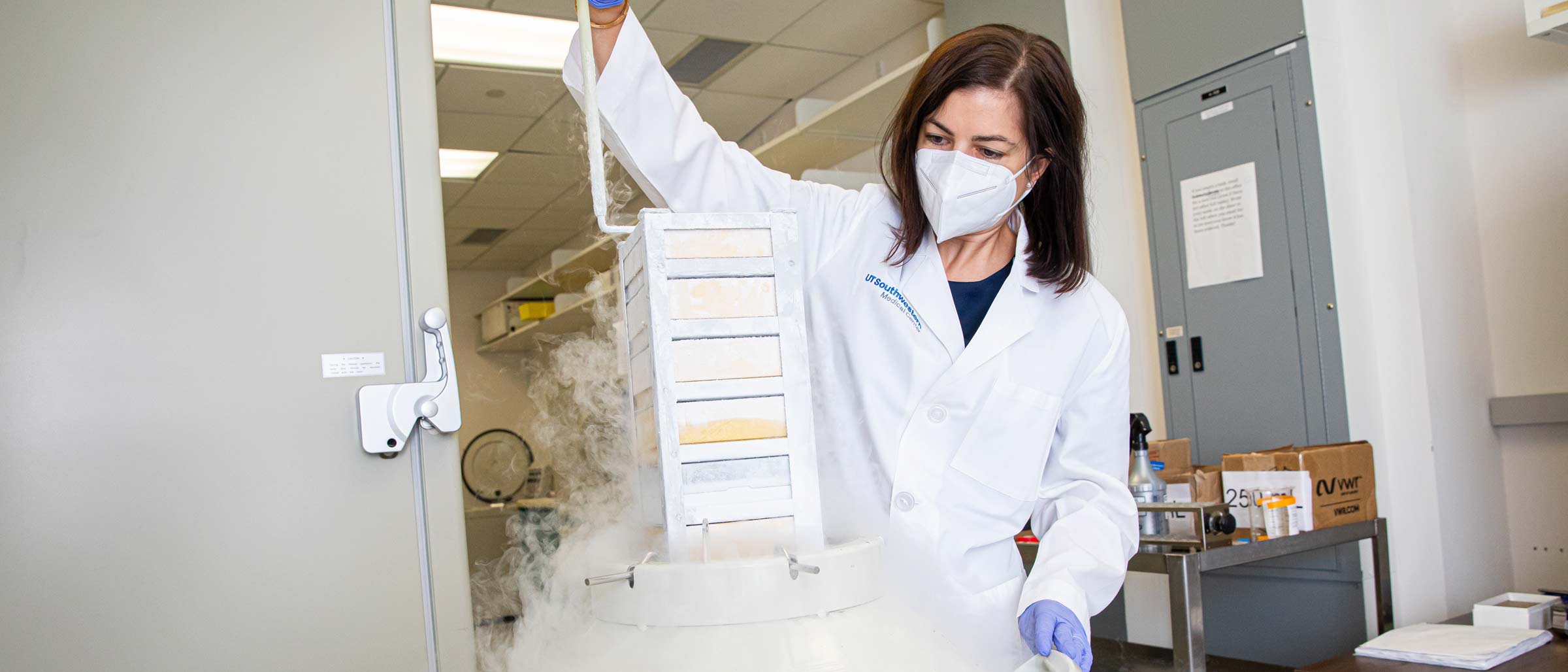 UT Southwestern's research labs have restarted experiments with realigned workspaces and schedules as part of the phased reopening of campus following a shutdown earlier this year.
"Research will ultimately pull us out of the COVID-19 crisis, and experiments must continue to keep up the fight against this and other diseases. It is inspiring to see the diligence and innovation that UT Southwestern faculty are exerting to keep our research enterprise alive and thriving," said Dr. David Russell, Professor of Molecular Genetics and Vice Provost and Dean of Research.
Scientists said that the two-month halt to laboratory work when the pandemic hit in the spring took a toll on some research activities, but faculty leaders also came up with innovative ways to engage with their staffs outside the lab.
"It was a substantial setback," said Dr. Ryan Hibbs, Associate Professor of Neuroscience and Biophysics, whose lab studies neurodegeneration and addiction, noting that some incubators had to be turned off and some genetic material thrown away.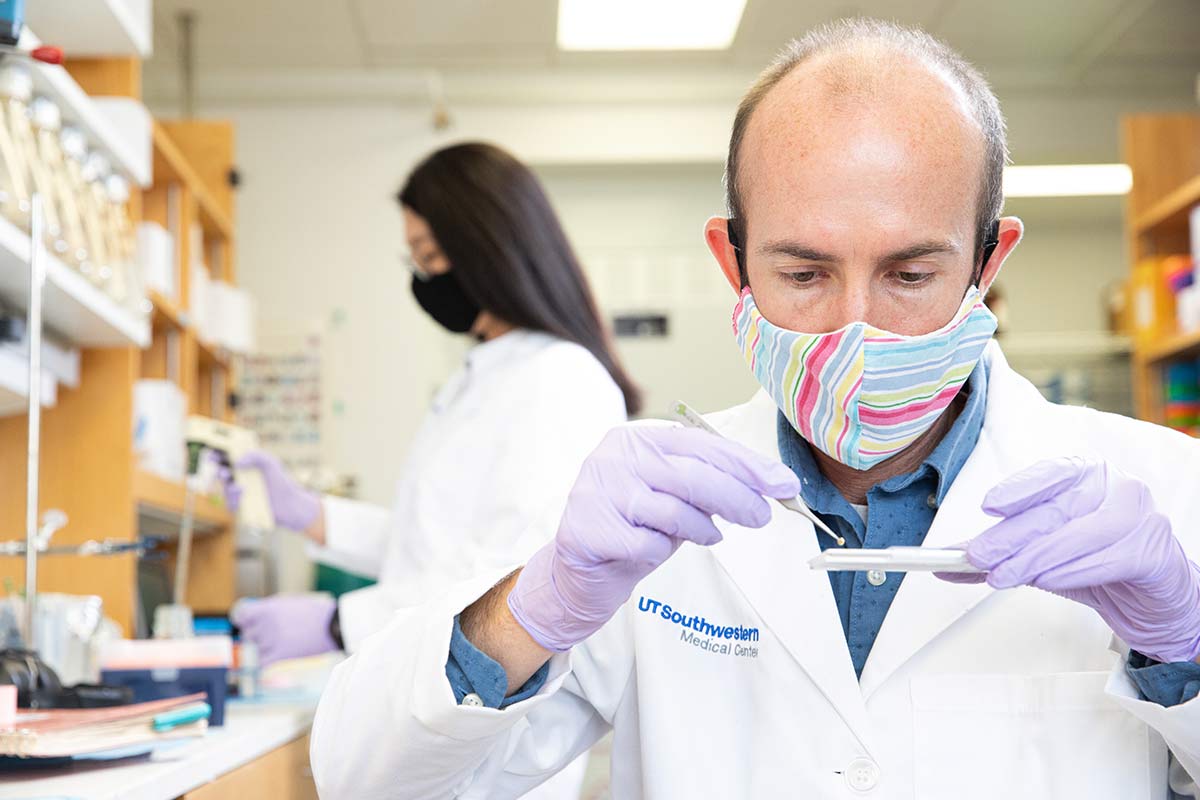 To adjust to a 50 percent limit on lab staff in the phased reopening, he and his team purchased duplicates of some equipment and spread it out in the laboratory so the team can work safely at a social distance. Unused office space is being utilized for computational work that would normally be done in the lab, and extra computers were purchased so team members can work at home when possible.
Dr. Hibbs complimented the UT Southwestern administration for deftly handling the shutdown by sharing information, instituting a well-thought-out reopening plan, and allowing minimum staff access to maintain lab resources.
"I have found the University to be very responsive. I think the University did a really good job quickly figuring out how to get everyone working from home," he said. "It was as painless as could be."
Labs reopened in May at 25 percent of normal occupancy and expanded to 50 percent on June 1. At 50 percent, two people are able to work in each lab bay or enclosed tissue-culture room as long as they wear masks and remain 6 feet apart. Further reopening has been put on hold as the University monitors the level of COVID-19 transmission in the community.
To make things work at 50 percent staffing, Dr. Philipp Scherer, Director of the Touchstone Center for Diabetes Research and Professor of Internal Medicine and Cell Biology, said he split his lab team into an early shift and a late shift. Working together is preferable, he said, but the two-shift solution is keeping things operating for now.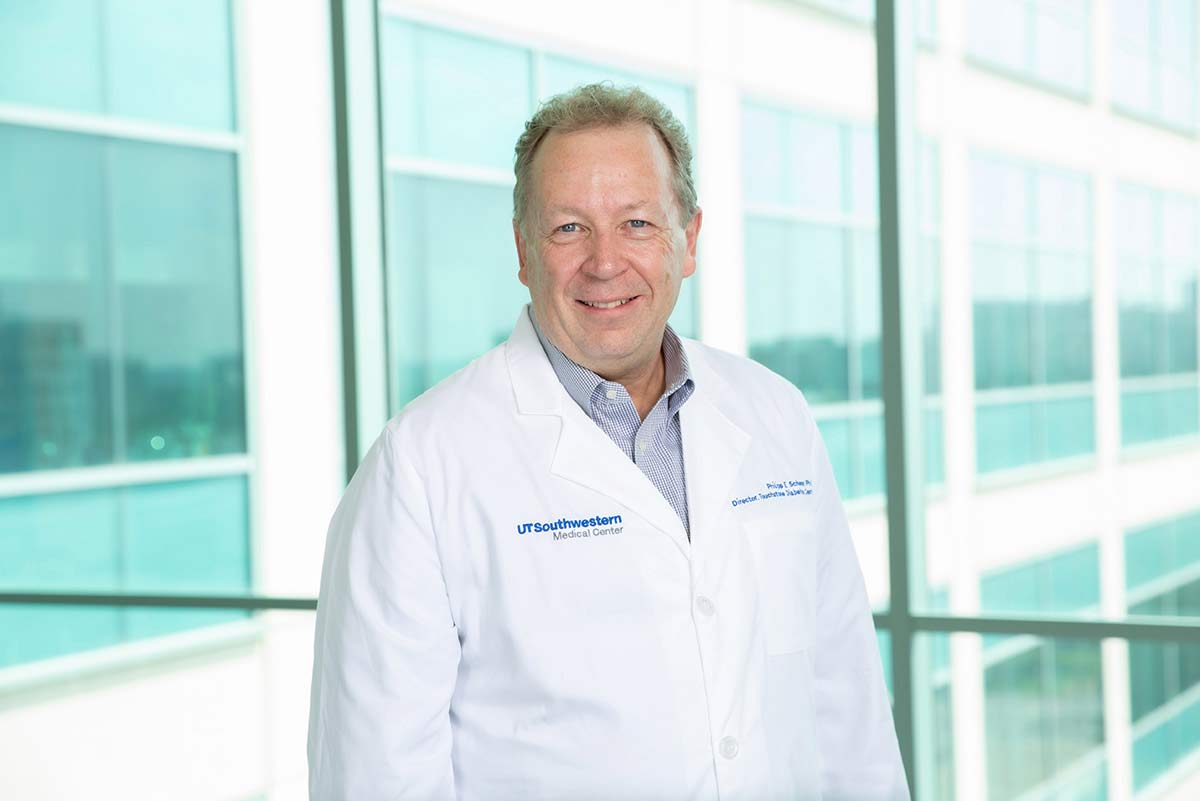 While labs were closed, research animals were fed by a small number of people who were allowed to return to campus periodically. Cell lines were frozen and work shifted to everything that could be done from home. Data analysis, writing work on journal articles, and grant writing suddenly received a lion's share of lab teams' attention.
Dr. Marc Diamond, Director of the Center for Alzheimer's and Neurodegenerative Diseases, said that switching his weekly lab meetings to videoconferences opened the door to invite prominent scientists to speak to his team.
The talks were a huge success. In one, a scientist in Germany discussed how a protein passed through the cell membrane to leave a cell, shedding new light on the team's efforts to discover how the protein could enter a cell, said Dr. Diamond, whose research is focused on the tau protein and its connection to Alzheimer's and other brain diseases.
Dr. Hibbs set up a Slack channel for his 11-person team, and it quickly teemed with messages and activity. He said it was a lifeline for younger lab members who were stuck in small apartments and provided support for some Asian team members who said they had been harassed in public.
Dr. Julie Pfeiffer, Professor of Microbiology, offered her lab team a list of things they could do to take advantage of the shutdown such as reading and writing more, conducting additional data analysis, listening to science lectures online and learning statistical analysis software and bioinformatics.
Dr. Genevieve Konopka, an Associate Professor of Neuroscience, said graduate students seemed to struggle the most in the shutdown as their schedules became uncertain.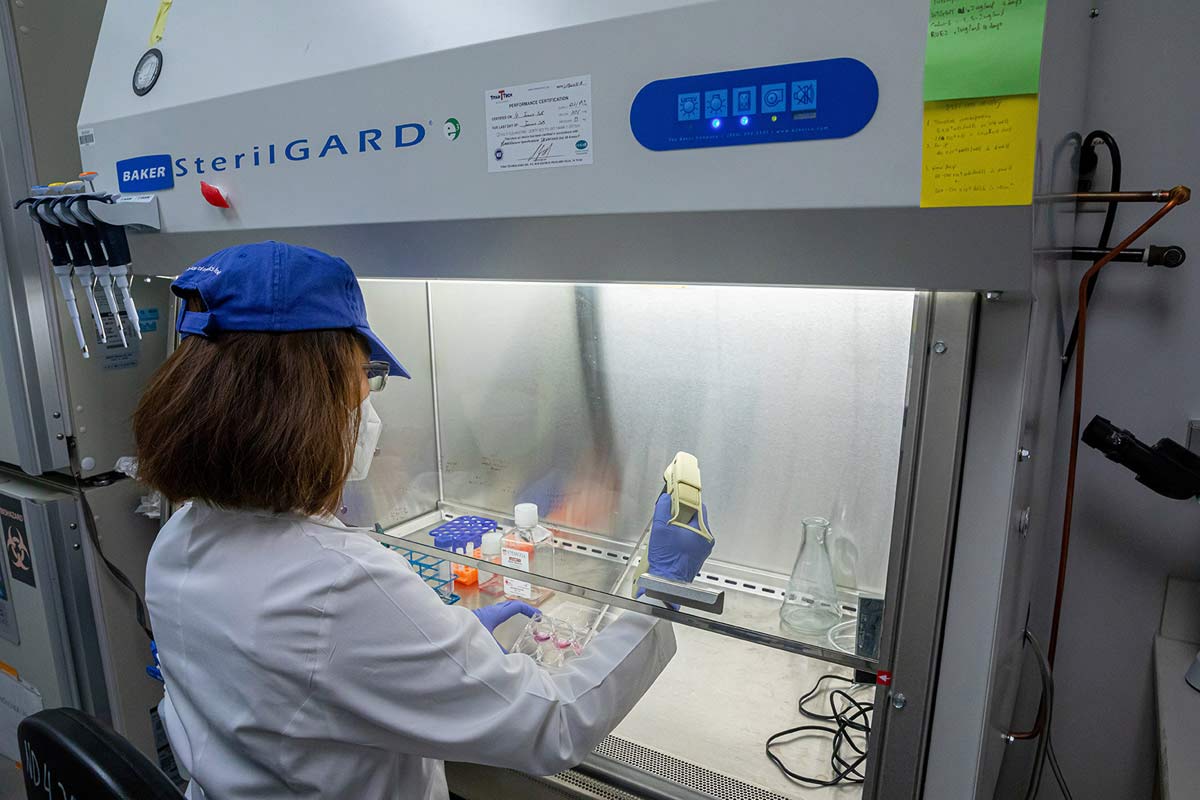 "Every little setback they have can be very upsetting to them. So I would say my concerns were more for the mental health of my lab members," she said.
Her lab's mice colonies and brain organoid could be maintained by a single lab member who was authorized to come in, and cell lines could be frozen. What mattered most was attending to the staff's well-being and questions about what the next steps would be, Dr. Konopka said, noting that her lab's Slack channel went from little use to constant activity around the clock.
Dr. Scherer said the temporary shutdown served as a mini-sabbatical for his 15-member team, providing the opportunity to reflect on the complexity of their work.
"Sometimes it is good to have a little bit of a pause. It allows you to think. Sometimes we don't spend enough time thinking," he said.