UT Southwestern pauses campus reopening plan as COVID-19 cases rise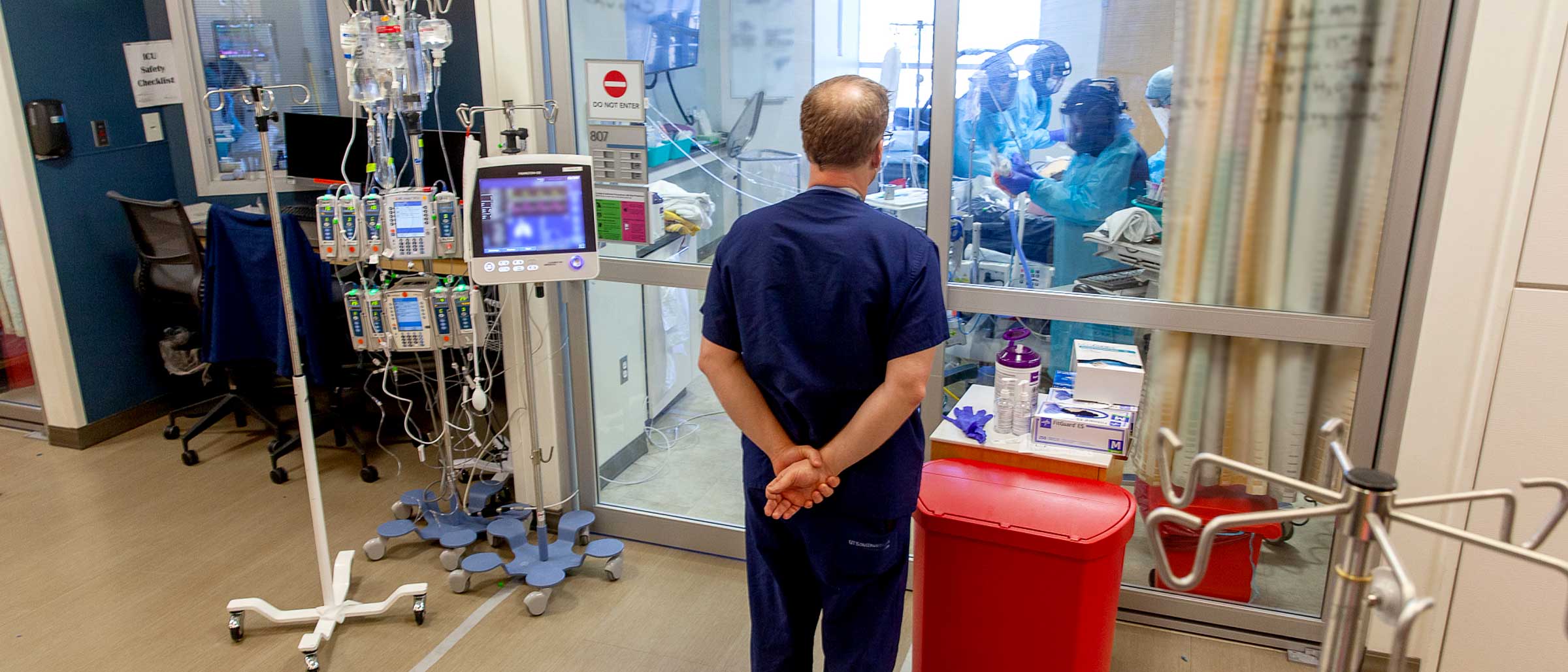 This story was updated on July 6.
While keeping a vigilant eye on the number of new COVID-19 cases, UT Southwestern began a phased reopening in May – resuming nonemergency procedures that were suspended due to COVID-19, restarting near-shuttered research labs, and finding ways to train the next generation of health care providers and scientists during a pandemic.
By July, patient counts at William P. Clements Jr. University Hospital had returned to about 90 percent, approximately 2,500 employees had come back to work on campus, and many medical students had resumed clinical rotations.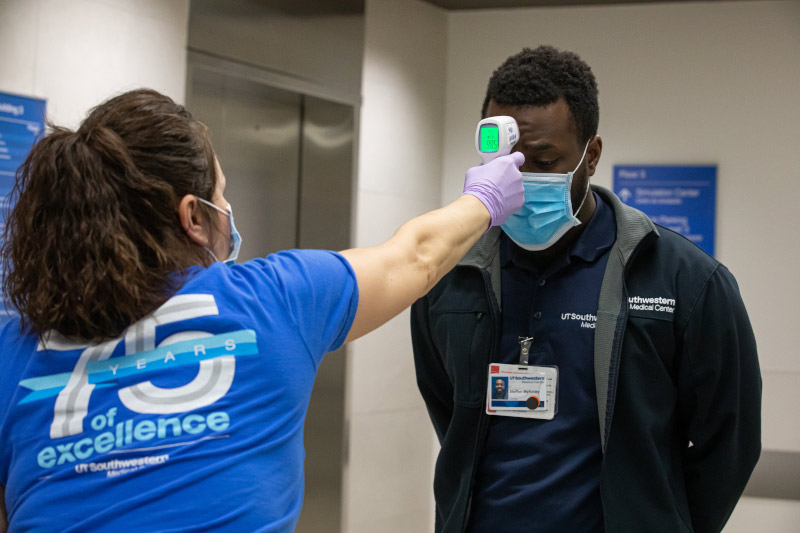 But as COVID-19 cases began rising again in North Texas in mid-June, plans for additional steps toward pre-COVID normalcy were put on hold. In a July 1 briefing, UT Southwestern President Dr. Daniel K. Podolsky told the campus community the number of COVID-19 cases was increasing in Dallas and across the state, with patients under age 50 showing up in growing numbers.
While UT Southwestern remained in a good position to accommodate COVID-19 patients, "it's clear that we have a greater challenge today than we had just a few weeks ago," Dr. Podolsky said.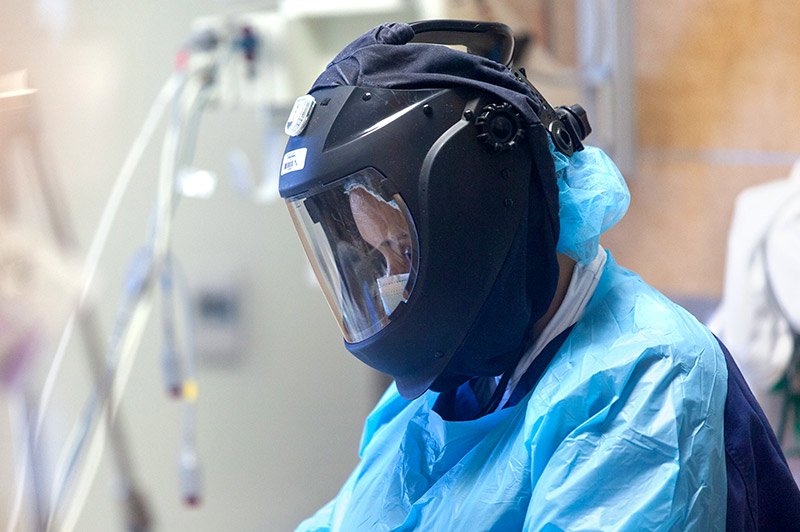 To prepare for potential increases in COVID-19 patient counts, some types of clinical services, such as geriatrics, were transferred from Clements University Hospital to Zale Lipshy Pavilion – William P. Clements Jr. University Hospital, Dr. Podolsky said. In addition, more procedures were being performed at the new UT Southwestern Medical Center at Frisco, with plans for UT Southwestern to use space if needed at the Texas Health Dallas campus, he said.
To reduce the curve of rising COVID cases seen in June, it will be crucial for members of the campus community to wear protective masks, use good hand hygiene, and practice social distancing, Dr. Podolsky said. While UTSW had seen only six cases of employee transmission of COVID-19 from patients, and seven instances of employee-to-employee transmission on campus as of July 1, plans called for increased testing of employees and students exposed to the virus, he said.
UT Southwestern's response to the deadly coronavirus began early, starting with restrictions on official travel. By mid-March, more than 7,000 of the institution's 18,500 employees were asked to work from home. Nonurgent appointments and elective surgeries were postponed and research activities were suspended – except for a few labs conducting work directly related to COVID-19.
As the growth of COVID-19 cases initially flattened, elective surgeries and other nonurgent procedures began to be rescheduled in early May and clinics reopened for in-person patient visits. Research laboratories reopened in May at 25 percent of normal occupancy and then, on June 1, expanded to 50 percent.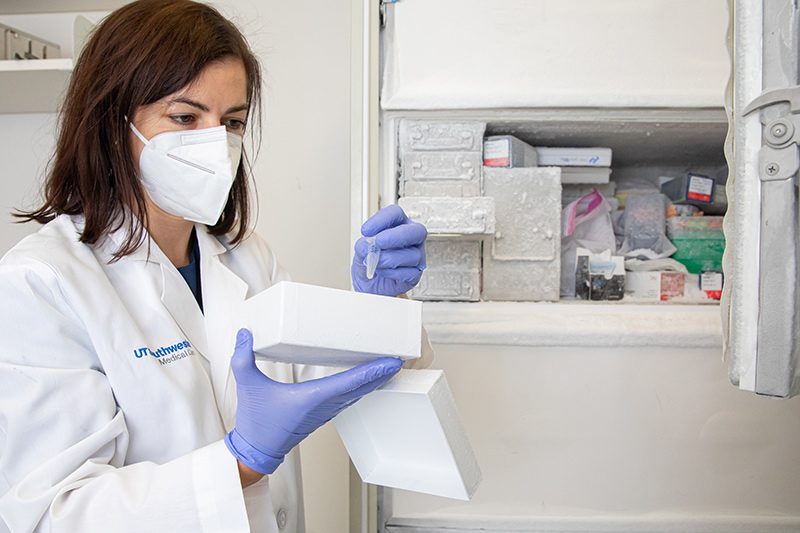 Scientists were eager to resume experiments, said Dr. David Russell, Vice Provost and Dean of Research. "While experimental research activities were paused, our scientists and trainees had more time to reflect on their projects as they worked at home doing data analyses and computations. They also got more involved with their peers while discussing published research in virtual journal clubs," Dr. Russell said.
Meanwhile, UT Southwestern's medical students missed out on months of firsthand training when clinical rotations were suspended to limit COVID-19 exposure in the hospitals and to preserve critical personal protective equipment, said Dr. Robert Rege, Associate Dean for both Undergraduate Medical Education and Continuing Medical Education.
Fourth-year medical students resumed clinical training June 1 and third-year students began clinical rotations at the end of June, he said. To make up for lost ground, some clerkship lengths are being shortened, he added.
The pandemic has complicated life for graduate students as well. About a third of UT Southwestern's 500 Ph.D. students are from outside the U.S., as are 70 percent of its 600 postdoctoral students, said Dr. Andrew Zinn, Dean of the UT Southwestern Graduate School of Biomedical Sciences. With U.S. embassies closed in some countries, new international students are finding it hard to get the visas they need to come to the U.S., Dr. Zinn said.
Future decisions to expand the UTSW campus reopening – or pull back – will be based on factors such as the number of COVID-19 patients at Clements University Hospital, supplies of personal protective equipment for health care workers, and the level of exposure to the virus on campus as well as rate of transmission in the community, according to Dr. Podolsky.
To help both the University and its larger community make such important decisions, UT Southwestern experts in infectious diseases, bioinformatics, emergency medicine, and health system information resources developed a model for predicting the virus's spread in North Texas. It relies on a variety of data, including population mobility and the effectiveness of social distancing measures. The forecasting model is updated weekly and shared with local and state public health officials in an effort led by Dr. Trish Perl, Chief of the Division of Infectious Diseases and Geographic Medicine, and Dr. Mujeeb Basit, Assistant Professor of Internal Medicine.