COVID-19 clinical trials expand for hospitalized patients and outpatients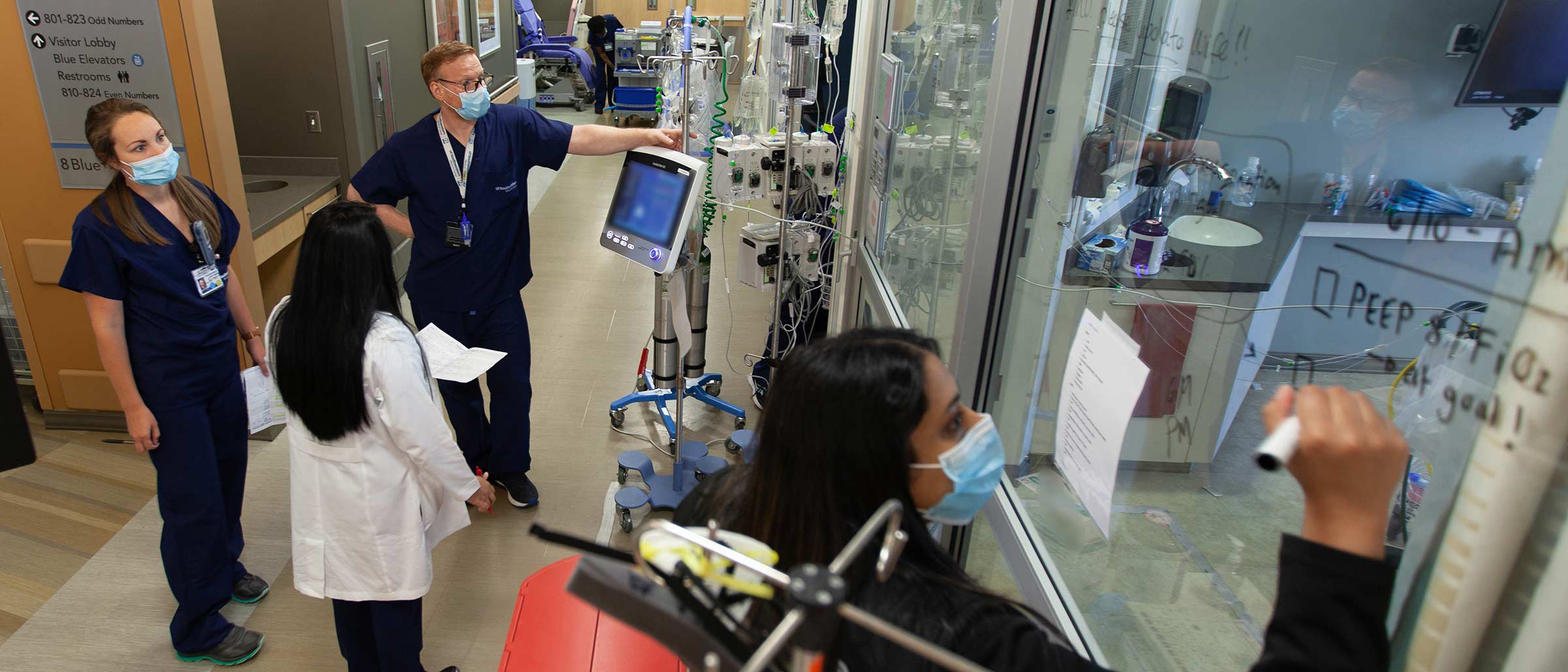 UT Southwestern continues to expand the number of clinical trials testing new treatments for COVID-19, including some newer investigations now offered to outpatients.
As of late September, UT Southwestern had enrolled approximately 280 patients in 11 clinical trials – mostly studies involving medical centers nationwide. The local efforts feed incremental results into nationwide databases that advance scientific knowledge and strategies in the fight against SARS-CoV-2, the virus that causes COVID-19.
For example, initial national data released in mid-September from the Adaptive COVID-19 Treatment Trial (ACTT-2) has shown that baricitinib – normally used to treat rheumatoid arthritis – plus remdesivir reduces recovery time for hospitalized patients. In all, approximately 100 sites enrolled more than 1,000 patients – including 28 enrolled by Dr. Mamta Jain's team at UT Southwestern – that took part in the National Institute of Allergy and Infectious Diseases (NIAID)-sponsored investigation that launched in May.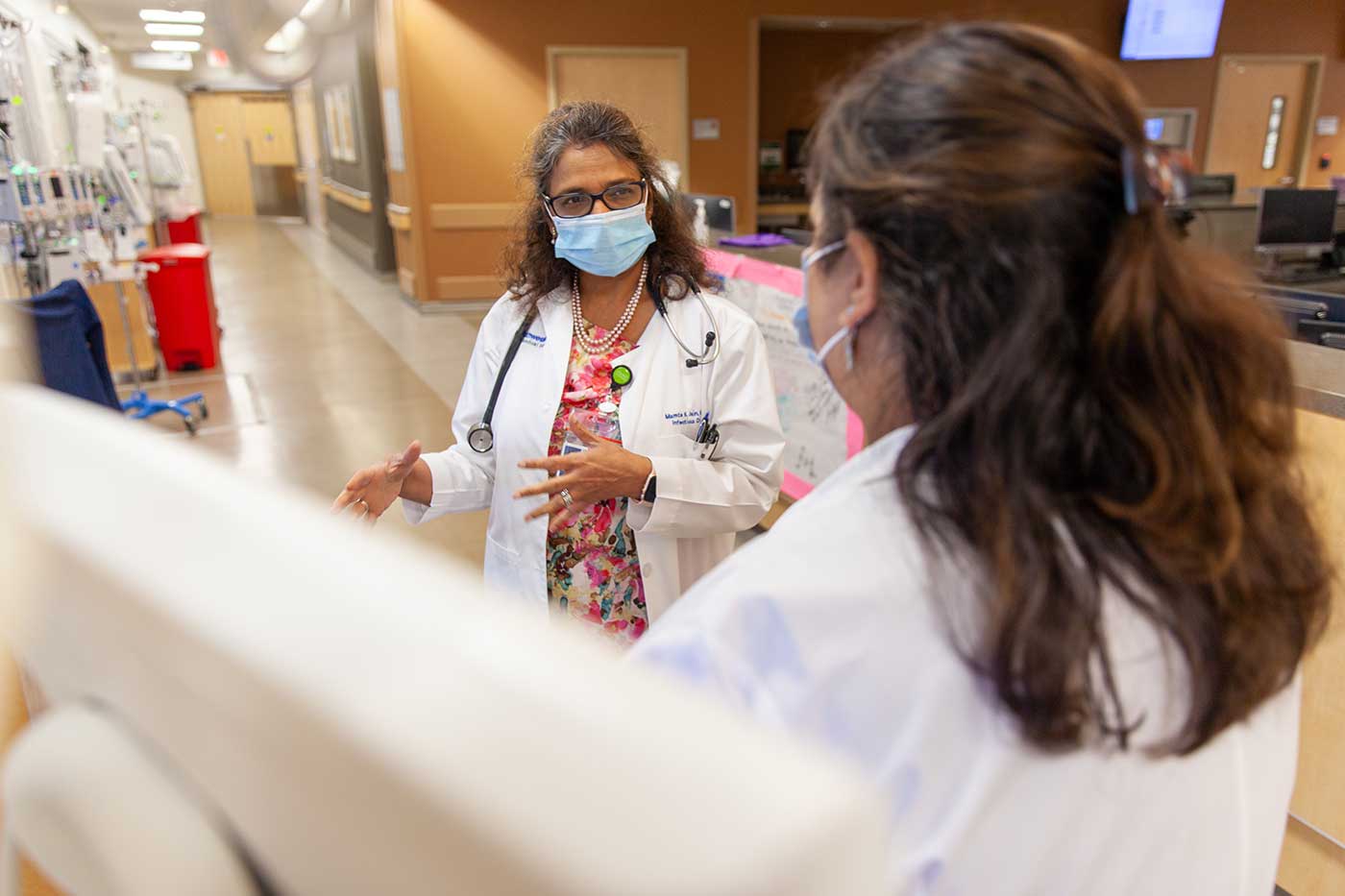 Based on the ACTT-2 data, Eli Lilly and Co. plans to discuss the potential for emergency use authorization with the Food and Drug Administration (FDA) and to explore similar measures with other regulatory agencies for baricitinib as a treatment of hospitalized patients with COVID-19. ACTT-2 built upon an earlier remdesivir-specific trial UTSW participated in that helped hospitalized patients here and elsewhere recover more quickly versus supportive standard care – 11 days on aggregate average compared with 15 – suggesting the drug could become the first effective treatment. On May 1, the FDA authorized emergency use of the drug for COVID-19 patients.
"Although remdesivir was the starting point for COVID-19 treatment, as our understanding of the pathophysiology of COVID-19 increases it has helped shape new therapies to further improve outcomes," said Dr. Jain, a Professor of Internal Medicine. "Baricitinib is an immunomodulator, which is thought to work on the inflammatory component of the disease."
Dr. Trushil Shah, an Assistant Professor of Internal Medicine, is leading a study to assess the safety, tolerability, and efficacy of two anti-spike monoclonal antibodies to treat COVID-19 patients. Regeneron's first clinical trial of REGN-COV2, its investigational dual antibody cocktail for the prevention and treatment of COVID-19, will ultimately consist of four separate study populations: hospitalized COVID-19 patients, nonhospitalized symptomatic COVID-19 patients, uninfected people at high risk of exposure, and uninfected people with close exposure to a COVID-19 patient (such as the patient's housemate). UTSW has participants enrolled both in the hospitalized population (15) as well as nonhospitalized (6).
REGN-COV2 became news at the start of October, as Regeneron confirmed that Donald Trump received the cocktail under a "compassionate use" request by the President's physicians at Walter Reed National Military Medical Center after he was diagnosed with COVID-19.
Another significant clinical trial has been launched based upon UTSW's own research. In midsummer, UT Southwestern launched a clinical trial to test atovaquone, a malaria treatment with a long history for treating infectious diseases that affect the lungs. It was selected based on research by Drs. John Schoggins and Hesham Sadek following computational studies to identify FDA-approved drugs that might stop the replication of SARS-CoV-2.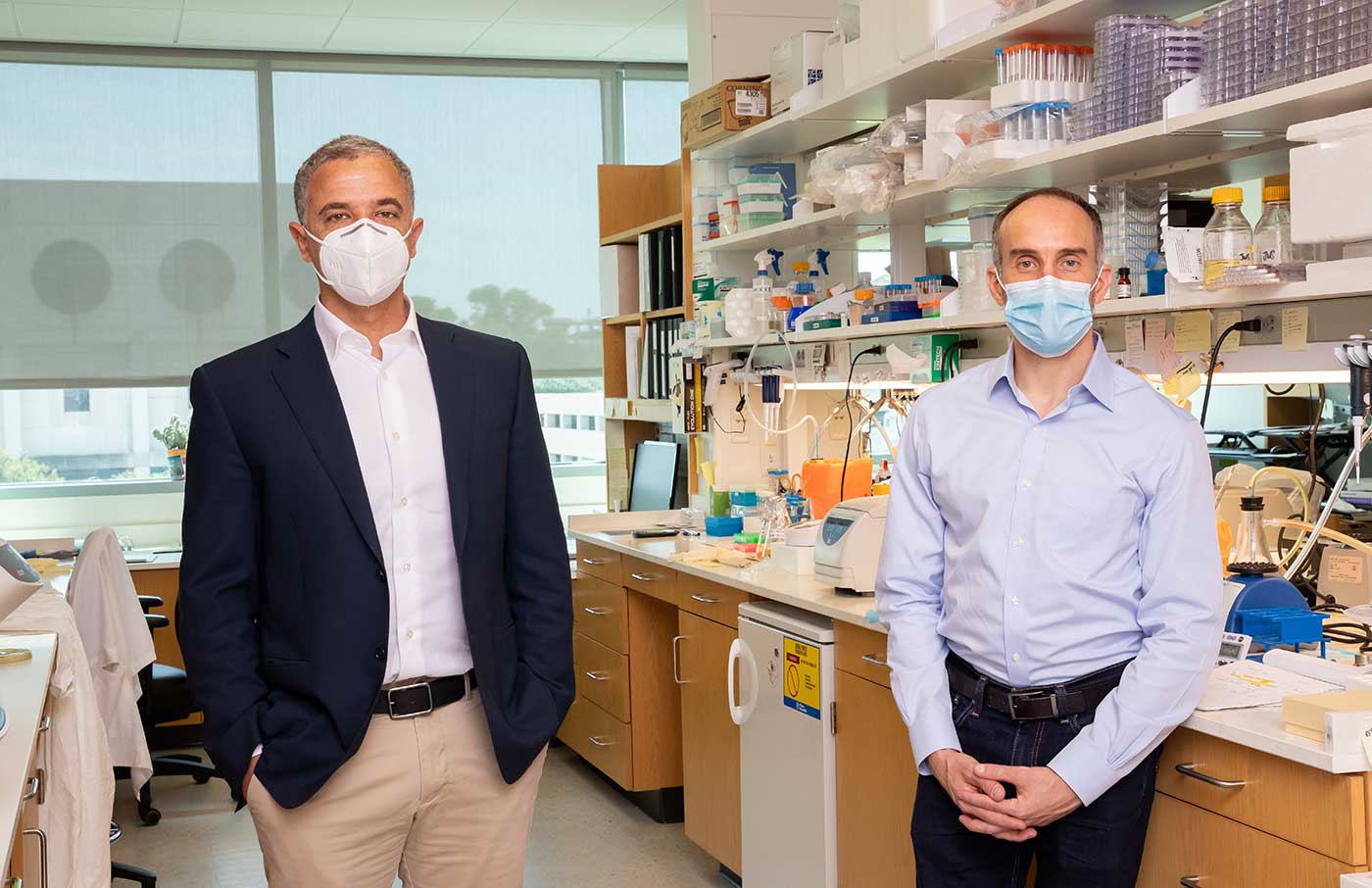 Dr. Schoggins expeditiously pivoted research on how the protein LY6E inhibited infection from coronaviruses such as SARS (severe acute respiratory syndrome) and MERS (Middle East respiratory syndrome) to confirm that the protein has a similar effect on SARS-CoV-2. Researchers then focused on more than two dozen agents that could affect the coronavirus's main protease, an enzyme involved in replication of the virus, settling on atovaquone as the most promising choice.
Associate Professor of Internal Medicine Dr. Raksha Jain, meanwhile, is the local Principal Investigator for a rapidly expanding trial sponsored by Genentech evaluating the safety and efficacy of two investigational drugs, MSTT1041A (anti-ST2) and UTTR1147A (IL-22-Fc), for 300 patients nationwide with severe COVID-19 pneumonia. Testing is aimed at targeting the inflammatory pathways involved in COVID-19.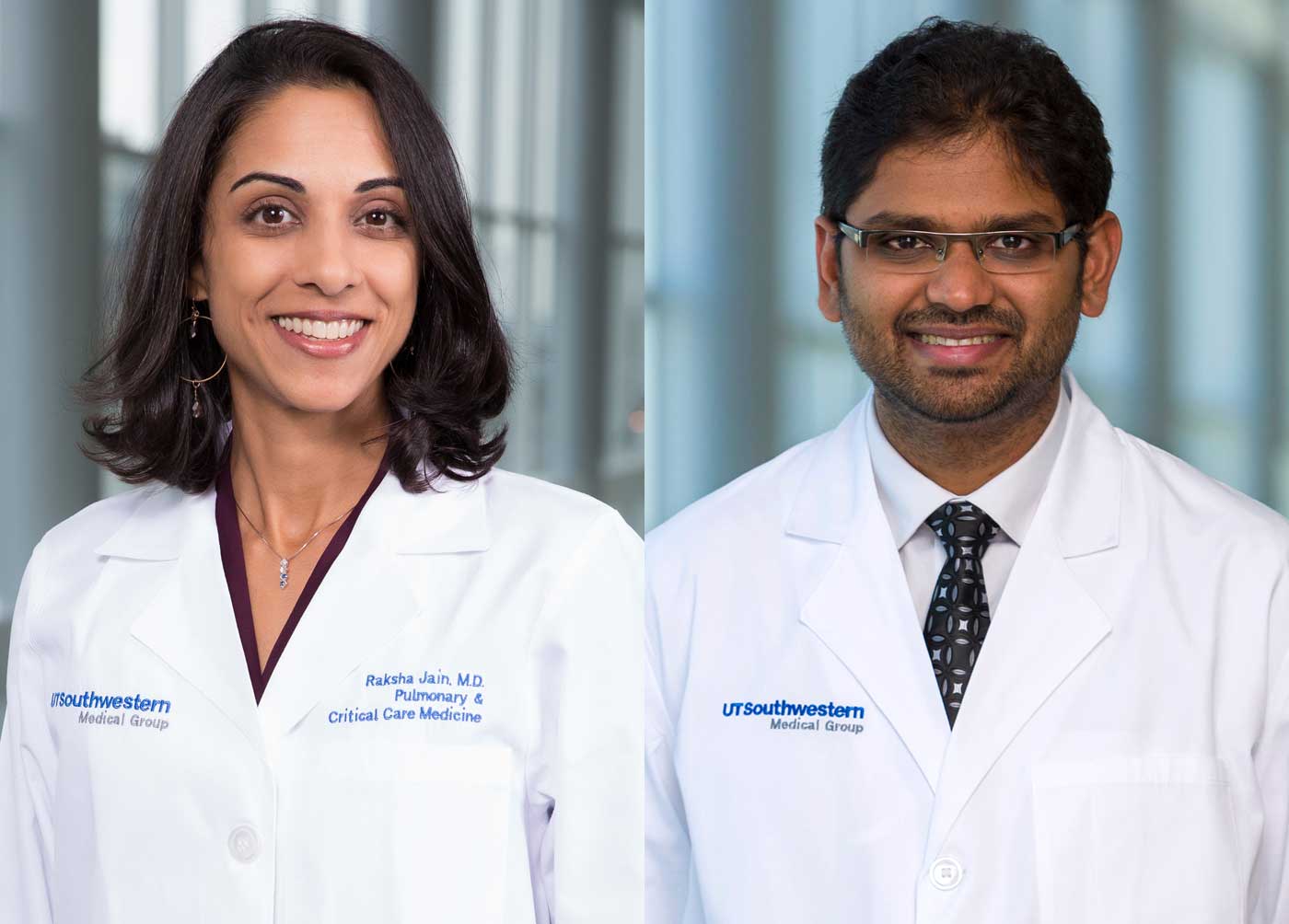 Clinical trials hit home
COVID-19 patients who are now home recovering or whose symptoms never required hospitalization also have opportunities to participate through an outpatient COVID-19 trial unit at the Paul M. Bass Administrative and Clinical Center.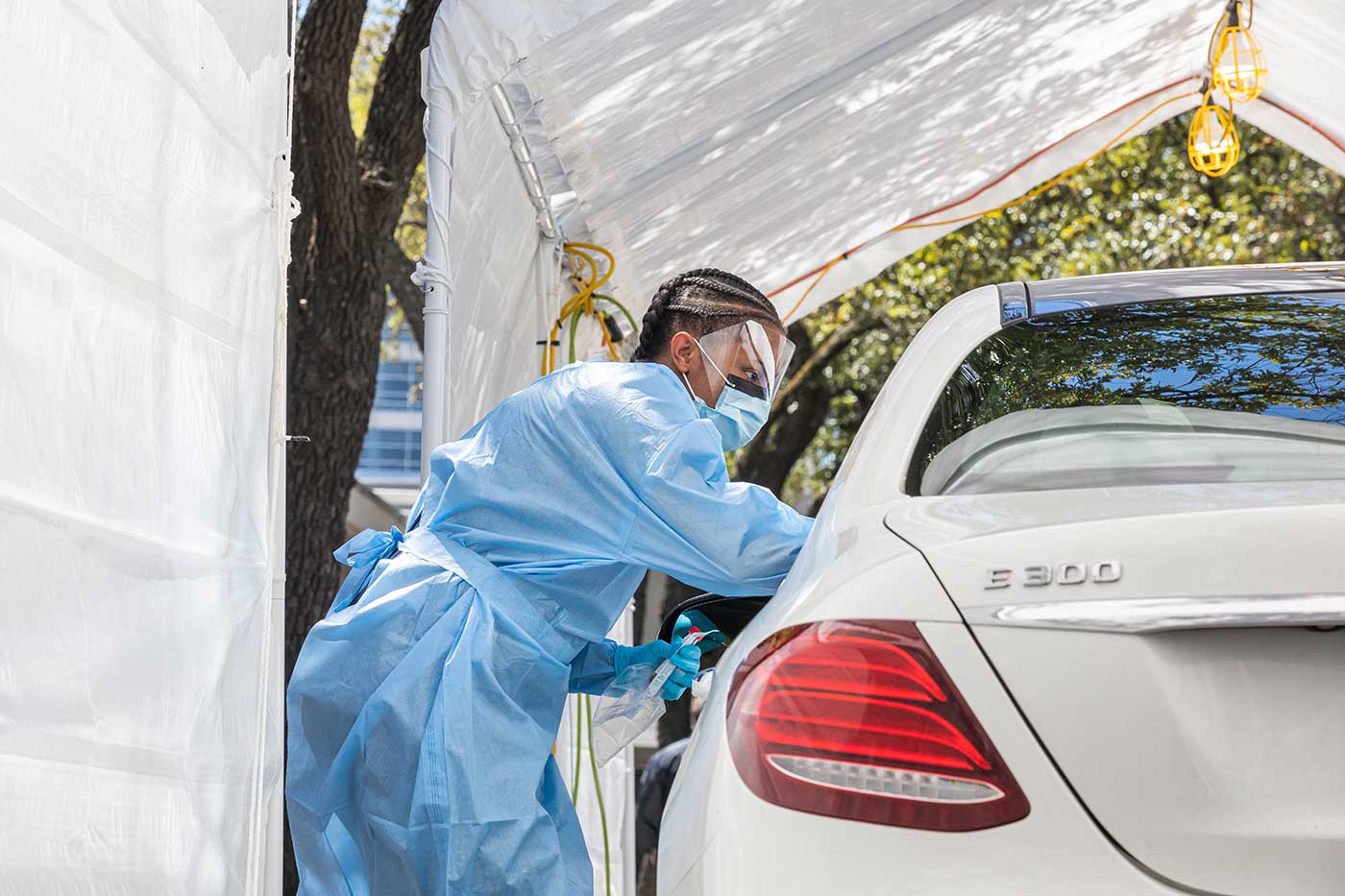 One of those studies is the international ColCorona trial to evaluate colchicine, an approved drug to treat gout. The trial is examining if the drug – given in pill form – decreases the incidence of the hyperimmune reaction seen in some COVID-19 patients. UTSW recently became the first institution in Dallas and the surrounding area to participate in this study, which is led by Dr. Jessica Meisner, Assistant Professor of Internal Medicine.
Recently diagnosed patients or individuals who are showing symptoms and have a household member diagnosed with COVID-19 over the age of 40 can enroll in this at-home clinical trial. Once enrolled, the medicine or placebo is delivered directly to participants' homes at no cost, and participants have the support of a dedicated health care team 24/7 for any questions.
The Regeneron 2067 trial, meanwhile, provides adult COVID-19 outpatients monoclonal antibodies, similar to those found in plasma from patients who have recovered from COVID-19. Led by Dr. Satish Mocherla, Assistant Professor of Internal Medicine, this randomized trial involves three tracks – administration of the study drug at a lower dose, a higher dose, or a placebo in a single intravenous infusion of the medicine followed by nasal swabs and blood draws over the next two weeks to see if this drug helps clear the virus.