Early results promising for UTSW patients enrolled in COVID-19 clinical trials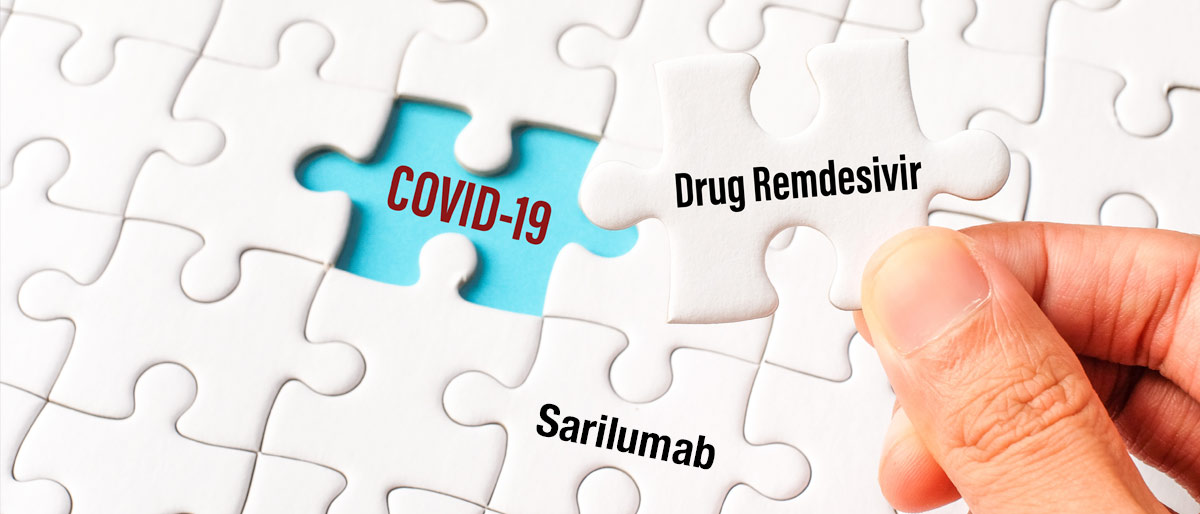 UT Southwestern is participating in some of the country's most promising clinical trials with medical centers nationwide to determine whether existing drugs can effectively treat COVID-19.
Patients at William P. Clements Jr. University Hospital and Parkland Memorial Hospital with COVID-19 have been enrolled in two trials testing different strategies for using remdesivir, an anti-viral developed during the Ebola outbreak, and a third trial testing sarilumab, a monoclonal antibody originally developed for rheumatoid arthritis.
By the end of April, early results of a National Institute of Allergy and Infectious Diseases (NIAID) trial with remdesivir showed a significant positive effect in treating the virus, said Dr. Mamta Jain, Professor of Internal Medicine, who is leading the investigations for the University. The NIAID study, which involved more than 1,000 patients, compared remdesivir treatment alongside standard of care with a placebo. The experimental drug helped hospitalized patients at UTSW and elsewhere recover more quickly versus supportive standard care – 11 days on aggregate average compared with 15 – suggesting the drug could become the first effective treatment. On May 1, the Food and Drug Administration (FDA) authorized emergency use of the drug for COVID-19 patients.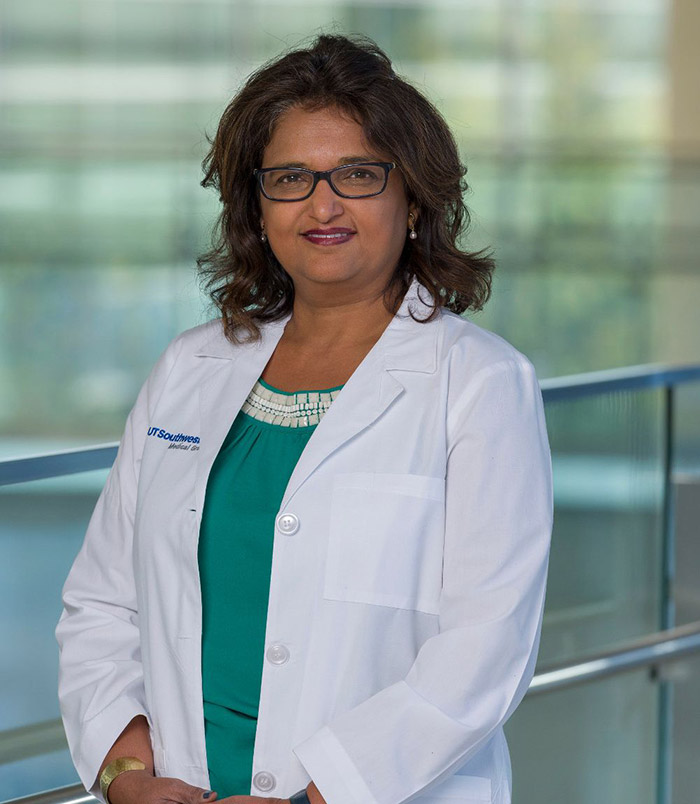 Dr. Jain said the clinical trials being conducted in the Southwestern Medical District were picked by a selection committee established to prioritize protocols based on mechanism and likelihood of success. Interest from UTSW patients has been strong, Dr. Jain said, and staffing was added to help with the required daily data reporting.
UTSW President Dr. Daniel K. Podolsky said the COVID-19 clinical trials position the institution to advance knowledge of the disease and learn from our patients.
"It's remarkable that nearly 50 percent of our patients at Clements University Hospital who are COVID-19 positive have actually enrolled in one of the clinical trials of agents that hope to be effective in treating the disease," Dr. Podolsky told the campus community during an April 22 briefing. "This reflects a tremendous engagement of our patients and support by all of our staff to be part of generating the knowledge, which hopefully gets us to a point where we do have proven, effective, and safe treatments for COVID-19."
The clinical trials were set up to test as-yet scientifically unproven drugs that show promise on three fronts – inhibiting the virus's fusion and entry abilities; disrupting replication of SARS-CoV-2, the virus that causes COVID-19; and tamping down and regulating the body's immune response.
Dr. Jain, who is in the Division of Infectious Diseases and Geographic Medicine, has spent years conducting clinical investigations into HIV and its comorbidities – hepatitis C, hepatitis B, and influenza. She and her laboratory team have conducted research involving the epidemiology, clinical outcomes, and treatment of HIV patients and those with hepatitis C.
"For diseases like HIV and coronaviruses, it's important to have well-controlled clinical trials that will lead to treatment, prevention, and eventually a vaccine," Dr. Jain said. "Some patients are uncomfortable taking part in trials that involve experimental drugs. But by agreeing to participate, they are contributing to our understanding of what works so that those treatments then can be offered to everyone affected."
Two of the COVID-19 clinical trials involved remdesivir. Both investigations were sponsored by the anti-viral drug's manufacturer, Gilead Sciences, and each involved networks of 100 medical centers. Both were ended when interim analysis demonstrated patient benefit in the interventional groups.
As a drug class, anti-virals work to stop targeted viruses from making copies of themselves. Remdesivir, a drug given intravenously, was cleared by the FDA in March for "compassionate use" in COVID-19 cases. As a broad-spectrum anti-viral, it is believed to work against multiple viruses.
The first COVID-19 remdesivir trial – which enrolled 47 UTSW-served patients in April – involved severe to critically ill patients who had viral pneumonia, required oxygen or mechanical ventilation, and still had functioning kidneys. Once enrolled, all hospitalized trial participants were given remdesivir at 200 mg on the first day, then 100 mg daily for up to 10 days if needed. If they got better and were released, they stopped taking the medication. Dr. Jain said initial analysis showed that five days of treatment was effective and that many patients under UTSW care improved and have been released from Clements University Hospital or Parkland.
The second remdesivir trial – which enrolled 18 UTSW-served patients – involved patients with moderate symptoms who had viral pneumonia, good kidney function, and did not require additional oxygen. Trial participants were given a 200 mg dose of remdesivir on Day 1 and then, depending on which randomized cadre they were in, received 100 mg doses for five consecutive days, 10 consecutive days, or normal standard of care without dosage. They stopped taking the medication if they improved and were discharged home. Dr. Jain said that most of the patients in this local study also have been released from hospitalized care.
The third trial is for sarilumab, an inhibitor of interleukin-6, a cytokine released from the body to coordinate our immune system's response to infection. This ongoing trial, sponsored by the drugmaker Regeneron Pharmaceuticals and involving 50 U.S. institutions, is evaluating whether the drug allows the body to heal from COVID-19 by putting the brakes on the body's immune response. In April, 32 patients at either Clements University Hospital or Parkland had enrolled.
Patients considered for the sarilumab study have severe to critical disease symptoms. The patient must have fever and viral pneumonia and be on oxygen or mechanical ventilation. They also must not have significant liver abnormality or low white blood cell count. Patients were offered participation based on specific criteria and on what the treating physician thought was the best mechanism to target at the time for the specific patient.
For every five patients enrolled in the randomized sarilumab study, two receive 400 mg doses, two are dosed at 200 mg, and one is in a control group that receives a placebo. The drug is infused at Days 1 and 2, then weekly for up to six doses as long as the patient requires oxygen and as long as there is no sign of infection, low white blood count, or significant liver function abnormality.
By the end of April the sarilumab trial's data and safety monitoring board – an independent group of experts who monitor patient safety and treatment efficacy data – had closed all arms of the study except for patients who were deemed critical. Going forward, the trial will move to phase three and will examine 400 mg dosing vs. placebo.
Published initial treatments for COVID-19 are valuable as anecdotal front-line reports, Dr. Jain noted, but don't deliver the science needed from large-scale, evidence-based investigations to demonstrate what will have a real effect on the virus.
"Small studies or case reports can be biased, and if they do not have a control group, it does not show if the drug really works," she said. "A clinical trial with an appropriate control group can show if the drug is more effective than no treatment. Many people, even those with COVID-19, improve without treatment. Giving treatment that may have toxicities is risky and we are working to show if there is a clear benefit."