UT Southwestern cares for COVID-19 patients, plans staggered return to campus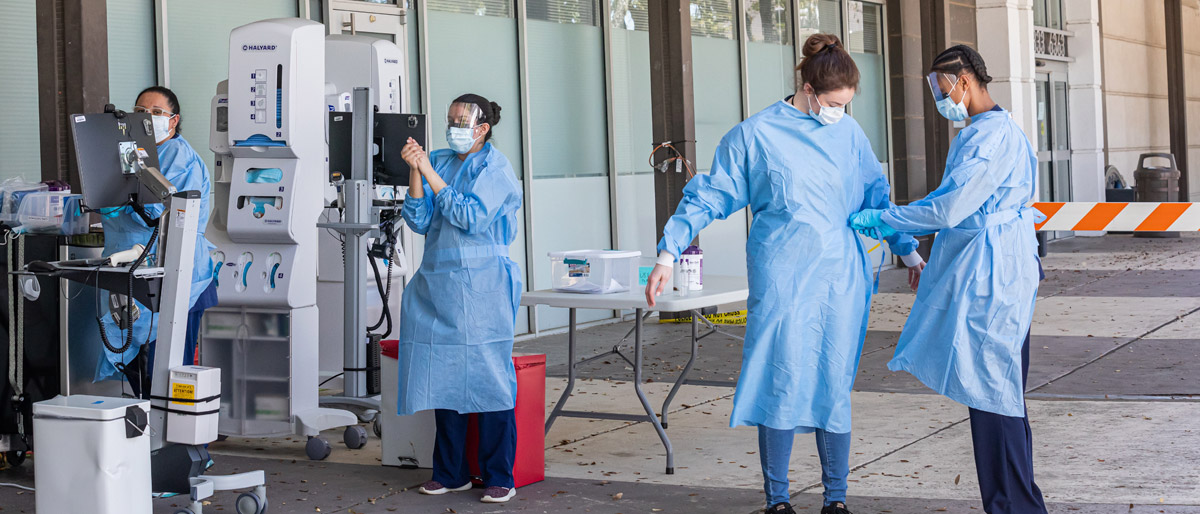 This story was updated on April 23.
As COVID-19 spread across North Texas, UT Southwestern stepped up to care for patients infected with the coronavirus, expand testing for the disease, and help search for a treatment through clinical trials, including the use of convalescent plasma obtained from recovered patients.
By late April, with the number of COVID-19 patients declining at William P. Clements Jr. University Hospital, President Dr. Daniel K. Podolsky said planning had begun for a gradual return of activities on campus while maintaining a safe environment for faculty, students, and staff. The University's Emergency Operations Center, comprised of top leaders to manage the institution's response to the crisis, began talking about how "in a sensible, step-wise fashion" to bring researchers back to campus and resume nonurgent procedures and surgeries – "subject to the evolution of the circumstances around us," Dr. Podolsky said in a campus briefing on April 22.
On that date, the number of patients hospitalized at Clements University Hospital either confirmed with COVID-19 or awaiting test results was nine, down from a high of 38 earlier in the month. They received care in a dedicated floor and intensive care unit set up at the hospital.
Following a month of shelter-in-place restrictions in Dallas County, data in late April suggested the COVID-19 infection rate curve was flattening, although Dr. Podolsky cautioned that it was too early to draw conclusions.
Meanwhile, almost half of UT Southwestern's COVID-19 patients were signing up to participate in clinical trials, he said. The institution is participating in trials to test promising but unproven therapies involving antiviral drugs as well as agents to tamp down a patient's inflammatory response. Doctors were also exploring the emergency compassionate use of convalescent plasma from recovered patients in hopes that their antibodies could help others fight the virus.
To aid in the ongoing research, UT Southwestern established a biorepository for specimens from patients infected with the SARS-CoV-2 virus that causes COVID-19, as well as a registry of patients known to have had the infection.
As local officials extended social distancing restrictions to the end of April, UT Southwestern adjusted operations. About 8,000 employees were instructed to work from home, all research labs except those investigating COVID-19 were closed, and students shifted to online learning.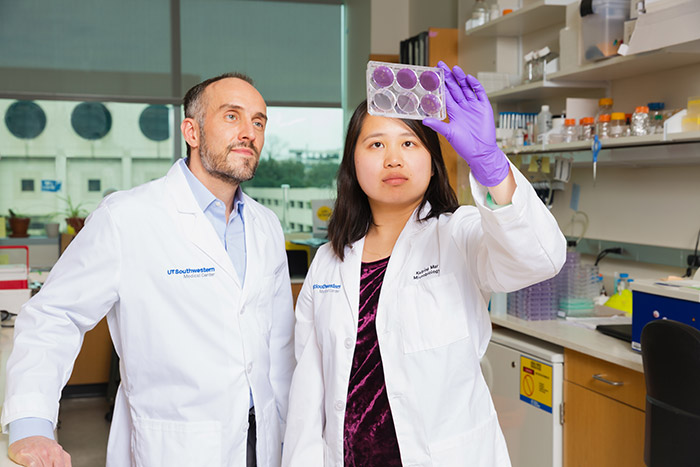 The University also made the difficult decision to cancel its traditional Medical School graduation ceremony. The school's 77th Commencement will instead be an online video event, with comments from Dr. Podolsky and others in education leadership, along with a reading of each graduate's name. It was set to go online at 2 p.m. on May 2.
"UT Southwestern is prepared in a way that might have been unimaginable, frankly, a couple of months ago but will clearly be needed in the weeks ahead, and we are ready," Dr. Podolsky told members of the campus community in a recorded message on April 1, the first in a series of weekly briefings planned during the COVID-19 crisis.
COVID-19, which can cause severe flu-like symptoms and for which there is no vaccine, surfaced in the U.S. in January after originating late last year in China. The disease caused by a novel coronavirus made its way to North Texas by early March, with Dallas County reporting its first presumptive case on March 10 and its first death on March 19.
UT Southwestern was in a better position to handle a feared surge of patients than many other hospitals because of design innovations built into Clements University Hospital, which opened in 2014, Dr. Podolsky said. Thanks to this "forward thinking," he said, a large part of the hospital can be transformed for respiratory isolation.
Still, there were challenges. Several actions had to be taken to preserve an adequate supply of critical personal protective equipment (PPE), such as masks and gloves, for health care workers.
Related video: Mary Kay donates 10,000 hand sanitizers for UTSW health care workers
UT Southwestern also received many generous donations from the community, including thousands of masks and other types of protective equipment. Gifts also included free meals for weary medical workers and $500,000 from Mark Cuban and the Dallas Mavericks Foundation to help reimburse health care workers from UT Southwestern and Parkland Memorial Hospital for child care expenses.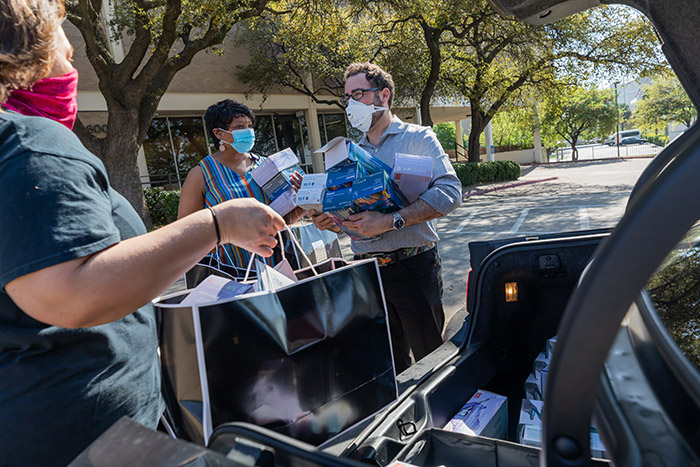 As a new benefit to UT Southwestern employees, a COVID-19 Virtual Care Clinic opened April 8 for all employees, faculty, and their family members, as well as patients of UTSW specialists. The clinic offers quick access to COVID-19 screening for family members age 12 and older through a virtual visit, with follow-up care if needed. The service was made available regardless of whether the employee or family member was a current UT Southwestern patient, with their insurance to be billed for the visit.
Employees feeling stressed can also access the free mental health hotline (214-645-5686) operated by the Psychiatry Department.
A major issue nationwide has been limited testing capability for the virus. To help patients in North Texas, UT Southwestern added a "high throughput" platform to allow rapid screening of test results and made it available to other health care networks, including Texas Health Resources and Methodist Health System, Dr. Podolsky said. The institution has also committed to expand testing in South Dallas and to work with the National Guard to run tests, he said.
During the crisis, UT Southwestern rescheduled all elective surgeries until after May 8 and nonurgent office visits until after June 1, and expanded telehealth services by training hundreds of providers. By late April, Dr. Podolsky noted, the institution was delivering more than 6,000 telehealth visits in a single week using video conferencing or the phone.
"I am enormously impressed by the dedication, resilience, and commitment that I have seen in UT Southwestern faculty, staff, and students," Dr. Podolsky said on April 1.
Addressing the financial impact on the institution, Dr. Podolsky stressed that UT Southwestern came into this crisis in an extraordinarily strong position. While delaying elective procedures has reduced revenue and the state may face economic hardship, the institution received nearly $26 million in federal money from the $2 trillion CARES Act passed by Congress and had no plans to trim staff, he said.
While he told the campus on April 22 that UT Southwestern will need to look for areas to save, "They do not include reductions in force and they do not include furloughs."
Earlier in the month, Dr. Podolsky stressed that the goal would be to preserve the jobs of UT Southwestern employees so the institution can continue on its mission into the future.
"Clements University Hospital does not take care of anybody; it's the people in Clements University Hospital who take care of patients. The laboratories are not responsible for the groundbreaking discoveries that get made at UT Southwestern; it's the people in the buildings who are making those discoveries," he continued.
"We will go through this challenge together, deliver on our mission to help those who need our care and to advance medical science and to teach and train the next generation, and emerge on the other side as still a vibrant academic medical center."