Wellness Symposium highlights valuable campus resources to combat stress, burnout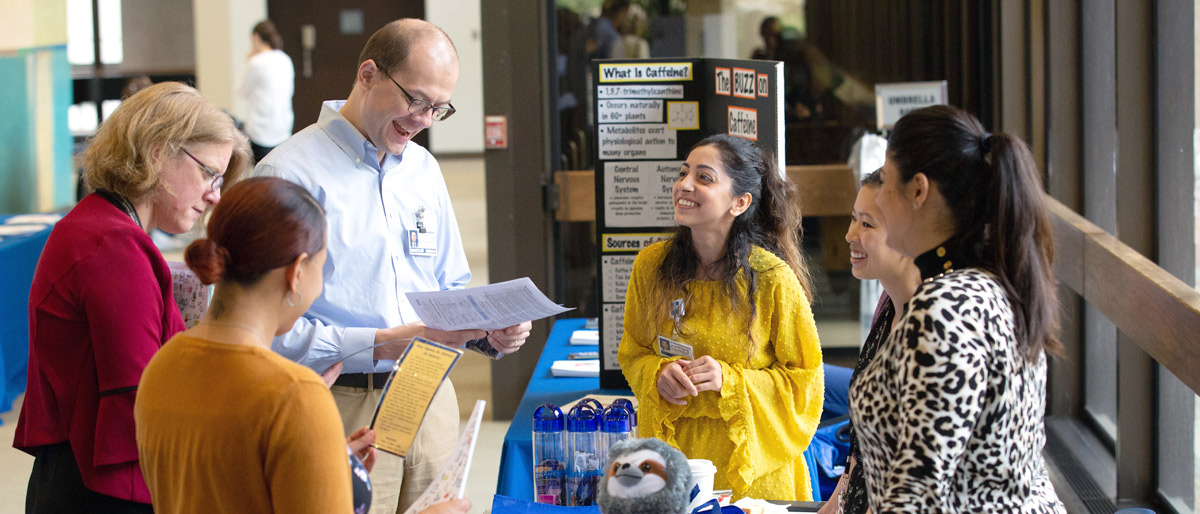 UT Southwestern's inaugural Future of Medicine Wellness Symposium armed faculty, students, and staff involved in clinical care with critical tools and strategies to bolster their emotional well-being and mitigate burnout.
"The Symposium was designed to show our students, faculty, and staff the resources that are here at UT Southwestern and how they can benefit from them," said Dr. Susan Matulevicius, Assistant Dean for Faculty Wellness and Associate Professor of Internal Medicine. "We hope the information will help the professionals who work here find a better and happier balance in their lives – and also to know we're here to support them when they need it."
The two-day event, held Oct. 16-17 and hosted by the Office of Faculty Wellness, included a Wellness Fair offering information on a variety of health subjects and campus resources.
Also a highlight, Wellness Workshops featured presentations and discussions on challenges faced by physicians, medical students, and other health care staff as they try to balance work and a meaningful personal life. Topics included healthy eating, work-life balance, financial wellness, mitigating burnout, and improving sleep.
Lack of sleep is a common challenge that health care providers face. In her sleep workshop, Dr. Natalia David, Assistant Professor of Psychiatry, discussed the importance of adequate, quality sleep to reduce burnout and mental illness, and for overall well-being. Seven hours is recommended as a healthy night's sleep, according to the Centers for Disease Control and Prevention, she said. But about 35 percent of Americans are chronically sleep deprived, defined as getting less than seven hours of sleep more than half the time, she said. That percentage is even higher for physicians, Dr. David said.
Cognitive impairment, depression, and a weakened immune system can result, she said, along with a greater likelihood of physician burnout and increased risk of making patient-related mistakes.
Variable sleep schedules, lack of a daytime/nighttime routine, and not adequately addressing stress or anxiety can lead to insomnia, Dr. David explained. "You've actually trained your brain to turn off those normal sleep feelings that other people get. When you feel sleepy, try to go to sleep because you're strengthening those associations," she told workshop attendees.
"For those faced with unusual work shifts, try taking a 90-minute nap just before going in, then going back to sleep right after getting home," Dr. David said.
Almonds, fatty fish, and a plant-based diet promote sleep, she said, while seven-hour extended release melatonin is a good sleep aid. If all else fails? Try staying awake, she said. Create a little bit of sleep debt, "then that next night you sleep harder and longer."
When faced with professional stressors, UT Southwestern faculty can turn to Executive Coaches in the Office of Organizational Development and Training, said Lisa Alexander-Kinnison, an Executive Coach who led another Wellness Workshop.
UTSW has bolstered efforts to increase career satisfaction and resilience by nurturing professional connections – establishing so-called Schwartz Rounds, where time is set aside for staff to come together and discuss issues they face.
In another workshop, Dr. Christina Ahn, Director of Faculty Diversity and Development, discussed the importance of making career and life choices designed to lead to personal fulfillment. Susan Rodder, an Associate Professor of Clinical Nutrition in the School of Health Professions, walked her audience through strategies that busy professionals can use to put a healthy dinner on the table.
Handouts at the Wellness Fair described UT Southwestern's counseling and support programs for faculty, students, and medical residents – including virtual medical visits for health issues, a Student Wellness and Counseling Center, the Resident Wellness and Counseling Center, and the Committee on Practitioner Peer Review and Assistance, which works to protect both physicians and their patients when a problem arises. In addition, the Employee Assistance Program offers free counseling for employees, while 14 chaplains at William P. Clements Jr. University Hospital are available for staff and patients, said Ruth Schulenberg, Supervisor of Clinical Pastoral Education.
Other Wellness Fair tables offered tips on eating more healthfully, improving sleep (with free boxes of the sleep aid melatonin) as well as details on staying physically fit by using the Bryan Williams, M.D. Student Center and its gym.
Medical institutions around the country have been grappling with the problems of physician burnout and the higher levels of depression and suicide seen in the health care field, said Dr. Christine Moutier, Chief Medical Officer for the American Foundation for Suicide Prevention and the keynote speaker at the event.
A report in October from the National Academies of Sciences, Engineering, and Medicine estimated that between 35 and 54 percent of U.S. nurses and doctors have substantial symptoms of burnout. It called for action to improve work and learning environments, reduce administrative burden, and provide support.
Making time for sleep, exercise, and leisure activities as well as to cultivating relationships with family and friends can be helpful strategies to increase emotional resilience, according to Dr. Moutier.