Cancer specialists named Dedman Family Scholars in Clinical Care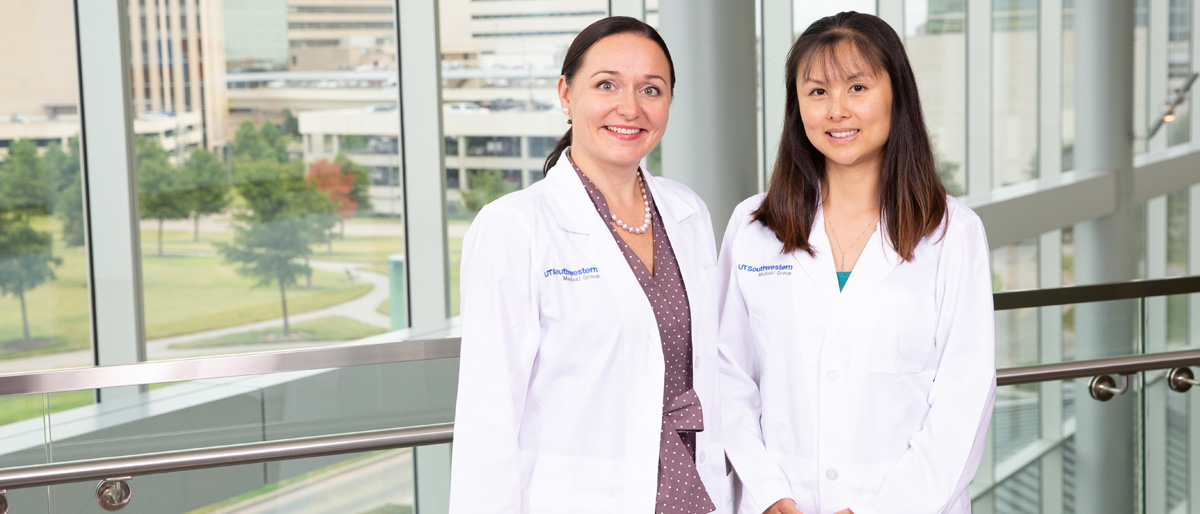 UT Southwestern's two newest Dedman Family Scholars in Clinical Care – Drs. Nina Niu Sanford and Ksenya Shliakhtsitsava – didn't have far to look to appreciate the drive and sacrifice it takes to be female physicians. Both are cancer specialists whose mothers also are doctors.
My mother is a primary care physician in Boston and provided me with my first exposure to medicine, said Dr. Sanford, an Assistant Professor of Radiation Oncology who joined the faculty in August 2018. I witnessed firsthand the deep satisfaction she experienced in caring for patients in our community.
Dr. Shliakhtsitsava, an Assistant Professor of Pediatrics in the Division of Pediatric Hematology/Oncology since last September, recounted a similar upbringing. My mom is a pediatric gastroenterologist and my father was a surgeon. Both my parents obtained M.D.s and Ph.D.s, so I grew up in the atmosphere of research curiosity and medicine. As far back as I remember, I always wanted to be a physician and help sick children and their families.
The Dedman Foundation established the Dedman Family Endowed Program for Scholars in Clinical Care in 2009 with a $12 million gift to Southwestern Medical Foundation. The gift was matched to create a $24 million endowment to help recruit the most promising early career physicians to UTSW and launch their careers under the mentorship of senior clinicians and clinical scientists. The program includes a four-year grant worth up to $150,000 a year for each recipient to cover research expenses and salaries.
Dr. Sanford plans on using Dedman support to advance her investigations of young-onset colorectal cancer, particularly regarding racial disparities in presentation, treatment, and outcomes.
Dr. Shliakhtsitsava aspires to improve care for children with cancer, primarily by focusing on limiting or eliminating the lasting medical problems these young cancer survivors face.
Dr. Nina Niu Sanford
Born in Beijing, China, Dr. Sanford immigrated to the U.S. with her family when she was 3. Raised in Boston, she graduated from Princeton University and Harvard Medical School before completing her residency in radiation oncology at Massachusetts General/Brigham and Women's Hospital.
As a radiation oncologist focusing on gastrointestinal cancers, I have had the great privilege of caring for a diverse group of patients with malignancies of the pancreas, liver, rectum, esophagus, stomach, and colon, she said. Several of my patients recently have been young adults diagnosed with colorectal cancer. These patients present with unique challenges, including needing intense multimodality treatments with associated short- and long-term side effects and worries about how the treatment will affect their employment, fertility, and ability to care for young children. Many have limited resources and/or are of minority backgrounds. These recent experiences have motivated me to work to ultimately improve the care and cancer outcomes for this population.
Dr. Sanford plans to investigate molecular and genomic differences in young-onset colorectal cancer among racial and ethnic groups. She wants a better understanding of the factors driving the increasing incidence of colorectal cancer in young adults, as well as disparities in outcomes.
Her aim is to provide expert clinical care tailored to the unique needs of young colorectal cancer patients while also conducting therapeutic studies assessing interventions to improve treatment outcomes, including the cancer survivorship experience.
Dr. Ksenya Shliakhtsitsava
Born and raised in the Eastern European country of Belarus, Dr. Shliakhtsitsava earned her medical degree from the Belarusian State Medical University in Minsk before she and her husband, Stas, a software engineer, came to the U.S. Dr. Shliakhtsitsava completed her pediatric residency at the University of California, San Francisco Fresno (UCSF Fresno) before postgraduate training and a pediatric hematology/oncology fellowship at UC-San Diego.
Over 80 percent of children are being cured from cancer nowadays. However, that cure comes with the price of long-term late side effects, she said. By developing and implementing better clinical practices today and carrying out clinical and translational investigations, I hope to help decrease those long-term consequences, she said. The programs and initiatives at UTSW provide ample and unique pathways to fulfill her aspirations, Dr. Shliakhtsitsava said.
Physicians in the UT Southwestern Pediatric Hematology/Oncology Division provide care for the vast majority of the childhood cancer patients in Dallas, evaluating and treating more than 300 new childhood cancer patients each year, she said. We have an After the Cancer Experience (ACE) Program for childhood cancer survivors. With more than 400 children and young adults receiving care each year in ACE, I have quickly realized that there are many opportunities to improve that care by carrying out clinical and translational investigations and by developing comprehensive, multidisciplinary clinics for those patients at highest risk for severe late effects.