UTSW cancer researcher McFadden wins Damon Runyon award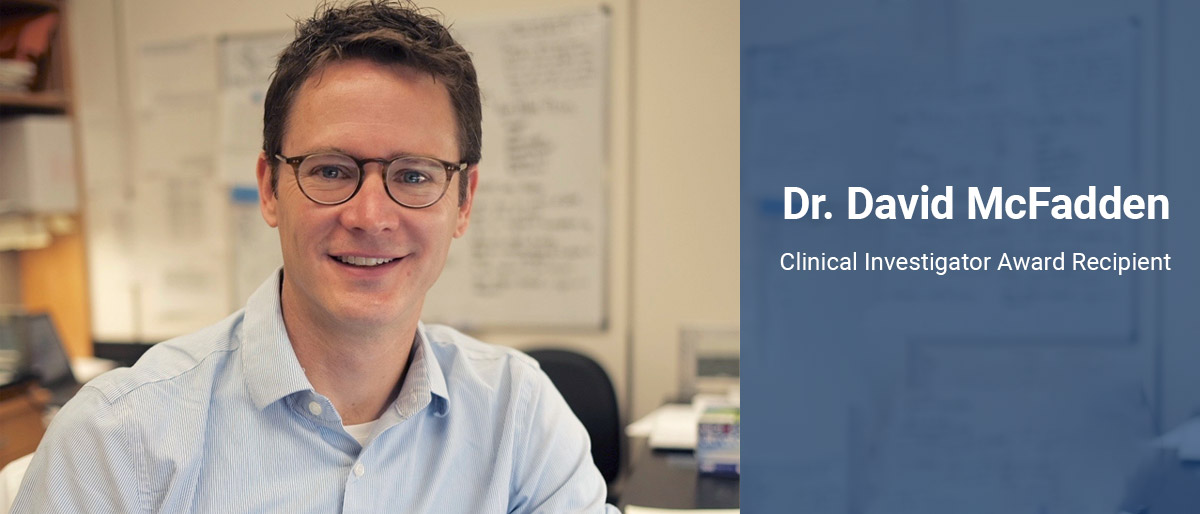 Dr. David McFadden, Assistant Professor of Internal Medicine and Biochemistry, has received a Clinical Investigator Award from the Damon Runyon Cancer Research Foundation to support his investigation of the cellular metabolism of a particularly challenging type of thyroid cancer.
Dr. McFadden is one of five recipients of the award, which includes three years of funding totaling $600,000 to support his project, "Identifying Metabolic Vulnerabilities in Hürthle Cell Carcinoma."
The 2004 graduate of UT Southwestern's Medical Scientist Training Program (MSTP) will be mentored for the award by Dr. Steven McKnight, Professor of Biochemistry, and Dr. Ralph DeBerardinis, a Professor of Pediatrics in the Children's Medical Center Research Institute at UT Southwestern and in the Eugene McDermott Center for Human Growth and Development. All three are members of the Harold C. Simmons Comprehensive Cancer Center.
"Hürthle cell carcinoma of the thyroid represents a challenge in the clinic, and the genomes of these cancers suggest that rewired cellular energy metabolism might be an entry point toward developing new therapies," Dr. McFadden said. "I am grateful for the support from the Foundation and for the mentorship from Drs. McKnight and DeBerardinis in support of my team's efforts toward a more complete understanding of altered cellular metabolism in Hürthle cell tumors."
Following graduation from UT Southwestern's MSTP, Dr. McFadden trained at Brigham and Women's Hospital, Massachusetts General Hospital, and Massachusetts Institute of Technology before returning to UTSW in 2015. A member of the International Thyroid Oncology Group, Dr. McFadden has been awarded research grants from the National Institutes of Health, American Thyroid Association, the Disease Oriented Clinical Scholars (DOCS) program at UT Southwestern, and the Cancer Prevention and Research Institute of Texas (CPRIT).
He is the third UT Southwestern faculty member to receive this award, following Dr. DeBerardinis in 2011 and Dr. Deepak Nijhawan, Associate Professor of Internal Medicine and Biochemistry, in 2013.