Genetics/MSTP student receives Kirkpatrick Award for cholesterol research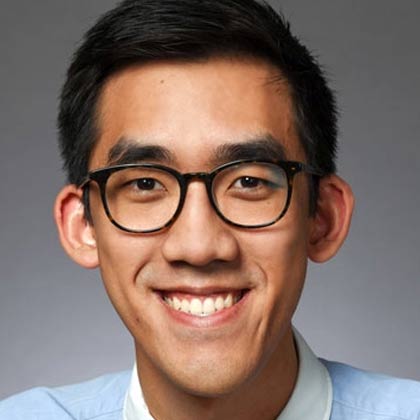 As an undergraduate at UT Dallas, Michael N. Trinh worked in the UT Southwestern lab of Nobel Prize-winning researchers Dr. Michael Brown and Dr. Joseph Goldstein. That experience inspired him to apply for UTSW's Medical Scientist Training Program (MSTP) to earn a combined M.D./Ph.D. degree.
Now, as a second-year graduate student in UTSW's Genetics, Development, and Disease Graduate Program and the MSTP, his long-term goal is simple: "I would like to become a physician-scientist," he said.
Well on his way, Mr. Trinh is the winner of the sixth annual William F. and Grace H. Kirkpatrick Award for his work studying how cholesterol is transported inside cells.
"I am so happy to receive this honor. I would like to acknowledge the support of my mentors, Drs. Brown and Goldstein," he said. "I am so grateful to have such accomplished scientists take an interest in training me to become part of the next generation of physician-scientists."
In his research, Mr. Trinh performs genetic screens to discover new genes in cells that are required for cholesterol to move from one location to another.
"We recently discovered that this transport requires another lipid named phosphatidylserine," he said. "This was the first demonstration that intracellular transport of one lipid (cholesterol) requires another (phosphatidylserine) – a discovery with implications for membrane biology and cardiovascular science."
The Kirkpatrick award provides $25,000 to kickstart research proposed in a National Institutes of Health (NIH) National Research Service Award predoctoral fellowship grant application. The winner is chosen on the basis of scientific merit by the Graduate School Awards faculty committee, chaired by Dr. Jen Liou, Associate Professor of Physiology.
Mr. Trinh's pending NIH F30 grant – titled "Phosphatidylserine Requirement for Intracellular Cholesterol Transport" – aspires to elucidate mechanisms by which lipids traverse membranes, thereby revealing new avenues for therapeutic approaches to mitigate disorders of cholesterol accumulation.
"It has been a pleasure to stand back and watch the scientific development of Michael Trinh, who has worked in partnership with Assistant Professor of Molecular Genetics Dr. Feiran Lu," Dr. Brown, Director of the Erik Jonsson Center for Research in Molecular Genetics and Human Disease, and Dr. Goldstein, Chair of Molecular Genetics, said in a joint statement. "Michael joined our laboratory when he was still an undergraduate at UT Dallas, and his progress has been record-breaking. He and Feiran devised a sophisticated genetic screen using a new technology called CRISPR, and they used it to disclose a novel lipid requirement for cholesterol movement within cells. Michael shows every evidence of becoming an outstanding physician-scientist."
Mr. Trinh, who grew up in Plano, Texas, majored in biology at UT Dallas as part of the UT-PACT Program, an accelerated seven-year B.A./M.D. program that allowed him to graduate in three years with guaranteed acceptance to UTSW.
"Our MSTP recruits hail from a nationwide pool of very talented applicants," said Dr. Andrew Zinn, Dean of the Graduate School of Biomedical Sciences and director of the program. "Michael Trinh serves to remind us that some of the best and brightest are in our own backyard, and we are very fortunate that the reputation of our medical school, the UT-PACT Program, and the opportunity to be mentored by Drs. Brown and Goldstein and members of their lab led Michael to join our program."