Surgery researcher gets rare grant from National Cancer Institute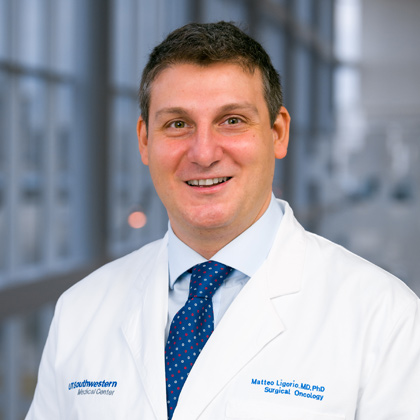 Dr. Matteo Ligorio, a cancer researcher and Assistant Professor in UT Southwestern's Department of Surgery, has been awarded a Method to Extend Research in Time (MERIT) grant from the National Cancer Institute (NCI). This highly esteemed award will fund a study of his that is currently sponsored by the NCI.
The MERIT grant is aimed at providing early stage investigators with long-term funding. The investigators themselves may not apply for the awards: Instead they are nominated by a third party, and their accomplishments are reviewed by the NCI's National Cancer Advisory Board. The award is rarely given to investigators such as Dr. Ligorio for a study that is already receiving NCI support. The NCI is a division of the National Institutes of Health (NIH).
"This will tremendously help my group to grow and to better understand the biological mechanisms of pancreatic tumor progression," said Dr. Ligorio, also a member of the Harold C. Simmons Comprehensive Cancer Center.
Dr. Ligorio's research focuses on pancreatic cancer biology, specifically on how units of pancreatic tumor cells, called "glands," act together to promote a tumor's growth and spread. The presence of these units may predict a patient's outcome or response to chemotherapy. In addition, these units may provide targets for future therapies to inhibit pancreatic cancer progression, a disease in which current chemotherapies have limited success, making it the most lethal solid cancer in adults.
"This is a rarely awarded distinction by the NIH. It is a great honor for Dr. Ligorio as he starts his career here at UT Southwestern," said Dr. Herbert Zeh, Professor and Chair of Surgery.
Dr. Ligorio joined UT Southwestern in 2020. He earned a medical degree at the University of Genoa in Italy and completed his Ph.D. in molecular epidemiology and biostatistics at Harvard Medical School. He has been published in prestigious journals such as Nature, Science, and Cell and is the recipient of a number of awards, including endowments from Massachusetts General Hospital's ECOR Fund for Medical Discovery, the American-Italian Cancer Foundation, and the Hirshberg Foundation for Pancreatic Cancer Research. His work is also supported by the Cancer Prevention and Research Institute of Texas.