Hobbs Honored with American Heart Association's Community Impact Award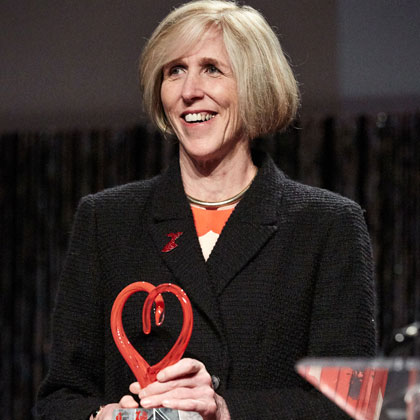 This story was originally posted on Center Times Plus on March 20.
---
UT Southwestern geneticist Dr. Helen Hobbs was recently honored at the 2019 Dallas Go Red for Women Luncheon for her contributions to women's health through the Dallas Heart Study. Dr. Hobbs is Director of the Eugene McDermott Center for Human Growth and Development and an Investigator of the Howard Hughes Medical Institute.
Each year, the Sandi Haddock Community Impact Award is presented at the American Heart Association's Go Red for Women Luncheon to a key female leader in Dallas who has made a significant impact on women's health in the community.
"The American Heart Association has been instrumental throughout my career," said Dr. Hobbs, Professor of Internal Medicine and Molecular Genetics. "The organization's support of my early research, and the research of my colleagues, continues to help pave the way for medical advancements in the fight against heart disease. I am honored to be the recipient of this year's Sandi Haddock Award."
Together with the late UT Southwestern Professor Dr. Ron Victor, Dr. Hobbs spearheaded the establishment of the Dallas Heart Study, a multiethnic, population-based study of heart and metabolic diseases. It is the only single center heart study of its size and multiethnic composition. Findings from the study led to the rapid development of two FDA-approved, anti-PCSK9 antibodies for the treatment of high cholesterol.
Established in 2012, the namesake award was created in recognition of Dallas volunteer and philanthropist Sandi Haddock. It honors an outstanding leader in Dallas in her efforts to improve the health and well-being of lives in the community.
Dr. Hobbs holds the Eugene McDermott Distinguished Chair for the Study of Human Growth and Development, the Philip O'Bryan Montgomery, Jr., M.D. Distinguished Chair in Developmental Biology, and the 1995 Dallas Heart Ball Chair in Cardiology Research.