Hobbs, Mendelson receive Endocrine Society Laureate Awards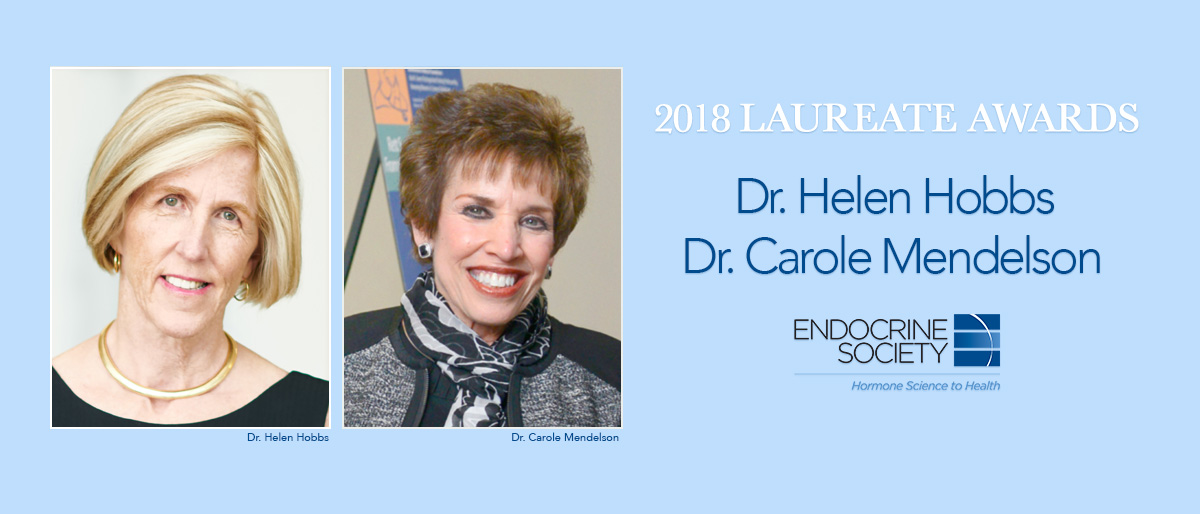 This story was originally posted on Center Times Plus on March 20.
---
Two UT Southwestern faculty members – Drs. Helen Hobbs and Carole Mendelson – received 2018 Laureate Awards from the Endocrine Society this month.
The 13-member Laureate class was honored at ENDO 2019, the Society's 101st Annual Meeting & Expo, held March 23-26 in New Orleans. Dr. Hobbs, Director of the Eugene McDermott Center for Human Growth and Development, received the Gerald D. Aurbach Award for Outstanding Translational Research. Dr. Mendelson, Professor of Biochemistry and Obstetrics and Gynecology at UT Southwestern and Director of the North Texas March of Dimes Birth Defects Center, was honored with the Sidney H. Ingbar Distinguished Service Award.
Endocrinologists are scientists and physicians who specialize in unraveling the mysteries of hormone disorders to care for patients and cure diseases and conditions such as diabetes, thyroid disorders, obesity, hormone-related cancers, growth problems, osteoporosis, pregnancy, and reproductive disorders. The Endocrine Society is the world's oldest and largest organization of health care professionals devoted to hormone research and care for people with hormone-related conditions. The Society has more than 18,000 members, including scientists, physicians, educators, nurses, and students in 122 countries.
Dr. Helen Hobbs: Aurbach Award
Dr. Hobbs is the fifth recipient of the Gerald D. Aurbach Award for Outstanding Translational Research, which recognizes outstanding research that accelerates the transition of scientific discoveries into clinical applications. The Award is named after the Endocrine Society's 68th President, whose work revolutionized the understanding of bone metabolism and calcium homeostasis.
"I am thrilled to be receiving this honor," said Dr. Hobbs, also Professor of Internal Medicine and Molecular Genetics at UT Southwestern and a Howard Hughes Medical Institute Investigator. "I trained as an endocrinologist and I am so honored and delighted to be recognized by the Endocrine Society with this very special award that is named after a very special investigator and man. I have been lucky to have a terrific scientific partner, Dr. Jonathan Cohen, and many hardworking and talented trainees in my laboratory who have all contributed to the work that is being honored."
Dr. Hobbs' work demonstrated how genetic variants contribute to cardiometabolic health and disease. Using a large Dallas Heart Study database, she and her collaborators discovered that individuals with mutations in the PCSK9 gene have low blood cholesterol levels and also are protected from heart disease. This discovery led to the swift development of a drug to lower refractory high cholesterol.
"It is a very exciting time to be a physician-scientist, especially one who trained in genetics," Dr. Hobbs noted. "The rapidity with which discoveries can be translated into new therapies is amazing and it has been very gratifying being a scientist at this time."
Earlier awards honoring Dr. Hobbs' research include the Harrington Prize for Innovation in Medicine and the Lefoulon-Delalande Grand Prize in Science (both in 2018); the Passano Award with Dr. Cohen (2016); and the Breakthrough Prize in Life Sciences (2015). In addition, she was elected to the National Academy of Medicine (formerly the Institute of Medicine) in 2004 and the National Academy of Sciences in 2007.
Dr. Carole Mendelson: Ingbar Award
Dr. Mendelson received the Sidney H. Ingbar Distinguished Service Award, which honors distinguished service to the Endocrine Society and to the field of endocrinology.
"I'm delighted to receive the Award," said Dr. Mendelson, a faculty member since 1978 and a noted proponent of female inclusion and advancement throughout the UTSW community and at the national level. "Over more than 30 years, I have had multiple roles in the Endocrine Society, chairing several committees. I also served as President of Women in Endocrinology, as a member of the Endocrine Society Council, and as Vice President (Basic Scientist). Each committee assignment and role came with more responsibility and greater challenges, and I learned a great deal."
Dr. Ingbar, the 65th President of the Society, was a leading authority on thyroid function and a highly respected teacher and clinician. To date, 72 individuals or programs have received the Ingbar Award.
"Dr. Mendelson deserves special recognition for her leadership to promote the careers of women in biomedical science and in endocrinology," said Dr. Perry Bickel, Chief of the Division of Endocrinology at UT Southwestern. "I've found that Carole combines scientific rigor and achievement with personal warmth and humility. She's a great role model for all of us."
Dr. Mendelson's efforts promoting the field of endocrinology and, particularly, women in science include service as Co-Chair of UTSW's Women in Science and Medicine Advisory Committee for the past 12 years and Co-Chair of the Selection Committee of the Reproductive Scientist Development Program. She also has served on editorial boards of national journals, as a member of numerous study sections, and in leadership roles in organizations focusing on endocrinology, reproductive biology, and birth defects.
Earlier awards honoring Dr. Mendelson include the Roy O. Greep Award for Outstanding Research from the Endocrine Society and – from the Society for Reproductive Investigation – the SRI Distinguished Scientist Award and the Frederick Naftolin Award for Mentorship.