UTSW postdoc receives prestigious LSRF fellowship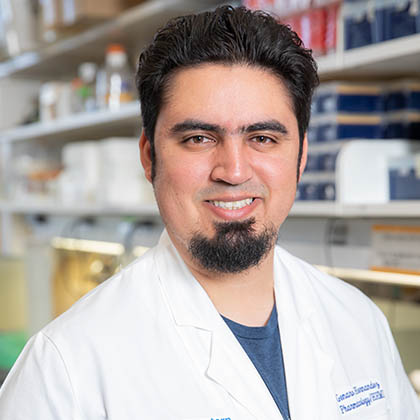 Genaro Hernandez, Ph.D., a postdoctoral researcher in Cell and Molecular Biology and one of the inaugural Provost's Initiative for Diverse Emerging Scholars (PROVIDES) in the Graduate School of Biomedical Sciences, has received a prestigious fellowship from the Life Sciences Research Foundation (LSRF).
Dr. Hernandez is the DDBrown Awardee of LSRF, named in honor of LSRF founder and President Donald D. Brown, M.D., and sponsored by Xiaodong Wang, Ph.D., and his wife. Dr. Wang completed his Ph.D. at UT Southwestern and served on the faculty.
The $201,000 award will go toward Dr. Hernandez's salary and research expenses for three years.
"It is a huge honor for me to have been awarded such a prestigious fellowship that has supported many accomplished scientists, some of whom are currently faculty members here at UTSW and other top-tier institutions," Dr. Hernandez said. "This fellowship also has a very strong positive impact on my research, as I will be able to solely focus on my work at hand on human and viral pseudokinases while networking within the LSRF community."
Pseudokinases are proteins that look like kinases – a family of enzymes critical to all living organisms and viruses – but scientists don't know how they function or if they have an enzymatic activity, explained Dr. Hernandez, who earned his doctorate in pharmacology at UTSW in 2019 and now works in the lab of Vincent Tagliabracci, Ph.D., Associate Professor of Molecular Biology and a newly named Howard Hughes Medical Institute Investigator.
"Our lab recently found that some pseudokinases have activities different from kinases," Dr. Hernandez said. "With this in mind, I am pursuing the characterization of the human pseudokinases, but also a pseudokinase present in the SARS-CoV-2 virus responsible for the current COVID-19 pandemic. I hope that my work will allow us to identify new antiviral drugs that could work against this virus but also other coronaviruses such as the common cold virus."
"It is gratifying that the sponsor of the award, Dr. Xiaodong Wang, is one of the most illustrious alumni of UTSW Graduate School of Biomedical Sciences," said Andrew Zinn, M.D., Ph.D., Dean of the Graduate School. "Dr. Wang did his postdoctoral fellowship under the mentorship of Michael S. Brown, M.D., and Joseph L. Goldstein, M.D., and was then a member of our faculty for many years before returning to China. He has won many prestigious awards, including the Shaw Prize, for his groundbreaking research done while a UTSW faculty member."