Graduate School Class of 2022 celebrates commencement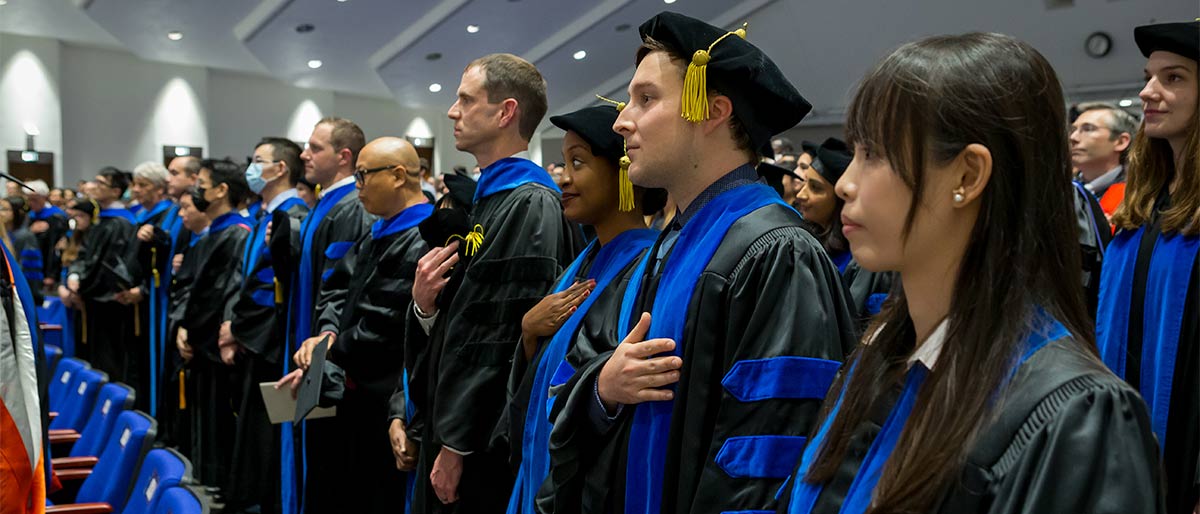 On May 19, the UT Southwestern Graduate School of Biomedical Sciences held a live graduation in the Tom and Lula Gooch Auditorium on South Campus. Eighty-nine students earned doctorate or master's degrees in commencement exercises that recognized 2021 and 2022 graduates.
See highlights from the celebration in the photo gallery below.
Candidates for degrees included an NCAA Division I track and field athlete and Academic All-American, an AmeriCorps volunteer, and a fellow of the UT System Archer Center in Washington, D.C. One student started a nonprofit while in graduate school to provide access to fresh groceries and combat food insecurity. Other students completed fellowships with the national ThinkLab Startup Accelerator program. Twelve Ph.D. graduates are also completing their M.D. degrees through the Medical Scientist Training Program.
UT Southwestern is ranked among the top 25 graduate schools for biological sciences by U.S. News & World Report. Distinguished faculty includes six Nobel Laureates, 14 Howard Hughes Medical Institute Investigators, 17 National Academy of Medicine members, and 26 National Academy of Sciences members. UTSW has more than 200 labs for students and trainees to explore for research and training opportunities.
Prospective students can take a virtual tour and learn more about graduate programs at UTSW.
Select an image to begin the slideshow.