Patient Care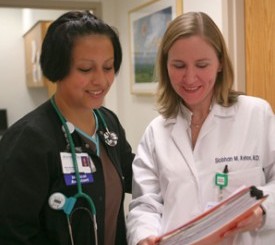 The Division of Gynecologic Oncology's strengths in patient care stem from our collaborative approach to health care and from our committed search for effective treatment options for our patients. Division faculty care for gynecologic oncology patients in both UT Southwestern University Hospitals and Clinics and Parkland Health & Hospital System. Regularly scheduled meetings ensure the coordination of care and individualization of treatment for each patient, regardless of where she receives her care.
Harold C. Simmons Comprehensive Cancer Center
As part of the UT Southwestern University Hospitals and Clinics, the Harold C. Simmons Cancer Center is a state-of-the-art evaluation and treatment center with affiliated laboratories for basic and translational research.
Simmons Cancer Center is a leader in the emerging national trend in cancer research that places an emphasis on collaboration. Translational research brings laboratory innovations to the patient's bedside. Simmons Cancer Center fosters a broad based, multidisciplinary approach in which patient care, teaching, and research come together. Patients are able to get all their needs addressed in one place and have the benefit of the latest in laboratory research.
Our faculty physicians lead the team dedicated to treating women with malignancies of the reproductive tract. We offer conventional treatment options such as chemotherapy, radiation therapy, and hormonal therapy, as well as access to treatment protocols developed by the National Cancer Institute's Gynecologic Oncology Group (GOG).
A Team Approach
With the evolution of laparoscopic and robotic surgery, surgeons in the Division now use minimally invasive techniques for hysterectomy, lymph node dissection and biopsy, and other procedures, which in the past required a more extensive surgical approach and recovery.
Care does not stop with the treatment of the cancer itself. We are just as concerned about our patients' nutrition, psychological and social adjustments, and pain control as well as the impact of cancer on their families.
Gynecologic cancer prevention takes the forefront at the Hereditary Gynecologic Cancer Program at Simmons Cancer Center. Begun in September 2000, this Program offers an opportunity for assessment, counseling, preventive surgery, and medical management to patients with increased risks for gynecological cancer.
Working in conjunction with a genetic counselor, gynecologic oncologists can determine whether gynecological cancer in a given family is hereditary. Physicians provide risk assessment and counseling to these patients and their families.
At Parkland Memorial Hospital, a weekly conference is held to coordinate the nursing, pharmacy, social work, nutritional, pastoral, and medical care of patients. The goal of the Parkland Patient Care Conference is to address the global needs of each patient.
The Gynecologic Tumor Board–a group of gynecologic oncology, radiology, surgical pathology, and radiation therapy physicians–meets weekly to discuss and create individualized treatment plans for each patient with new or recurrent cancer.
In addition, a campus-wide multispecialty meeting, known as the Combined Modality Treatment Conference, convenes weekly to assist in providing patients with quality, coordinated medical treatment from all medical specialties involved in the patient's care.
We also have collaborative training agreements with Presbyterian Hospital of Dallas and Medical City Dallas. These hospitals also have active tumor registries approved by the American College of Surgeons Commission on Cancer.