Towler named inaugural Associate Dean of Resident Research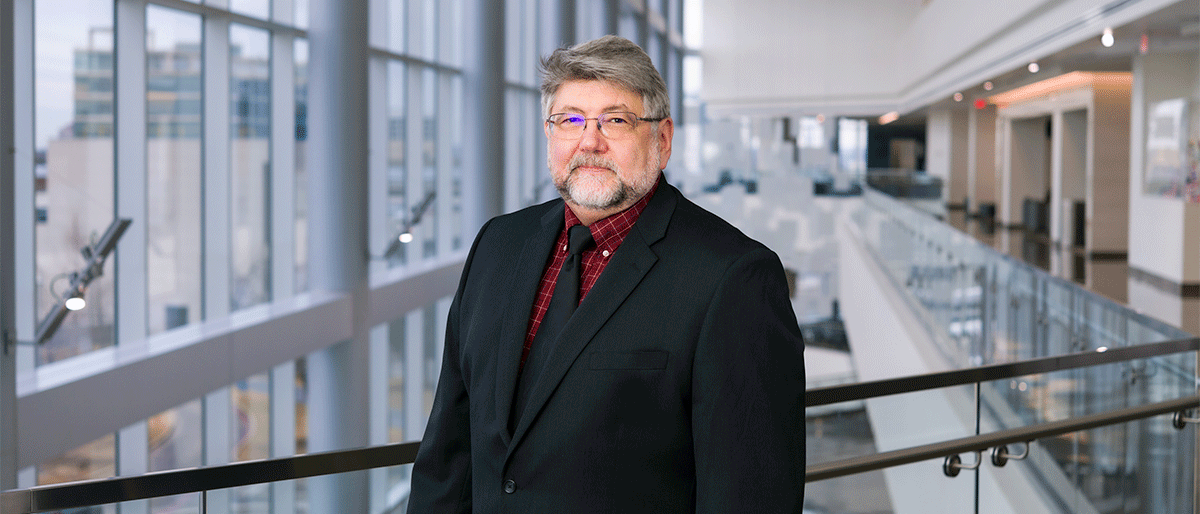 Dwight Towler, M.D., Ph.D., a Professor of Internal Medicine in the Division of Endocrinology, has been appointed UT Southwestern's first Associate Dean of Resident Research to expand physician-scientist development here.
In this role, Dr. Towler will direct a stipend-supported program that provides select UT Southwestern resident physicians the opportunity to work for two years with UTSW research mentors in laboratories before completing their clinical training.
"UT Southwestern created this position to help address the growing need for more physician-scientists as their overall numbers decline," said W. P. Andrew Lee, M.D., Executive Vice President for Academic Affairs, Provost, and Dean of UT Southwestern Medical School. "I can think of no one more capable of leading this effort than Dwight Towler, himself a highly accomplished and respected physician-scientist."
The new position grew out of a Burroughs Wellcome Fund program aimed at increasing the number of physicians pursuing research. Under Dr. Towler's direction, UT Southwestern successfully secured one of the $2.5 million Burroughs Wellcome grants by developing its Training Resident Doctors as Innovators in Science (TARDIS) program, which offers medical residents two years of laboratory training. Although the five-year grant will end soon, UT Southwestern has committed $750,000 a year to continue the effort.
While much research is done by the 600 or so dual-M.D./Ph.D. students who graduate each year in the U.S., there are far more M.D.-only graduates (about 20,000 each year), and they can bring a unique, patient-centric approach to research, Dr. Towler said. "They are right there at that interface. They draw their inspiration from the unmet clinical needs of their patients," he said.
Creating new "on-ramps" for training M.D.-based investigators will help grow the physician-scientist pipeline, complementing UT Southwestern's successful M.D./Ph.D. program, added Dr. Towler, also a member of the Charles and Jane Pak Center for Mineral Metabolism.
Dr. Towler, who was the inaugural Vice Chair of Research in Internal Medicine before taking on his new role Feb. 1, earned his medical degree and doctorate in biochemistry from Washington University in St. Louis. He completed his residency and an endocrine/metabolism fellowship at Barnes-Jewish Hospital in St. Louis and served as Chief of the Division of Bone and Mineral Diseases at Washington University for a decade before joining UT Southwestern in 2015. He is a member of the Association of American Physicians and the American Society for Clinical Investigation.
He specializes in the diagnosis and treatment of bone and mineral disorders, such as osteoporosis and vascular calcification. His research focuses on the endocrine physiology of bone and vascular disease. Earlier in his career, he co-led a large research team in the pharmaceutical industry as a senior director, discovering novel therapeutics for treatment of osteoporosis and musculoskeletal frailty.