UTSW alumna gives back to honor mother's life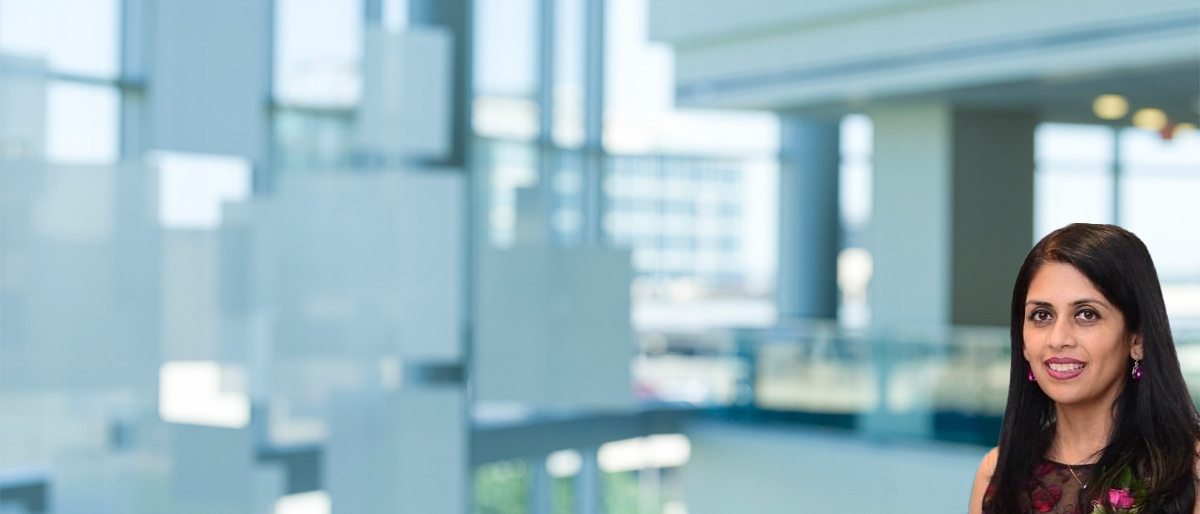 As a young woman, Sneha Patel, M.P.A.S., PA-C, discovered strength in the human spirit through the kindness of others. Her personal struggles led her to the UT Southwestern School of Health Professions, where she excelled in her studies to become a Physician Assistant, or PA.
Her remarkable story began in Leicester, England, where she was born to Ramesh and Ramila Patel. When she was 5 years old, her family immigrated to the U.S. in search of a better life.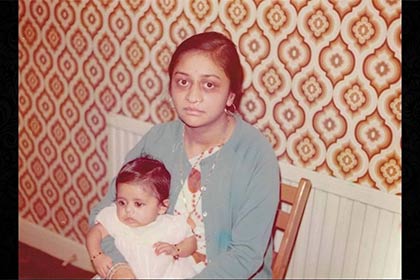 "My grandmother was widowed at a young age and had six children that she raised on her own with very little money," Ms. Patel said. "My family migrated from India to England, and then to Enid, Oklahoma, where we lived and worked in a small motel that became our family business. All the kids cleaned rooms and did laundry. My parents and extended family taught me that through hard work, anything is possible."
Although her parents, aunts, and uncles never attended college, they encouraged their children to get an education. Ms. Patel had just begun her freshman year at the University of Oklahoma when her mother was involved in a serious car accident, suffering a traumatic brain injury before slipping into a coma.
"I remember hundreds of people sitting in the waiting room for days," she said. "People we didn't even know heard about the accident and came to show their support."
Her mother would remain in a persistent vegetative state for 24 years before passing away. Ms. Patel cherishes the short time she was able to spend with her before her accident and is grateful for the lessons she learned from her mother about selflessness, helping others, and giving back.
Opening a door to the future
After graduating from the University of Oklahoma, Ms. Patel enrolled in UT Southwestern's nationally ranked Physician Assistant Studies Program in the School of Health Professions.
"I wanted to learn from the best," she said. "UT Southwestern continues to educate medical and PA students who really are the best in their field. By learning at academic institutions like UT Southwestern and Parkland Memorial Hospital, students can rotate through every specialty and do everything from intubating patients to assisting in surgery. I was guided by great educators and mentors, and I took advantage of the strong support systems that were available to students."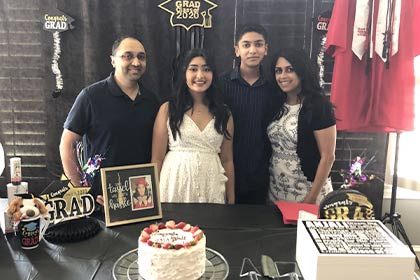 In 2001, Ms. Patel graduated from UTSW. She began her career as a PA at Metroplex Medical Centres in Dallas, an internal medicine practice that provides primary care services. She worked for 12 years for the owner, Manuel Griego, D.O., who became her mentor. Then in 2014, an exciting opportunity presented itself – she acquired two medical practices from Dr. Griego. Although caring for patients is what she enjoys most, Ms. Patel has put much of her energy into expanding her company's footprint in North Texas. She currently owns five clinics and will open two more in January 2022.
Ms. Patel also earned a Master of Physician Assistant Studies from the University of Nebraska in 2003. She serves as a clinical preceptor for UTSW students and has held an Assistant Professor position in the School of Health Professions, where she enjoys teaching the next generation of physician assistants.
She was the first person in her family to go to college, and all 13 of her cousins have completed college and graduate school.
"We have doctors, attorneys, engineers, physician assistants, accountants, and doctorates in psychology in our family now," she said. "We were taught to always do everything with integrity, honesty, and hard work. Because of what we went through, we learned to always give back."
Ms. Patel describes her journey as one of sadness, tragedy, courage, determination, hard work, and service to the community. Her management company, Ramila and Associates, is named after her beloved mother. "It's just a reminder that even though it was tragic, there was some good that came from it as well."