Achilefu recruited to lead new Department of Biomedical Engineering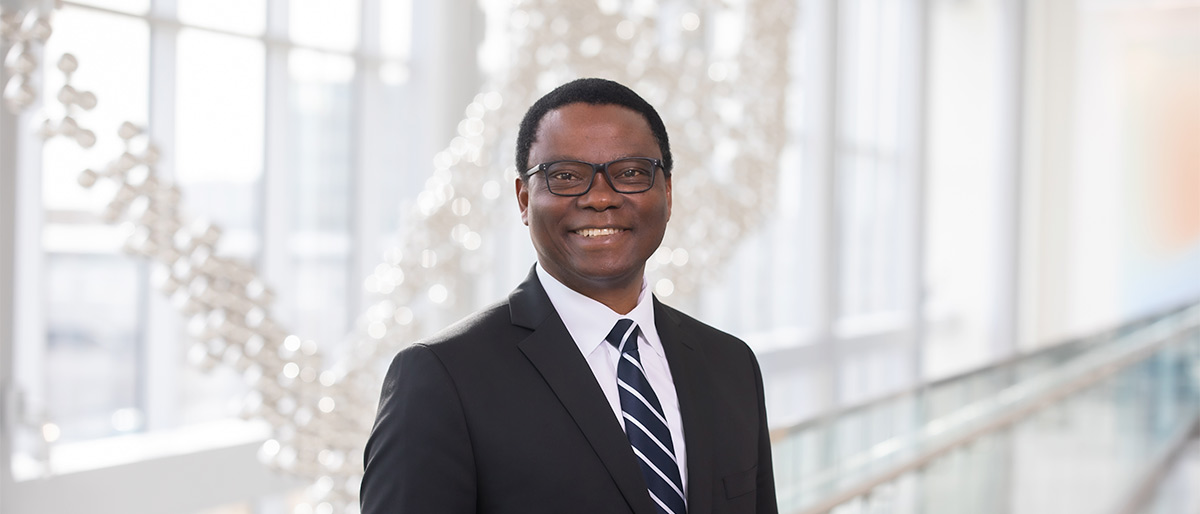 Molecular imaging expert Samuel Achilefu, Ph.D., will join UT Southwestern Feb. 1 as the first Chair of a new Department of Biomedical Engineering. Dr. Achilefu was recruited to UTSW from the Mallinckrodt Institute of Radiology at Washington University School of Medicine in St. Louis.
He worked at Washington University for more than 20 years, most recently as a Professor of Radiology, Medicine, Biomedical Engineering, and Biochemistry & Molecular Biophysics. He also served as Chief of the Optical Radiology Laboratory, Vice Chair for Innovation and Entrepreneurship at the Mallinckrodt Institute of Radiology, and co-leader of the Oncologic Imaging Program of the Siteman Cancer Center. Recently, Dr. Achilefu was elected to the National Academy of Medicine, considered one of the highest honors in the fields of health and medicine.
Born and raised in Nigeria, he studied chemistry and materials science at the University of Nancy in France before completing postdoctoral training in oxygen transport in biological systems and hematological science at Oxford University in the United Kingdom.
"With his demonstrated success in innovative research and clinical impact, Dr. Achilefu brings the leadership and vision needed to launch our newest department to foster transformational research in biomedical engineering and related fields at UT Southwestern," said W. P. Andrew Lee, M.D., Executive Vice President for Academic Affairs, Provost, and Dean of UT Southwestern Medical School.
At UTSW, Dr. Achilefu will lead the University's collaboration with UT Dallas that leverages the institutions' strengths in biomedical and engineering sciences. The Department of Biomedical Engineering (BME) eventually will be housed in the Texas Instruments Biomedical Engineering and Sciences Building on East Campus, a joint venture project with UT Dallas that is under construction and set to open in 2023.
In an interview for Center Times, Dr. Achilefu shared his vision for the new Department.
Why is this an exciting time for biomedical engineering?
The new era of technological revolution is transforming the world as we know it. From a biomedical engineering perspective, the merging of biological with medical engineering presents a unique opportunity to create innovative systems and methods to transform the current disease- care system into a genuine health care enterprise.
I am inspired daily by our ability as scientists and engineers to make dreams a reality. But I am also a realist. I am aware of the challenges of venturing into the unknown. Perhaps one way to turn dreams into reality quickly is to train a future generation of researchers to think differently and develop solutions that are not constrained by roadblocks that our current understanding imposes on them.
What are the opportunities and challenges of building a new BME program at UT Southwestern?
Several factors have converged to support a viable and impactful BME Department at UT Southwestern, including the existence of a vibrant BME graduate program, outstanding faculty, motivated trainees, and exceptional resources to support innovation. In addition, the burgeoning infrastructure for clinical research creates diverse opportunities to engage in translational research.
Partnering with neighboring engineering schools in Dallas and Arlington serves as a pipeline to enrich student training and recruitment, as well as strengthens ongoing collaborations while establishing new ones. Along this line, I am particularly excited about the new Texas Instruments Biomedical Engineering and Sciences Building, which will house BME faculty members from UT Southwestern and UT Dallas. This level of programmatic integration will leverage UT Southwestern's institutional strength in medicine and biological sciences with UT Dallas' engineering prowess. It also offers us a new platform to train well-rounded students equipped with knowledge and confidence. There is no better way to make inventions available to consumers than by partnering with industry to develop and commercialize innovative products from academia. Establishing this connection is critical for success.
Of course, there also will be challenges ahead. While institutional support is high and the opportunities for collaboration are enormous, the Department will not initially have the bandwidth to address many exciting medical and biological problems. We will strategically recruit faculty members while leveraging a pool of exceptionally talented engineers and scientists on campus to support the new BME Department's priorities. The impressive biomedical engineering graduate program at UT Southwestern has laid a solid foundation upon which we will build the new Department.
You are a recognized expert in applying molecular imaging to treat human diseases, with research interests in image-guided cancer surgery, portable imaging devices, and nanotechnology. With such varied interests, what is your vision moving forward?
I am excited about continuing some of my research projects at UT Southwestern, but my immediate priority as the inaugural BME Chair is to empower faculty members in the Department to transform ideas into technology-driven biomedical and clinical solutions. We need to provide valuable tools to clinicians and scientists to treat diseases effectively and understand the molecular and structural underpinnings of biological processes.
Development of portable, low-cost, and efficient devices will enable us to reduce health disparity and prevent the onset of diseases. While traditional engineering solutions will form a significant part of our research, I will encourage our faculty members to envision a world where our devices can help understand the healthy person so that deviations from the norm can be found early.
The cancer-detecting goggles you developed were partially inspired by tracers on cruise missiles in the Persian Gulf War. How can past experiences spark a potential solution for a seemingly unrelated problem?
I approach scientific problems by framing them into testable hypotheses. Then I explore different approaches to solve the problem. If additional expertise is needed, I search for the best collaborators to fill the gap. We then design the best experimental method to address the question, guided by our hypothesis. This strategy is not confining; it can be applied in diverse areas of life endeavors.