Sarah Greenfield, M.D.: Kurt Ian Wey, M.D., Senior Pediatric Award
For Dr. Sarah Greenfield, the choice to pursue medicine came from a passion to serve. She is grateful for early work and volunteer experiences – tutoring and mentoring children living in government-assisted housing, serving weekly meals to the homeless, and working at a camp for childhood burn survivors – for igniting the curiosity and empathy that eventually led her to medicine.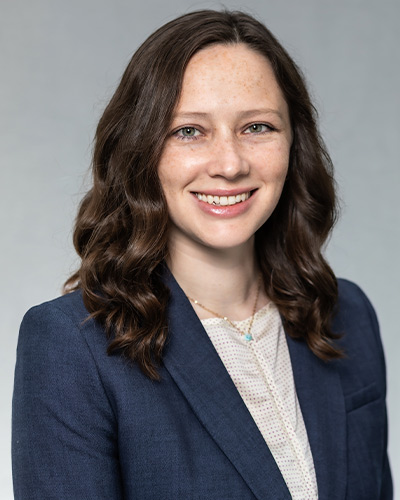 What this award means: It means the world to receive this honor from the teachers and mentors who have impacted me so deeply during my time in medical school. I will strive to honor the memory of Kurt Ian Wey by learning to practice medicine with empathy, humility, and a determination to further the causes of child health.
Mentor comment: Sarah's phenomenal. Many members of our faculty have commented on how her combination of sharp clinical reasoning, gentle communication style, and nonjudgmental nature makes her an inspiring person to be around and a future leader. – Soumya Adhikari, M.D., Associate Professor of Pediatrics  
Background and family: I come from a family of dedicated medical professionals who modeled passion and commitment. My father is a surgical oncologist, and my mother is an immunologist who worked tirelessly to support local free clinics and raise funds to help open a free-standing children's hospital in my hometown of Belton, Texas. My husband is a nurse.
What led to your career path: I was drawn to the field of pediatrics because of the opportunities to interact with and serve families from all walks of life, and the specialtywide commitment to patient education, preventive care, and betterment of child health.
College: I graduated from Baylor University with a Bachelor of Arts in medical humanities. I had the opportunity to study with Baylor's public health department in Brazil, which involved delivering interactive health lessons in schools and organizing community health fairs.
UTSW activities: As a medical student, I sought opportunities to serve my community. I became a student leader of the Advancement Via Individual Determination (AVID) program, which provides monthly science lessons to middle school students. Through a preceptorship at the Rees-Jones Center for Foster Care Excellence, I became involved in research about laboratory screening practices in this vulnerable population.
Surprising fact: When I was a child, I never thought I would grow up to become a doctor. My first love was reading, and I dreamed of becoming the author of the next great American novel.
Ultimate career goal: I will strive to become a thoughtful, compassionate physician who makes patients feel respected and supported. I hope to remain involved in academic medicine and give back to the next generation of pediatricians.
Future plans: I will start residency here at UTSW this summer. I have an interest in hospital medicine and intensive care and envision myself participating in global health service.
About the award: The award recognizes a fourth-year medical student who shows empathy and compassion for sick children, has significant knowledge, and maintains a good sense of humor. Dr. Wey was a 1998 UT Southwestern graduate who died in a car accident. The award was established by family and friends to honor his life.