Nikita Agarwal, M.D.: Herbert S. Salomon, M.D., Class of 1967, Memorial Scholarship Award
As a clinician, Dr. Nikita Agarwal hopes to provide high-quality and compassionate care to her patients. Ultimately, she aspires to use her knowledge of medicine and public health to challenge the systems that make access to health care inequitable for patients.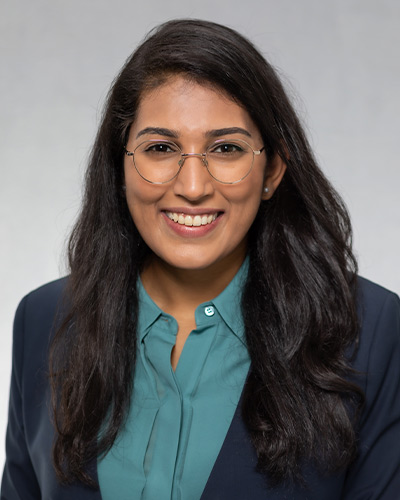 What this award means: In learning about Dr. Salomon's passion for patient care and resilience in the face of cancer, I am grateful to have found yet another role model in internal medicine. To be recognized in memory of a beloved and dedicated physician is an honor.
Mentor comment: Nikita Agarwal is tireless in her advocacy for patients and humble in her approach to learning. She has focused her leadership talents into health policy and quality improvement work, which includes working with the American Cancer Society and earning a selective internship at the Archer Center Graduate Program in Public Policy in Washington, D.C. We have seen Nikita shine in all clinical learning environments and are excited for her future. – Reeni Abraham, M.D., Associate Professor of Internal Medicine
Background and family: I grew up in Dallas with my parents and sister. My parents emigrated from India, where my dad went to medical school. Watching my dad treat cancer patients as an oncologist gave me early and close exposure to the realities of clinical practice and the importance of innovation in all facets of medicine.
What led to your career path: In college, I thought I would become a basic science researcher. Ultimately I found more joy in interacting with patients at a student-run free clinic in West Philadelphia. That began my journey to the intersection of medicine and public health. Rotating at Parkland and working with free clinics around DFW solidified my desire to pursue an M.P.H. in health policy and improve care for those with serious pathology made worse by socio-economic barriers to health. Internal medicine excites me because it uniquely merges my policy goals with my clinical goals in becoming a patient advocate.
College: I went to the University of Pennsylvania where I was a Vagelos Molecular Life Sciences Scholar, which allowed me to complete a master's degree in chemistry while getting my bachelor's degree in biochemistry and biophysics.
UTSW activities: At UTSW, I was a Monday Clinic Manager and Chair of United to Serve's Health Awareness Program, a longitudinal study of the health fair's impact on participants' ability to access follow-up care.
Surprising fact: People may not be surprised to know this about me, but I routinely get certified to be a deputy voter registrar in Dallas County, which makes it easy to help people register to vote or update their voter registration (especially for those of us who spend so much time in the hospital!).
Future plans: I'm very excited to start my internal medicine residency at Beth Israel Deaconess Medical Center in Boston!
About the award: The award recognizes a UT Southwestern medical student who demonstrates excellence in internal medicine. It is named after Dr. Herbert Salomon, who graduated from UT Southwestern in 1967 and died shortly after graduation.