James Tran, M.D.: Eliot Goldings Award in Rheumatology
The selfless dedication of medical professionals who treated his grandmother for a heart attack following a hurricane years ago always stuck in Dr. James Tran's mind. Even with many roads still flooded at the time, they came to her rescue, inspiring Dr. Tran to eventually follow in their footsteps.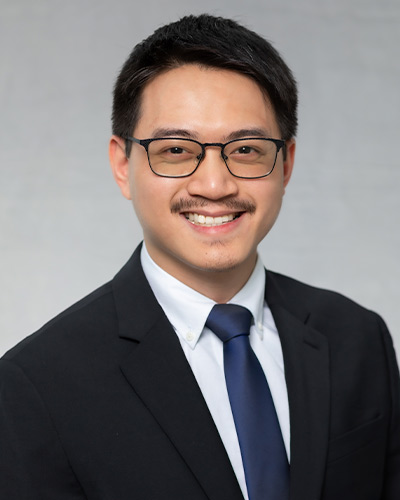 What this award means: After the first week of a rheumatology rotation, I came to appreciate the breadth and complexity of this field. This rotation pushed and challenged me not only to think broadly, but also to become comfortable with uncertainty as some diseases are not simply black and white. I am exceedingly thankful for the Eliot Goldings Award, as it recognizes my love of learning, and rheumatology is undoubtedly a treasure trove of knowledge.
Mentor comment: James told me he enjoyed the rotation because rheumatology is a cognitive specialty. He was very skilled in his analysis of patients and felt very comfortable asking questions and discussing the cases. Under his own initiative, he took on new patients and presented sophisticated diagnosis and treatment plans. I appreciated not only how smart he is, but also his motivation to learn and the passion he showed. – Guillermo Andres Quiceno, M.D., Associate Professor of Internal Medicine
Background and family: I was born and raised in Port Arthur, Texas, a town on the Gulf Coast where I survived more hurricanes than I have fingers to count. Both of my parents were refugees of the Vietnam War and came to Texas as kids with no money or belongings. I am immensely grateful for my parents' hard work to provide me with an opportunity to pursue my dreams.
What led to your career path: I aspired to a career in medicine after losing two aunts to heart disease and stroke, as well as watching other family members struggle with chronic heart disease. I can recall the fear and powerlessness of when my grandmother had a heart attack right after a hurricane. Even with most roads still flooded, the cardiologist and cardiothoracic surgeon came to her rescue. These experiences pushed me toward medicine, where I found fulfillment of my desire to learn constantly, be consistently challenged, and navigate complex human interactions.
College: I was the first of my family to pursue higher education and attended the University of Houston, earning a Bachelor of Science in biology. Then I took two gap years, working as a home health aide and as a chief medical scribe, which reinforced my decision to become a doctor.
UTSW activities: As co-President of the Cardiology Interest Group, I worked to increase awareness and education in cardiology. As a member of the United to Serve Science Zone Committee, I created interactive activities to teach kids about science. I also served as the elected Education IT Representative for my Class.
Surprising fact: I have amazing balance and love anything with wheels – from bikes to skateboards to electric unicycles.
Ultimate career goal: I hope to provide quality holistic patient-centric care and continue to nourish my intellectual curiosity.
Future plans: I plan to pursue a career in cardiology. I hope to stay in Texas and take care of Texans.
About the award: The award, presented to the most outstanding medical student in rheumatology, is named for Dr. Eliot A. Goldings, a former Division of Rheumatic Diseases faculty member who died in 1988. Dr. Goldings distinguished himself as a scholar, teacher, and clinician.