Samantha Lopez, M.D.: Roland C. Reynolds Pathology Award
As the child of a primary care doctor, Dr. Samantha Lopez witnessed humanitarian medical care early in life. At age 12, she went on medical mission trips with her parents to Central and South America, nurturing her passion to follow in their footsteps.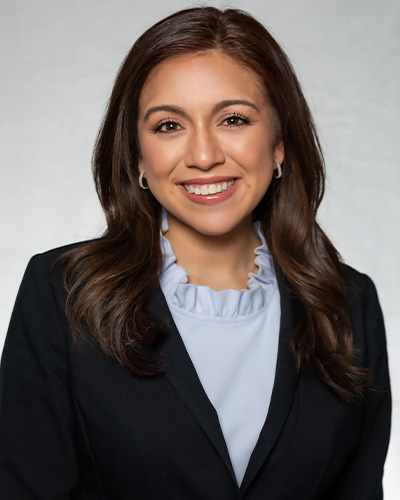 What this award means: Throughout medical school, the Pathology Department's teaching and dedication to students was incredibly impactful to me. I am so grateful to have the honor of being selected for this award in honor of Dr. Reynolds and humbled to be recognized for service to my community and colleagues.
Mentor comment: Samantha's humanitarian efforts throughout her medical training have been exemplary. She has participated in multiple overseas medical service trips to Colombia, Nicaragua, and the Dominican Republic. She has volunteered in underserved clinics throughout Dallas-Fort Worth and participated in COVID-19 efforts at William P. Clements Jr. University Hospital. – James Malter, M.D., Professor and Chair of Pathology, who holds The Senator Betty and Dr. Andy Andujar Distinguished Chairmanship of Pathology
Background and family: I was raised in Rockwall, Texas, where my father practices internal medicine. My father is a primary care doctor, and my mother was his practice manager for 20 years.
What led to your career path: At age 12, I started joining my parents on medical service trips to Central and South America. Seeing the impact that my dad, a primary care physician, was able to provide to patients inspired me to pursue medicine. My passion for improving health care disparities and access to care for underserved patients stems from seeing imbalance in access to care abroad and locally.
College: I majored in biology at Baylor University, where I was a member of the Baylor Crew team, Zeta Tau Alpha Sorority, and President of the Alpha Omega Alpha Honor Medical Society.
UTSW activities: I have served in multiple free clinics for underserved populations in Dallas, led a medical service trip to the Dominican Republic, served as treasurer for the Latino Medical Student Association, was a founding leader of the Student Initiative in Medical Simulations elective, taught the Spanish Interpreter Apprenticeship Program, and volunteered with programs aiming to increase diversity in medicine. I also have published dermatology research in multiple journals.
Surprising fact: I am a yoga teacher! I earned my 200-hour yoga teacher certification in 2020 and have loved being a yoga teacher here at the UTSW Student Center.
Ultimate career goal: I want to provide exceptional care to patients, both on a day-to-day basis and on a larger scale working to decrease disparities in health care.
Future plans: My training will continue here at UT Southwestern for a dermatology residency. I hope to become an academic inpatient dermatologist and continue my work in advocacy and community health – especially with underserved populations – and in efforts to increase racial and ethnic diversity in medicine.
About the award: The award, which includes $1,500, honors the late Dr. Reynolds, a UT Southwestern alumnus and faculty member remembered as a gifted pathologist and a generous person. The recipient is selected based on humanitarian qualities.