Won Jae Jeong, M.D.: Karen Kowalske Outstanding PM&R Undergraduate Award
The odds did not seem to be in Dr. Won Jae Jeong's favor to become a doctor – especially since he failed all classes except biology in middle school. But he improved his learning skills and eventually pursued his passion to help restore patients' physical abilities as a rehabilitation specialist.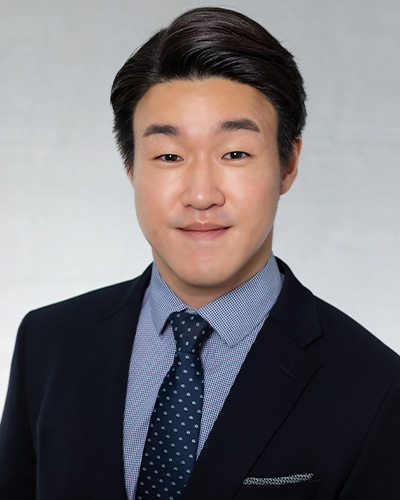 What this award means: This award is meaningful to me because Dr. Kowalske is my mentor who taught me not only a vast amount of medical knowledge, but most importantly the virtuous attitude I need when caring for patients.
Mentor comment: Won Jae is an outstanding student. His intellectual curiosity challenged me to stay up to date. He is kind, funny, and always has a smile on his face. Lastly, he co-wrote a paper with me that the reviewers accepted with almost no edits, which is certainly rare. He will be an excellent physiatrist. – Karen Kowalske, M.D., Professor of Physical Medicine and Rehabilitation, who holds the Charles and Peggy Galvin Professorship in Physical Medicine
Background and family: I was born and raised in Seoul, South Korea. Interestingly, I failed all my classes (except biology) in middle school. I came to the U.S. when I was 13 years old to attend a Texas boarding school. My parents gave me unconditional love through their incredible support and sacrifices.
What led to your career path: My parents, both physicians, showed me how incredibly rewarding it is to take care of patients. Their passion motivated me to explore becoming a doctor, a decision I never regretted. In my first year of medical school, I got curious about PM&R, a specialty that aims to restore functional ability based heavily on patients' goals. I enjoyed every moment of exploring the field and immediately knew that this was for me.
College: I majored in molecular and cell biology at UC Berkeley. I graduated with honors through my research thesis on cell regeneration. I also volunteered as a CPR instructor and taught science on elementary school field trips.
UTSW activities: I served as an officer for the Physical Medicine and Rehabilitation Student Interest Group and mentored a 12-year-old little brother for three years through Big Brothers Big Sisters.
Surprising fact: I have a peculiar hobby – I am a hardcore student of Warren Buffett and Charlie Munger for their incredible philosophy and wisdom of life that enlightened me tremendously. Also, I make the best cheesecake (self-proclaimed) in Texas. As my love for cheesecake continuously challenges my physical health, I lift weights so that I can bake and eat more cheesecake! So far, the balance has worked out well.
Ultimate career goal: I want to make lasting impacts in my patients' lives. I jokingly say my goal is to retire 80 years after I die because my patients will be able to play again with their grandkids after I restore their functional abilities, and those grandkids will still be alive 80 years after I die.
Future plans: My plan is to become a medical educator to provide great education to learners interested in PM&R. My short-term plan is to learn as much as I can during residency at Baylor College of Medicine in Houston and to survive it!
About the award: Started in 2011, the award is named in honor of the Department's past Chair, Dr. Kowalske. The honoree receives a plaque and a $250 gift certificate.