Kyle Goodman, M.D., Ph.D.: Vernie A. Stembridge Scholarship Award in Pathology
Dr. Kyle Goodman initially studied chemical engineering as an undergrad. But his interest in basic science steered him down a different path, one that would include completing both medical school and graduate school. His chosen specialty of pathology combines his interests of translational research, medicine, and teaching.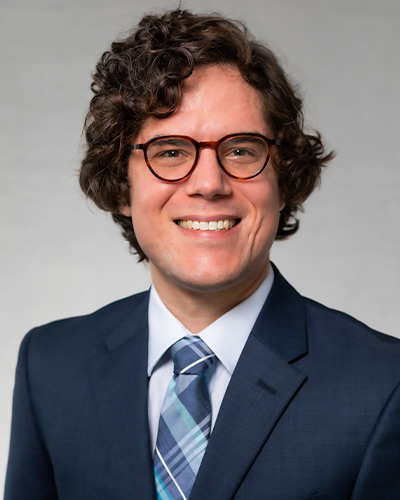 What this award means: I was thrilled when I received notification that I was selected for this award. Everyone that I have met in the Department of Pathology has been welcoming and invested in my education.
Mentor comment: Kyle has authored or co-authored numerous articles related to his research interests, which focus on microbiota-derived short-chain fatty acids influencing processes important for the intestinal health of hosts and the activities of resident bacteria. – James Malter, M.D., Professor and Chair of Pathology, who holds The Senator Betty and Dr. Andy Andujar Distinguished Chairmanship of Pathology.
Background and family: I am originally from upstate New York but grew up mostly in Cary, North Carolina, or as we lightheartedly like to say, the Containment Area of Relocated Yankees. My father is a mechanical engineer, and my mother is a self-employed health care consultant. I am the first person in my family to receive either Ph.D. or M.D. degrees.
What led to your career path: My current career path was not straightforward. My family is devoid of scientists and physicians. Influenced by my father who is an engineer, I studied chemical engineering as an undergraduate. I pursued my interest in basic science research and eventually landed a position in a translational research laboratory at the National Institutes of Health.
College: I graduated summa cum laude from North Carolina State University with degrees in chemical engineering and psychology through the interdisciplinary Benjamin Franklin Scholars Program.
UTSW activities: I have been actively involved in research at UTSW as a student in the Medical Scientist Training Program (MSTP). I conducted my dissertation research with Professor of Microbiology David Hendrixson, Ph.D., on bacterial signal transduction pathways in Campylobacter jejuni that modulate host colonization. I also have been involved in recruiting future MSTP students by helping plan revisit events for applicants and served on the Student Executive Committee as a liaison between MSTP students and program administration.
Surprising fact: I have been an avid bowler since my preteen years and have bowled a half-dozen or so perfect games.
Ultimate career goal: An exciting but also challenging aspect of pathology is the advent of new and rapidly changing technologies, including molecular diagnostics. Information from these tools has allowed us to differentiate and clarify disease processes. As a future pathologist, my goal is to continually develop and utilize these methods to help clinicians identify the best treatments for their patients.
Future plans: I will be pursuing training in pathology at Washington University in St. Louis, with interests in medical microbiology, hematopathology, and transfusion medicine. I hope to stay in academia to continue research, teaching, and mentoring the next generation of physicians.
About the award: The award was established by friends and colleagues of Dr. Stembridge, a former Chair of Pathology, who died in 2000. The $1,500 award is given to a fourth-year medical student entering the field of pathology who has exhibited exemplary academic performance.